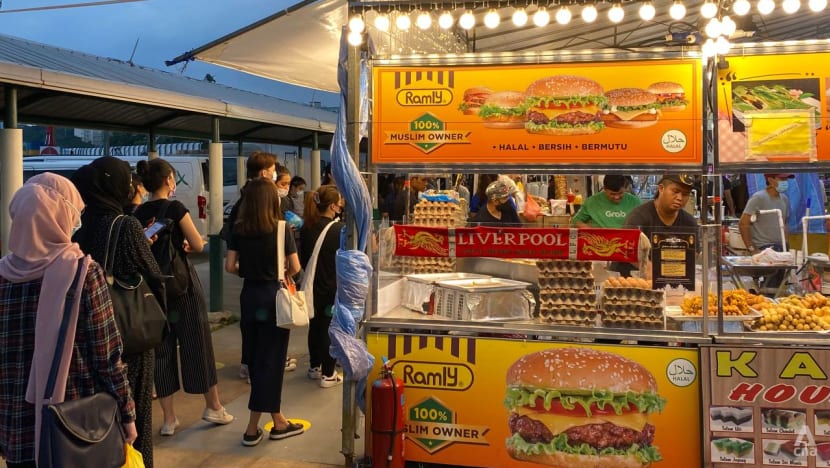 SINGAPORE: Since he was a young boy, Khairul Kamarudin has been helping out at his parents' stall Aliya's Kitchen whenever they set up shop at a Ramadan bazaar. 
That is until the COVID-19 pandemic put a halt to his routine when Ramadan bazaars were not allowed to operate. 
When CNA visited his parents' stall at BazaRia Marsiling bazaar near Woodlands MRT station on Tuesday (Apr 26) evening, the 30-year-old told CNA that it was "nice to see the patrons coming back". 
He missed interacting with people and now appreciates it when his former customers return to the stall. 
"Because people haven't been to a bazaar for two years, now (there are more) people of all races coming down to enjoy the event," said Khairul, on one of the differences he has observed in the crowd after two years. 
"People should go to any of the bazaars in Singapore, just to experience the cheerfulness, the excitement, the queues … Singaporeans love to queue right?" 
Several metres away from his parents' stall, the queue for Ramly burgers extended beyond the bazaar's covered areas and only grew longer throughout the evening. 
Although stalls were not packed as tightly compared to pre-pandemic times - and there was more space to move around - the bazaar was still an assault on the senses.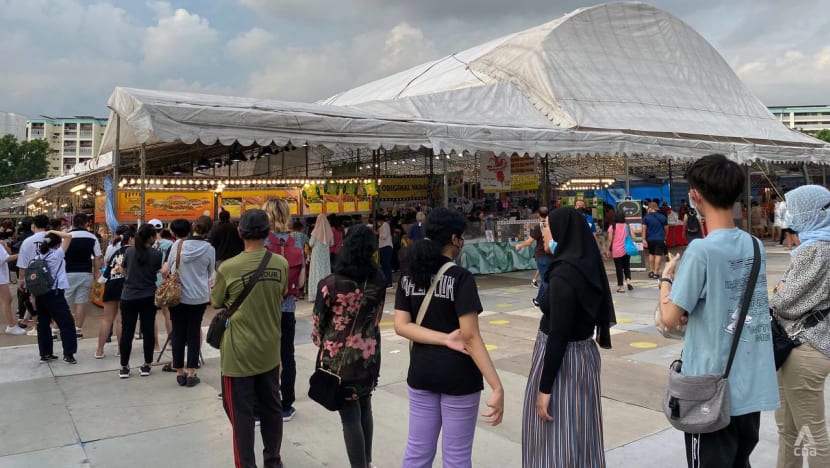 Shafiq, an employee manning the Boon Lay Power Nasi Lemak stall at the same bazaar, described the crowd as "overwhelming". 
He worked at Ramadan bazaars for more than five years before the pandemic. 
"You see the crowd … Ever since there's no safe distancing … we can't control (them). It's good for the business. After two-and-a-half years of the pandemic, it's quite remarkable to be back," he said. 
"The vibes are different compared to the past two years, when we didn't get to celebrate Ramadan. Now we get to enjoy the festive season month."
Muslims in Singapore ushered in Ramadan on Apr 3, leading up to Hari Raya Aidilfitri on May 3.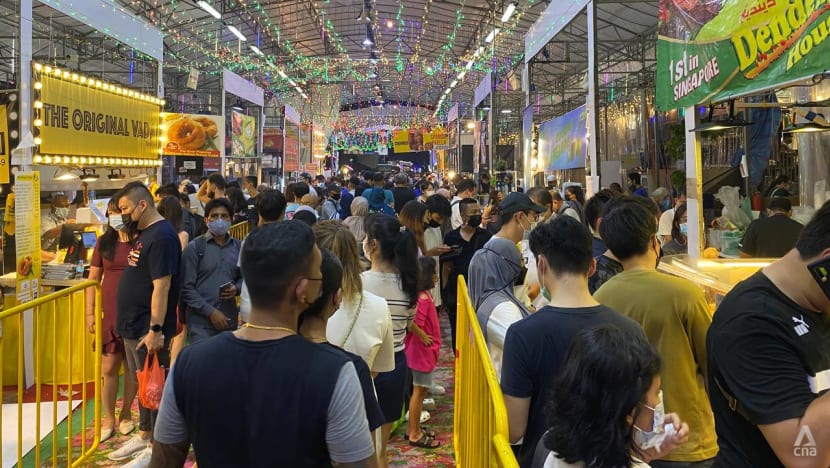 "MORE FREEDOM" 
Some customers at the BazaRia Marsiling bazaar expressed similar sentiments about the crowd.
Ishuarwin Kaur, 19, told CNA she would visit a Ramadan bazaar every year before the pandemic and even visit each bazaar a few times – "specifically for the Ramly burgers". 
"I think it's more crowded than (even pre-pandemic crowds). Because the hype is here (after two years of having no bazaars)," she said. 
In the line for Ramly burgers with her, 25-year-old Kavinath added that they visited the Geylang Serai bazaar before the SafeEntry barriers were removed on Tuesday. 
"That time we went, we needed to do SafeEntry. But today there's more freedom, it feels like we can roam around," he said. 
For sisters Syaza and Natasha, the queue for Ramly burgers was too long. They ended up with only finger food and snacks. 
Nonetheless, they felt the overall crowd was muted compared to the past. 
"Of course, (the bazaar is) on a smaller scale this year ... But (the smaller crowd) could also be due to the fact that it's a Tuesday and people are also going to break fast soon. They may have already bought their food beforehand, so they've gone back home to break fast," said Syaza. 
Over at the Geylang Serai bazaar, first-time visitors Jiang Hao and Xuan Ling said the Ramadan bazaar met their expectations. 
"After the last two years of COVID-19, we wanted to find somewhere interesting to visit. So we found this bazaar happening, and it's been quite a long time since (going out) ... with the whole COVID situation," said Jiang Hao. 
Fellow Ramadan bazaar first-timers should visit just to "experience the Ramadan spirit", he added.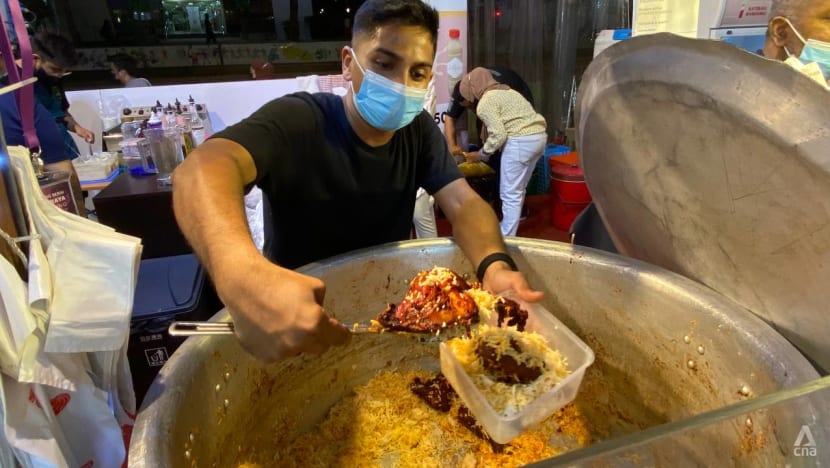 CROWDS COULD BE BETTER
For a few first-time vendors at the Geylang Serai bazaar, the crowds could be better – even though the SafeEntry barriers were removed on Tuesday when CNA visited. 
"We expected it to be even more crowded. Those stalls that are known are quite crowded, but the newcomers ... they are not (drawing) that big of a crowd," said Fattah, 27, an employee at the Rancho Meats stall. 
Even though there was a shorter queue at the entrance to the bazaar because there were no more SafeEntry barriers, Fattah added that the crowd size could also be due to the fact that it was still a weekday. 
"When it comes to the weekend, we'll find out how it goes ... as it's the last weekend of Ramadan, so it'll be the busiest weekend," he said. 
At Latif's Briyani, 66-year-old Mohamed Salim, who was helping his sister-in-law with her business, said the crowds "could be better". 
"Weekends are okay. But as I said, it can be better. Because the bottleneck is at the (entrance). No TraceTogether today (but) not much difference," he said. 
As for first-time visitors, Mr Salim only had one piece of advice: "They have to bring a lot of money. With fasting month, you will want to drink a lot and buy everything to eat the minute you break your fast." 
Despite the less-than-ideal crowds, he added that he enjoyed the "family" atmosphere at the bazaar. 
"We're a family: This guy, that guy; they help us out, we help them out," he said.
"If they don't have certain bags, or they don't have spare change, we give them. We don't have, they give us. We give them biryani for a break, they give us drinks for a break. It's a family atmosphere here."