Pigeon population will keep growing unless people stop feeding them: AVA
MP for Nee Soon GRC Louis Ng intends to propose a bill to empower citizens to stop pigeon feeders.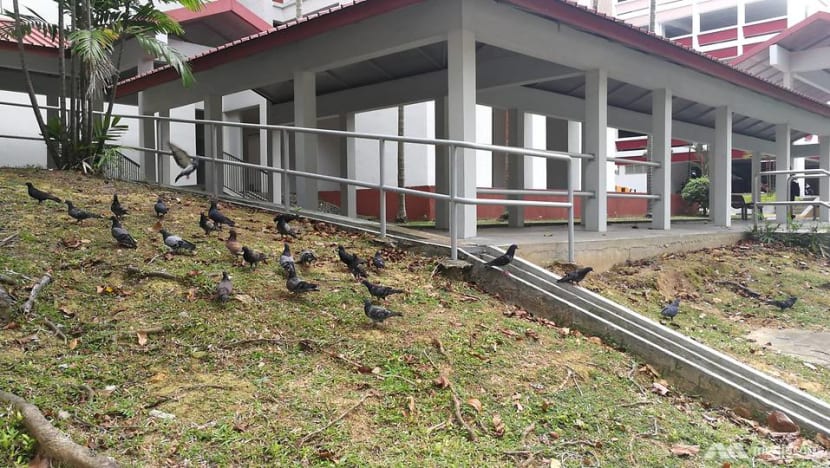 SINGAPORE: If you are concerned about pigeon droppings dirtying your laundry or other hygiene issues, it may come as a surprise to hear that it's not the birds which are causing the problem. In fact, their feeders are.
The Agri-Food and Veterinary Authority (AVA) said that actively feeding pigeons and food litter are the main factors contributing to the growth of the pigeon population.
The authority was responding to queries from Channel NewsAsia on the root cause of the decades-old issue, and the effectiveness of the current penalties for pigeon feeding.
A spokesperson cautioned that the pigeon population will continue to grow if food is readily available, which will make pigeon-related issues worse, such as droppings on window ledges.
"Enforcement alone will not solve the pigeon-feeding problem," she said. 
The penalty for feeding pigeons is a fine of up to S$500. AVA penalised 130 people in 2016, five of whom were repeat offenders. Last year, that went up to 218, of whom eight were recalcitrant. As of Mar 20 this year, 93 people had been penalised, out of whom one was a repeat offender.
At the same time, AVA numbers suggest that concern about pigeons is increasing, with 5,500 instances of feedback in 2017, a 34 per cent increase from 4,100 in 2016. 
The spokesperson added that pigeons are not native birds and are an invasive species. "Their droppings dirty the environment, and leftover food from pigeon feeding may attract other pests, like rats, that carry diseases and pose a risk to public health," she said.
They can also potentially spread diseases to humans through contaminated droppings or via contact with diseased or dead birds, she added.
CAMERAS INSTALLED AS EYES OF AVA
The authority has installed about 100 cameras since 2016, the spokesperson said. "Through the use of these cameras, AVA has taken enforcement actions against recalcitrant pigeon feeders, who are subjected to heavier penalties," she said.
The presence of cameras also serves as a deterrent to pigeon feeding, she said, adding that in cases where the photos or video footage of the alleged feeders are available, AVA will also work with the respective Town Councils to put up notices at the feeding spots to appeal for information from members of the public.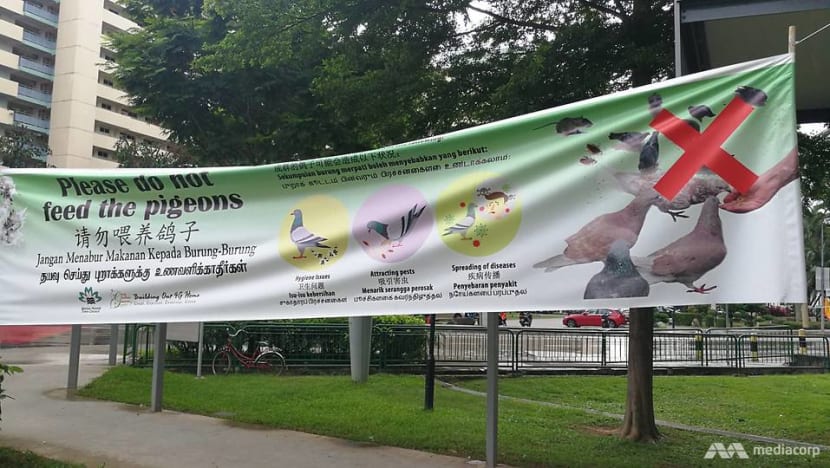 In the long term, AVA conducts studies and analyses surveillance and feedback data to formulate a science-based management approach and continue efforts to educate the public on the right behaviour to have towards animals, the spokesperson added.
"As animal-related issues are often complex, there is no single solution," she said.
She added that the public has a part to play.
"The public can play a bigger role in managing pigeon-related issues by talking to others about the downsides of feeding. By leveraging their sphere of influence, members of the public can help change the behaviour and perspectives within their community," she said.
AVA also urged members of the public not to feed pigeons, and to report pigeon feeders.
HOW TO SOLVE THE ISSUE OF PIGEON FEEDING?
Laws to empower citizens to stop animal feeders, including pigeon feeders, could come into effect, if MP for Nee Soon GRC Louis Ng has his way.
Mr Ng told Channel NewsAsia during an interview about upcoming plans to conduct a public consultation on amending the Wild Animals and Birds Act. He is looking to file a private member's Bill to make changes to the Act, which he believes currently has gaps.
He said that citizens could be issued with a warrant card in order to have powers to stop feeders and collect their details.
"Then feeders will know there are people watching," he said. 
Among the changes he wants to introduce is the introduction of fines for feeding wild animals regardless of the location. He said the changes will address feeders regardless of the environment the animals are in, as enforcement prescribed in current laws distinguish between protected areas and other public areas. 
When it comes to pigeons, he stressed that the feeding of pigeons and easy access to food for them are the problems. 
"The issue is that we have been treating the symptoms - the pigeons - instead of the root cause, easy availability of food," he said.
ANIMALS GO AWAY WHEN THEY DON'T GET FREE FOOD
He recalled an incident that proved his point, although it did not involve pigeons. Some months ago, a monkey started turning up in the heart of his ward in Yishun. Mr Ng's response was to get people to go door-to-door to give residents a simple instruction: Do not feed the monkey.
Residents heeded the advice, and in no time, the monkey left and was not seen again. Mr Ng pointed to this as a sure sign that if people do not feed the animals and watch from a distance, birds and animals will be less of a problem.
"If people don't feed them, they are not going to breed rapidly," he said, adding that current measures could be counter-productive, or not effective.
"If they were effective, this issue will not be decades-old," he said.
He also addressed another solution AVA has tried: Feeding contraceptives to pigeons. He said this is not sustainable as it requires the birds to be fed without fail, and that increasing manpower to deal with such issues is not sustainable either.
PIGEON FEEDERS THINK THEY ARE BEING KIND
When Channel NewsAsia visited some areas singled out for their pigeon problems in Ang Mo Kio, Boon Lay and Bukit Batok, residents pointed to recalcitrant feeders as culprits. However, they can be difficult to catch in action, they said.
One resident in Ang Mo Kio said that feeders wait till no one is around, and by the time she sees the food, the feeder is nowhere to be found. She added however, that even if she catches the offender red-handed, she would not know what to do. 
Mr Jimmy Chua, 62, who takes care of a community garden in Ang Mo Kio Ave 10, said that he has come to the garden and seen it littered with items like bread crumbs and other food, thrown by people from windows that overlook the area.
"It's so dirty. I know they live in this block, but I don't know who they are or when they throw," he said.
Mr Ng, who has also experienced residents complaining to him about pigeons, said that pigeon feeders think they are doing good and may not be aware of the harm they are doing. 

MP for West Coast GRC, and the area's town council chairman Patrick Tay echoed the view. While he said pigeons are "not a major problem" in his ward, he said they are a challenge to deal with.
"The main challenge are the feeders. They believe they are doing it out of compassion and kindness, and continue doing so," he said.