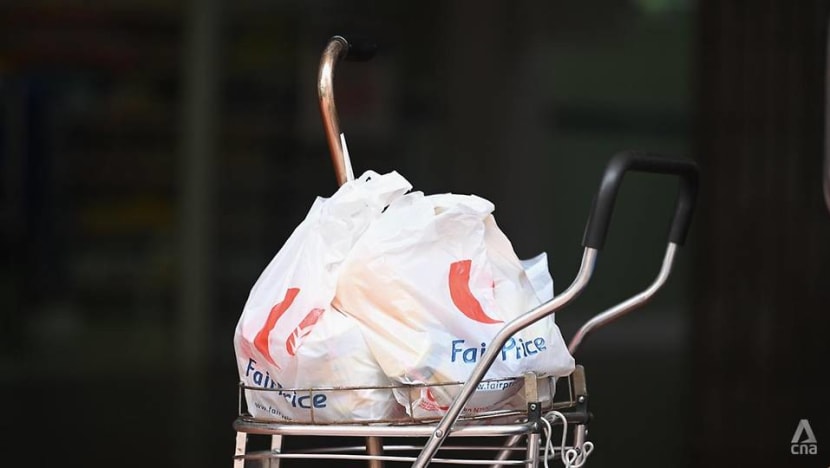 SINGAPORE: The intent of a disposable carrier bag charge at supermarkets is to "discourage excessive use", said Minister for Sustainability and the Environment Grace Fu on Tuesday (Feb 15). 
This is because such use is "unsustainable", as it "uses up resources and adds to carbon emissions when incinerated in our waste-to-energy plants".
Ms Fu was responding to a Parliamentary Question posed by Nominated Member of Parliament Dr Shahira Abdullah on the move to reduce plastic bag usage in Singapore. 
She acknowledged that while residents need disposable bags for bagging rubbish, the proposed plastic bag charge will not remove the public's access to disposable bags.
"Disposable bags will still be available from supermarkets, including those for the bagging of fresh produce such as fish and meat, as well as from other non-supermarket retail outlets and wet markets," she stated in a written response. 
SUSTAINABLE PACKAGING MAY COST LESS ONCE IT BECOMES "MORE MAINSTREAM"  
The plastic bag charge is just one measure to help Singapore move towards a "sustainable and greener economy". 
But as Singapore aims to thrive in a carbon and resource-restrained future, consumers are increasingly demanding sustainable products and services, as well as choosing to buy from businesses with more sustainable practices, said Ms Fu earlier in Parliament. 
And in some cases, products and services may "cost a bit more", she added.
"But in a competitive market, businesses will compete to provide consumers with the most value-for-money products and services. As sustainable products and services become more mainstream, economies of scale could bring down costs."
There could also be cost savings from going green, she pointed out.
For example, energy efficient products "may cost more upfront but provide savings over their life cycle".
MORE COMPANIES ENCOURAGED TO TAKE UP SUSTAINABLE PACKAGING
Ms Fu also noted that packaging waste is one of Singapore's main waste streams and a priority area for waste reduction for the Ministry of Sustainability and the Environment. 
"We have required large producers of packaged products and retailers, including supermarkets, to report annually the amount of packaging they introduce into Singapore, as well as their plans to reduce, reuse or recycle packaging," she explained. 
This Mandatory Packaging Reporting framework focuses companies' attention on the packaging that they are placing on the market, and encourages them to reduce packaging use, she said.
It also "lays the foundation for an Extended Producer Responsibility scheme" for packaging waste eventually.
With packaging an important function of "reducing damage, minimising cross-contamination, and enhancing the shelf-life of certain food types", this will reduce the wastage of food products.
As such, supermarkets and businesses can preserve the quality of their products through more sustainable packaging models, such as reusable and refillable packaging, said Ms Fu.
She also shared that the Singapore Manufacturing Federation and the National Environment Agency launched the Packaging Partnership Programme in 2021 to support companies in adopting sustainable packaging waste management practices.
At the moment, the programme has conducted 12 sessions of workshops, two webinars and five training sessions for companies involved. These companies span the entire packaging supply chain line, from manufacturing, to logistics service providers, and even retailers such as supermarkets. 
"We hope that more companies will come on board, and we hope that the programme, through its time, will bring about more sustainable packaging practices into the market," said Ms Fu.