Platinium Dogs Club operator sentenced to 2 weeks' jail and fined S$35,700
Charlotte Liew had engaged a company, Mobile Pet Cremation, under a fake name to cremate the carcass of a Shetland sheepdog, which died under her care.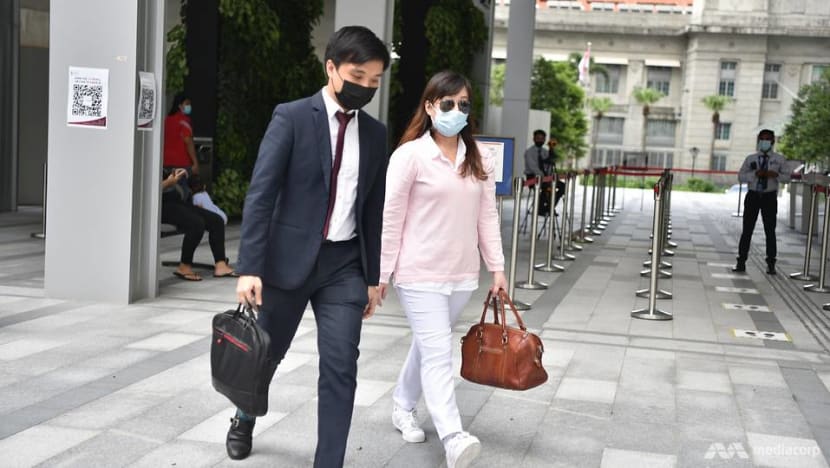 SINGAPORE: The operator of pet hotel Platinium Dogs Club was sentenced to two weeks' jail and fined S$35,700 on Tuesday (Aug 31) for multiple offences, including obstructing the course of justice by cremating the carcass of a Shetland sheepdog. 
Charlotte Liew, 33, was also banned from running an animal-related business for 12 months. 
Liew pleaded guilty to four counts of breaching her duty of care as an animal owner under the Animal and Birds Act. 
She also pleaded guilty to one count of giving false information to a public servant, one count of obstructing the course of justice and one count of providing services as an unregisted business. 
According to court documents, Liew was operating Platinium Dogs Club, which offered boarding services for dogs at a residential property at Galistan Avenue in Bukit Panjang. 
ACRA RECEIVED LETTER ALLEGING PLATINIUM DOGS CLUB WAS NOT A REGISTERED BUSINESS IDENTITY
Sometime in September 2018, the Accounting and Corporate Regulatory Authority (ACRA) received a letter from a person who alleged that Platinium Dogs Club was not a registered business entity. 
The person, who was not named in court documents, had tried to seek recourse against the pet hotel in the Small Claims Tribunal but found out it was not a registered business entity. 
Liew was called up by ACRA for investigations on Sep 29, 2018. 
She directed her sister, Ms Charmaine Tam, to apply to register Platinium Dogs Club as a business on Oct 30, 2018. 
Ms Tam submitted the application to the Registrar of Business Names, which stated that the principal place of business for Platinium Dogs Club was along Woodlands Avenue 1 when it was located along Galistan Avenue. 
In the application, Ms Tam stated she was the owner of Platinium Dogs Club. She also lied that the business began operating on Oct 31, 2018 when Liew had been running it since January 2018. 
ACCUSED CLAIMED SHETLAND SHEEPDOG BITTEN TO DEATH
On Dec 14, 2018, Liew met Ms Mao Yanchai, the owner of a 7-year-old Shetland sheepdog, named Prince. 
Ms Mao had intended to place Prince with Platinium Dogs Club while she was away from Singapore from Dec 16, 2018 to Jan 22, 2019. 
Ms Mao was satisfied with the conditions of the premises and paid S$945 to Liew for Prince to stay in a private room and be fed twice a day. 
She was also told a Platinium Dogs Club staff would be present in the pet hotel at all times and that the facility would be fully air-conditioned. 
Prince was brought to the pet hotel on Dec 16, 2018. 
During Prince's stay, Liew provided updates to Ms Mao via video text messages on Dec 18, 2018 and Dec 22, 2018. The dog later died under Liew's care sometime between Dec 22, 2018 and Dec 24, 2018, according to the court documents. 
The actual circumstances and cause of its death are unknown. Liew claimed that Prince was bitten to death by another dog in Platinium Dogs Club in her absence. 
On Dec 24, 2018, Liew used a fake name and hired a company, Mobile Pet Cremation, to cremate Prince. 
She lied that the carcass was that of a 15-year-old dog named Crayon that she owned, and signed off on a form provided by the company that the information was correct. 
"The accused did this with the intention to obstruct the course of justice by destroying evidence that would have been valuable to investigating into Prince's cause of death," court documents stated. 
Prince was already cremated by the time the Agri-Food and Veterinary Authority of Singapore found out about its death. There was no other means for Ms Mao or AVA to establish the circumstances or causes of Prince's death. 
Liew texted Ms Mao on Dec 30, 2018 and told her that Prince was missing. She claimed that AVA officers had raided the pet hotel and taken away some dogs that were unlicensed. 
She also told Ms Mao that the officers had left the pet hotel's premises unlocked. 
Ms Mao told her that Prince was licensed and asked for more information. However, Liew stopped replying and ignored Ms Mao's phone calls, court documents stated. 
Ms Mao went to Platinium Dogs Club on Jan 2, 2019 to look for Liew. 
According to court documents, Ms Mao had "implored" Liew to reveal Prince's whereabouts and even got down on her knees. But Liew ignored her pleas. 
Not knowing that Prince had died, Mao and some other members of the public organised search parties to look for the dog.
JACK RUSSELL TERRIER DEATH
Liew met with another customer, Ms Png Lee Kun, on Dec 20, 2018. Ms Png wanted to place two of her dogs with Platinium Dogs Club for one week. 
One of the dogs was a 14-year-old Jack Russell Terrier named QQ and the other, a Jack Russell cross Maltese named Louis. 
Liew promised Ms Png that the two dogs would be kept in a private room on the first floor of the pet hotel.
As QQ suffered from acute pancreatitis, Ms Png provided Liew with a special low-fat kibble and specifically told her that QQ could only consume those kibbles. 
During their stay, Liew did not ensure QQ only ate her special low-fat kibble, court documents stated. QQ was also given unsuitable kibbles on occasions. 
Ms Png requested Liew to provide daily updates on her two dogs, but Liew only did so on a few days. 
The day before Ms Png was scheduled to collect her dogs, Liew sent a video showing QQ lying down and not responding. The dog looked skinny and had abrasions on its inner thigh. There were also faeces and urine all over its body and limbs. 
Liew told Ms Png that QQ did not eat much and "seemed like she was dying". 
Ms Png requested Liew take QQ to her veterinarian. Liew brought QQ to the clinic and left immediately after dropping the dog off. 
QQ died several hours later.
A post-mortem examination showed that QQ suffered from acute renal failure, and it was noted that QQ's pancreatitis could have flared up due to a sudden intake of fatty diet.
According to Ms Png, the special low-fat kibbles that were provided were returned to her untouched, court documents stated. 
12 DOGS AND 1 RABBIT FOUND IN PREMISES 
AVA officers visited Platinium Dogs Club on Dec 27, 2018, after receiving multiple complaints from dog owners and members of the public against the pet hotel. 
However, nobody answered the door. The officers visited the premises again on Dec 29, 2018 but Liew did not answer the door and was also uncontactable. 
With the permission and assistance of the landlord, AVA officers entered Platinium Dogs Club. A total of 12 dogs and one rabbit were found on the premises, with some of the animals leashed to fixtures and others roaming freely. 
Urine and faeces were also littered throughout the three floors of the pet hotel. 
AVA officers found two dogs in a closed room. All the windows were shut and there was no air-conditioning or other source of ventilation in the room. The dogs were tied to a fixture on the window.
One of the dogs, a white husky, was found on a short leash and could only "sit, stand on all fours, turn around and make approximately one step forward", court documents stated.
Officers found that no water was made available to the dog.
Three other dogs, including an Australian Shepherd, were also found in another room under similar circumstances.
ACCUSED FAILED TO RECOVER MISSING DOG
On Dec 30, 2018, a dog named Texas boarded at Platinium Dogs Club ran out of the premises when Liew opened the gate. Texas was not leashed at that time. 
Liew followed the dog in an attempt to retrieve him but found Texas to be aggressive, court documents stated. Shortly after, Liew gave up trying to get him back and returned to the pet hotel. 
A neighbour saw what had happened and volunteered to help Liew recover Texas. However, Liew refused.
Liew did not make "any reasonable efforts" after to recover the dog, court documents stated. 
The neighbour went to search for Texas and found him along a road nearby. She later managed to coax Texas into her house and housed the dog for two days before returning it to its owner on Jan 1, 2019.
"In the meantime, the accused had made no enquiries about Texas," the court documents stated.
Liew was arrested on Jan 6, 2019 for offences under the Animal and Birds Act and investigated for her running of Platinium Dogs Club. 
While providing a statement to AVA officer Mukutiar Khan at Tanglin Police Division on the same day, Liew was asked if any dogs died under her care. 
She lied that a mixed Chihuahua named Crayon, which she owned, had died in its sleep under her care. Liew said she had sent its body for cremation with "Mobile Pet Cremation Company". 
She also lied that she last saw the dog, Prince, on Dec 29, 2018, before it was discovered missing. She further claimed that she did not know what happened to Prince. 
AVA officers conducted further investigations as a result of the false information. Liew eventually "recanted her lies" on Jan 7, 2019 in a further statement to AVA.