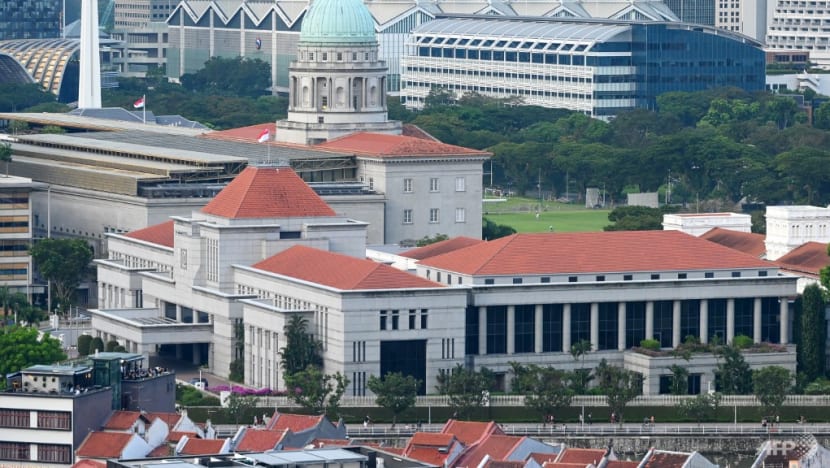 SINGAPORE: The nation's governance and "all our lives" will go wrong if Singapore's politics goes wrong - something that has already happened in other countries, Prime Minister Lee Hsien Loong said on Sunday (Nov 6).
Addressing more than 3,000 party members at the biennial People's Action Party (PAP) conference, Mr Lee said that the party cannot take its duty lightly and has to keep working to renew its succession and leadership.
Governments in other countries get "distracted and paralysed" and society "becomes divided" when politics turns contentious, he added.
One example Mr Lee raised was the US "which sees itself as a city upon a hill, an example to the world of how a country should be governed".
"But their politics has become deeply divided, polarised and dysfunctional. Many Americans do not believe their election results," he said.
Mr Lee also pointed to Britain, saying it "recently experienced such political turmoil that one would have thought impossible in Britain". Last month, it appointed its third prime minister - Rishi Sunak - in two months.
Mr Lee said: "Some people think this will never happen to Singapore, that simply by virtue of being Singaporeans, these things cannot happen to us. That our politics will always work well, the way it has worked for 60 years.
"But in fact, what we have today is not natural at all. This sort of government is rare. Almost everywhere else, governments hardly think beyond the next general election."
Mr Lee said that Singapore has become like this "only through the blood, sweat and tears of many generations", and because "the people have worked closely with the PAP to solve problems, improve ourselves and create what we enjoy today".
He told the party members that the PAP cannot take its duty lightly because things can easily go wrong here too.
"There is no magic in our land, water or air. Our people are not inherently better, or smarter, or more virtuous than people in other countries.
"Maybe we are more cohesive but there is no vaccine to protect us from the same dark forces of anger, fear, racism and xenophobia," Mr Lee added.
PAP HAS IDENTIFIED 'PROMISING CANDIDATES' FOR NEXT GE
Turning to the issue of succession and leadership renewal, Mr Lee said that he recently received a visitor from a developed country whose leadership changed hands every two or three years, sometimes more frequently.
"He admired how orderly and systematic our political successions were. I replied to him that it is not easy for us either, but we are determined to fulfil our responsibility to future generations to the best of our ability," Mr Lee added.
He noted that the fourth generation, or 4G, team has chosen Deputy Prime Minister Lawrence Wong to lead them.
Sunday's central executive committee (CEC) election will also see a renewal follow-through in the PAP's leadership, he said.
Mr Lee thanked party chairman Gan Kim Yong, who will not be standing for re-election in the CEC.
"We need to keep on inducting good people into Singapore politics — people with ideas to improve our lives, and with the heart to serve the people and represent their concerns," Mr Lee said.
"People who can form the most capable, committed and cohesive teams of MPs (Members of Parliament) and ministers to lead Singapore. People who will carry Singapore's success further into the next generation."
Mr Lee then described the last General Election (GE), which took place in 2020 during the COVID-19 pandemic, as "a major changing of the guard in the midst of a crisis". The PAP had brought in 24 new MPs.
He said that since then, the party has been "busy combing for new potential candidates".
"We have already identified some promising ones, and more are in the pipeline," he added.
"I am confident that come the next GE, we will again be able to present a talented, diverse and representative team of candidates, both experienced and new, ready to work with voters and take Singapore forward."
Mr Lee noted that the next GE will coincide with Singapore's political succession and that the nation "will be tested on all fronts, domestically as well as abroad".
"I have no doubt our neighbours will be watching closely whether Singaporeans continue to support the government; whether Singapore will continue to function and succeed, the way it has been doing. Let us do our utmost to win the next election decisively," he added.
He called on party members and activists to work with MPs and branch chairs to engage and "win the hearts and minds" of residents and groups, as well as "convince voters that a PAP government is our best hope for a stable and successful Singapore".
"My team and I — whether 3G, 4G or 5G — will honour the trust placed in us," Mr Lee said.
"We will always do right by the people. We will never shy away from the tough calls, and we will work with you to secure a better life for all, and a brighter future for generations to come."