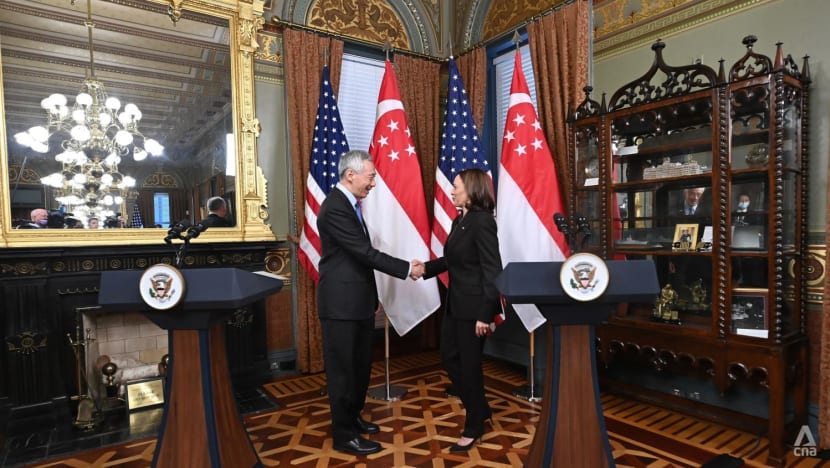 WASHINGTON: Singapore Prime Minister Lee Hsien Loong met United States Vice President Kamala Harris in Washington on Tuesday (Mar 29), where they reviewed the progress made since their last meeting in 2021 and agreed to further strengthen the strategic partnership between both countries.
Ms Harris made an official three-day visit to Singapore last August, during which both countries said they were entering new areas of partnership such as cybersecurity, climate and economic cooperation.
Several announcements have since been made during Mr Lee's working visit to the US this week.
For instance, a bilateral cyber dialogue will be set up to allow both countries to work together on critical infrastructure protection, data security and sharing of best practices in support of a rules-based multilateral order in cyberspace, Mr Lee said after the meeting with Ms Harris.
Both countries also renewed an agreement to deepen cooperation in infrastructure development, while expanding the deal to include green and sustainable projects in the region.
In addition, Singapore signed the Artemis Accords, becoming the 18th nation to join the US-led international pact that aims to promote the peaceful, sustainable and beneficial use of space.
"We are the first Southeast Asian country to sign on and we had a good discussion about this because the Vice President chairs the White House National Space Council," Mr Lee said in remarks delivered at the Eisenhower Executive Office Building.
Ms Harris said Southeast Asia is now represented in the international treaty, adding: "Singapore being the first Southeast Asian nation to recognise what we can do together to expand international norms as it relates to all matters, including matters in space."
Other issues on the agenda included supply chains and climate change.
"We have also discussed other issues that relate to our economies and again, the prosperity of our respective nations, including the importance of collaboration on the issue of supply chains," said Ms Harris, while reaffirming a "commitment to moving forward together" on the latter.
"And we have discussed the importance of climate and what our nations have the ability and have the commitment to do to be leaders on this issue that threatens the security and the well-being of our entire globe," she added.
The conflict in Ukraine was also discussed, with both sides reiterating a "shared commitment to a stable, rules-based global order", Mr Lee said.
The US Vice President also underscored the "enduring" commitment of the US to the Indo-Pacific region, and Southeast Asia in particular.
"The United States is a proud member of the Indo-Pacific, and the relationship that we have with the nations in that region and with Singapore, is an enduring relationship," Ms Harris told reporters.
"It is a relationship we value and we prioritise for many reasons, including the shared principle that we have about what is important in terms of world order and international norms and standards."
Mr Lee, in his remarks, said Singapore has "consistently" supported a strong US presence in the region, both through words and actions.
He noted that both countries enjoy close economic relations, such as how the US-Singapore free trade agreement signed in 2004 was America's first trade pact with an Asian country. Singapore and the US also share security and defence ties that go back many decades, said Mr Lee, noting Singapore's status as a major security cooperation partner of the US.
"We last met in August in Singapore, and we continued with a very good conversation this afternoon, reaffirming the longstanding and robust partnership between the two countries," said the Prime Minister.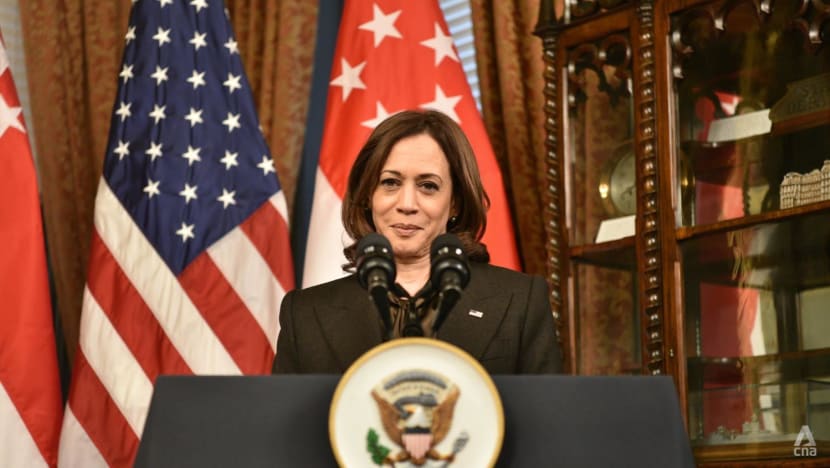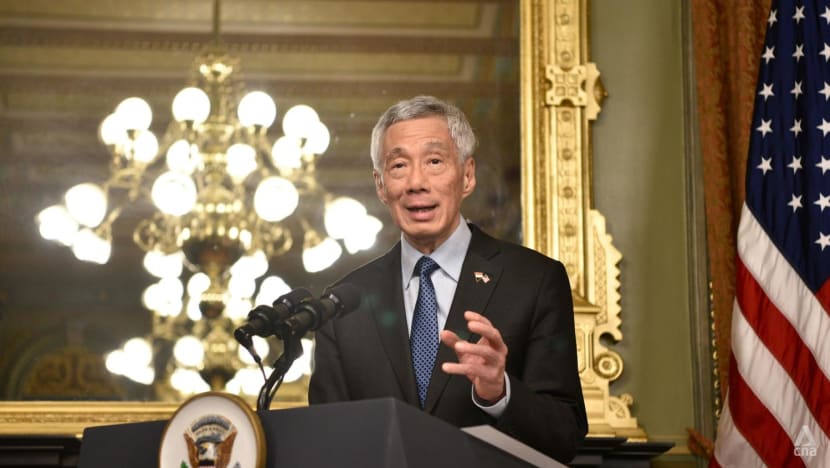 Earlier in the day, Mr Lee met US President Joe Biden at the Oval office for a meeting and discussed a wide variety of issues. 
"Current international uncertainties and crises underscore the need to work together with close friends and partners," Mr Lee said at a joint press conference after the hour-long meeting, adding that Singapore "deeply appreciates" America's commitment to engage Southeast Asia and especially Singapore, despite the ongoing crisis in Ukraine.
The Prime Minister added that he had "a very good discussion" with Mr Biden, noting that they reaffirmed the "longstanding and multi-faceted partnership" between Singapore and the US, as well as a shared commitment to a stable, rules-based global order.
NEW AREAS OF TRADE, INVESTMENT COOPERATION
Separately, government agencies from both countries - the US Department of Commerce (DOC), Singapore's Ministry of Trade and Industry (MTI), Ministry of Communications and Information (MCI) and the Infocomm Media Development Authority (IMDA) – announced three new areas of cooperation under the US-Singapore Partnership for Growth and Innovation (PGI).
First signed in October 2021, the PGI is a bilateral economic cooperation platform "designed to secure inclusive growth" for both economies and their regions by strengthening US-Singapore collaborations under four pillars: Digital economy, clean energy and environmental technology, advanced manufacturing and healthcare.
One new area of cooperation involves the DOC and IMDA collaborating to develop interoperable artificial intelligence (AI) governance frameworks and support the industry's adoption of ethical AI. 
Communications and Information Minister Josephine Teo said: "Companies can expect to deploy AI across borders with greater ease, to seize innovation opportunities while managing the risks. We look forward to tangible outcomes from our ongoing digital and cyber workstreams."
Another new area of cooperation will see senior US government officials leading an advanced manufacturing business development mission to Singapore and other countries in the region, including Indonesia. 
The US trade mission aims to promote standards that will improve manufacturing resiliency and facilitate new opportunities for collaboration among the Singapore and US private sectors.
Lastly, the DOC and MCI also plan to collaborate on cybersecurity best practices, including on regional capacity building programmes on smart cities through the ASEAN-Singapore Cybersecurity Centre of Excellence. 
US Secretary of Commerce Gina Raimondo said since its signing in October, the PGI has provided a platform for "consistent economic engagement" with Singapore.
"This work demonstrates the Commerce Department's continued commitment to foster collaboration among US and Singapore companies on emerging topics and issues that will not only allow us to build back from the pandemic, but also help ensure that economic growth in the future is both robust and inclusive," she added.
Ms Raimondo met Mrs Teo and Trade and Industry Minister Gan Kim Yong at the Four Seasons hotel in Washington on Tuesday afternoon.
Mr Gan said the PGI serves as a "springboard" to deepen economic integration between the US and Southeast Asia. 
"We will welcome businesses and governments from the broader Southeast Asia region to participate in PGI activities, so that we can emerge stronger together. We look forward to pursuing more collaborations under the PGI in the coming years," he said in a press release.