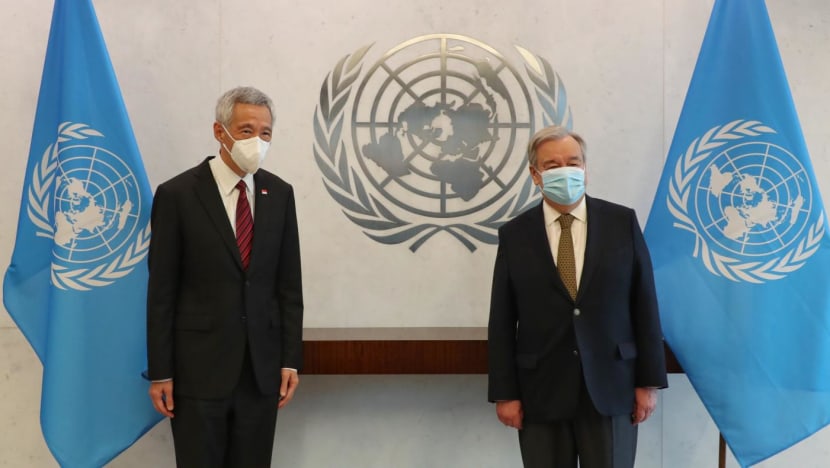 NEW YORK: Prime Minister Lee Hsien Loong met United Nations Secretary-General António Guterres on Friday (Apr 1), when they had "a good and wide-ranging discussion".
The 40-minute-long meeting took place at the UN headquarters in New York.
Mr Lee visited the UN to "show his support for the leadership and the work of the UN, particularly at a time when multilateralism is being tested", said a statement from the Prime Minister's press secretary Chang Li Lin.
"It is at this moment that we need to support the UN, and work together to strengthen the rules-based system so that we can effectively tackle pressing challenges like climate change, oceans, and cyberspace together."
Mr Lee also expressed support for Mr Guterres' Our Common Agenda report as "a catalyst to strengthen international cooperation and reinvigorate the UN", the statement said.
The report, launched by the UN chief in September last year, is designed to strengthen and accelerate multilateral agreements.
It contains recommendations across four broad areas: Renewed solidarity between peoples and future generations, a new social contract anchored in human rights, better management of critical global commons, and global public goods that deliver equitably and sustainably for all, according to the UN website.
Senior Minister Tharman Shanmugaratnam will be contributing to this process through the High-Level Advisory Board on Effective Multilateralism, Ms Chang's statement added.
Mr Lee is in the US for a working visit until Apr 2.
Prior to New York City, he was in Washington DC where he met US President Joe Biden and Vice President Kamala Harris at the White House, as well as other top US officials.