'Good boy!': How police dogs are trained to sniff out drugs, explosives or find missing people
Police K-9 dogs help officers at the frontline, and have been involved in about 100 successful cases annually over the past three years. Get a glimpse into what the training process is like for these dogs.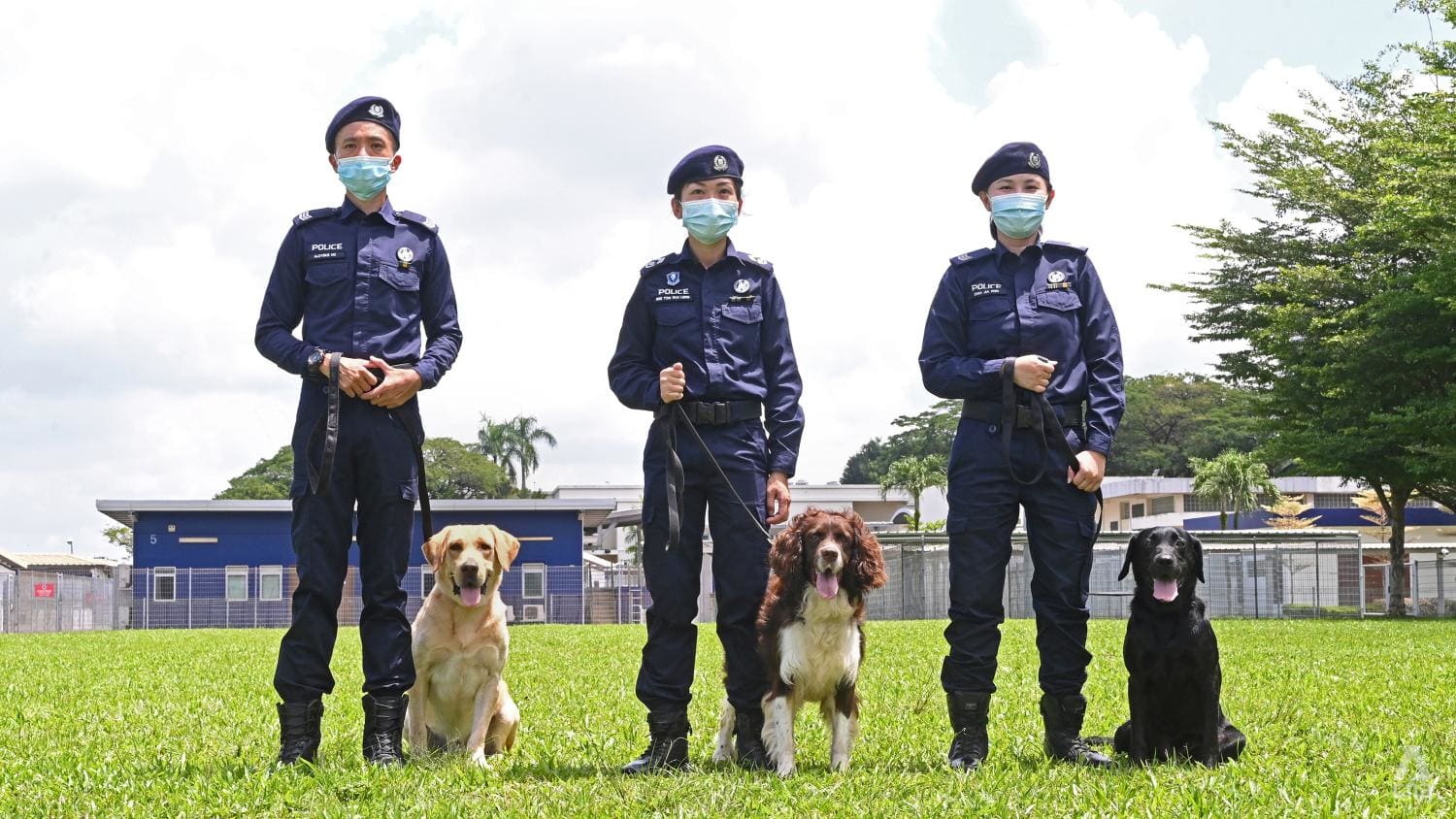 SINGAPORE: Scampering along a luggage conveyor belt, two-year-old narcotics detection dog Inca is hard at work, sniffing bag after bag.
Abruptly, the labrador retriever freezes – with his snout hovering right above a red suitcase.
It's a signal to his trainer: They've found what they're looking for. Inside the bag is a small 30g pack of drugs, wrapped in layers of plastic.
His handler, Sergeant Aloysius Ho, responds with praise: "Goooood boy!" He also brandishes a yellow rubber ball – Inca's reward for a job well done.
The dog wastes no time, chewing excitedly on his bounty before starting up a game of fetch with his handler.
It's an example of the positive reinforcement the Police K-9 unit uses to train their dogs, rewarding them with the ball for desired behaviours.
"The reward will make the dogs more likely to repeat such behaviours that will help its handlers achieve the mission," said the police.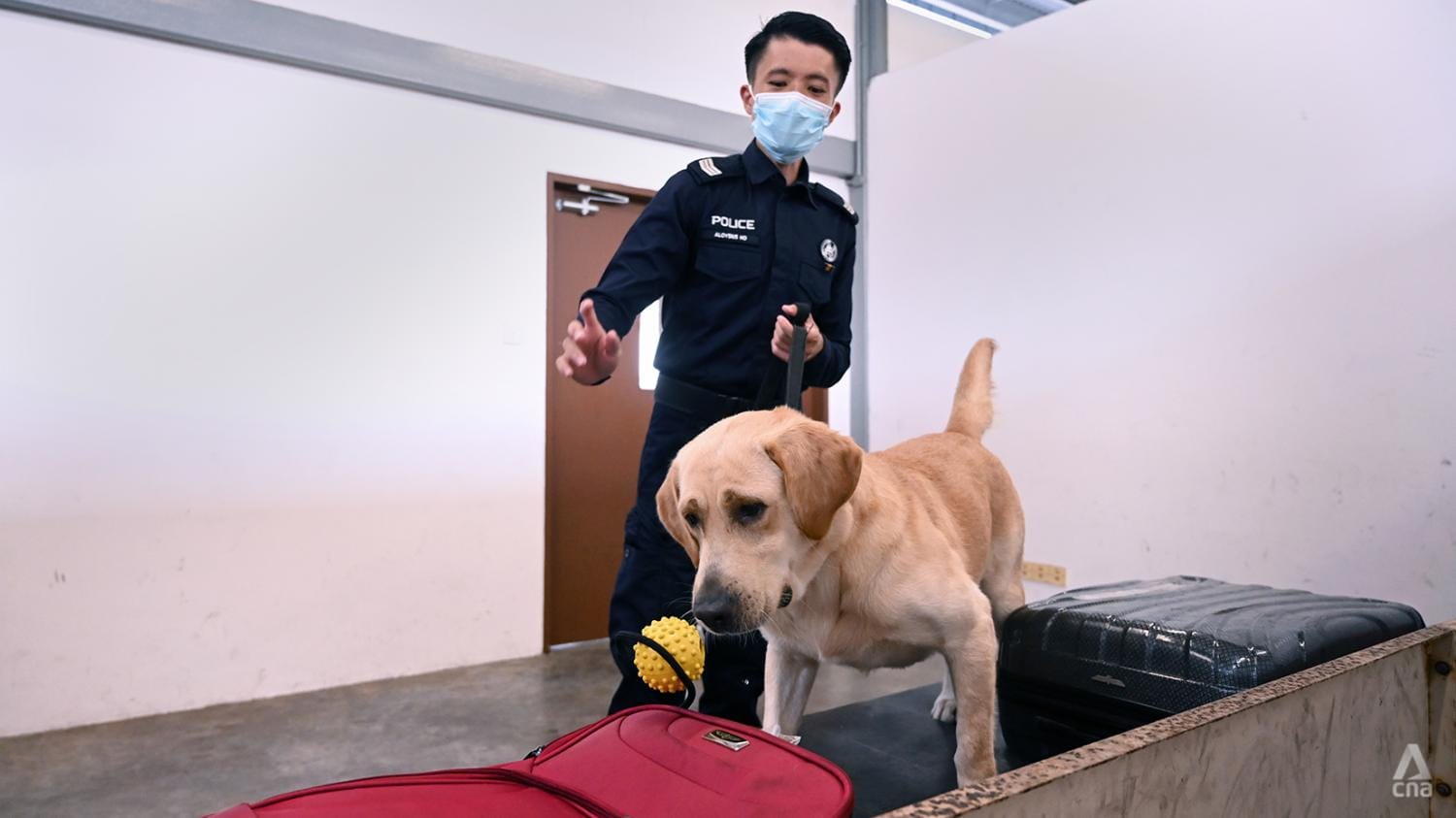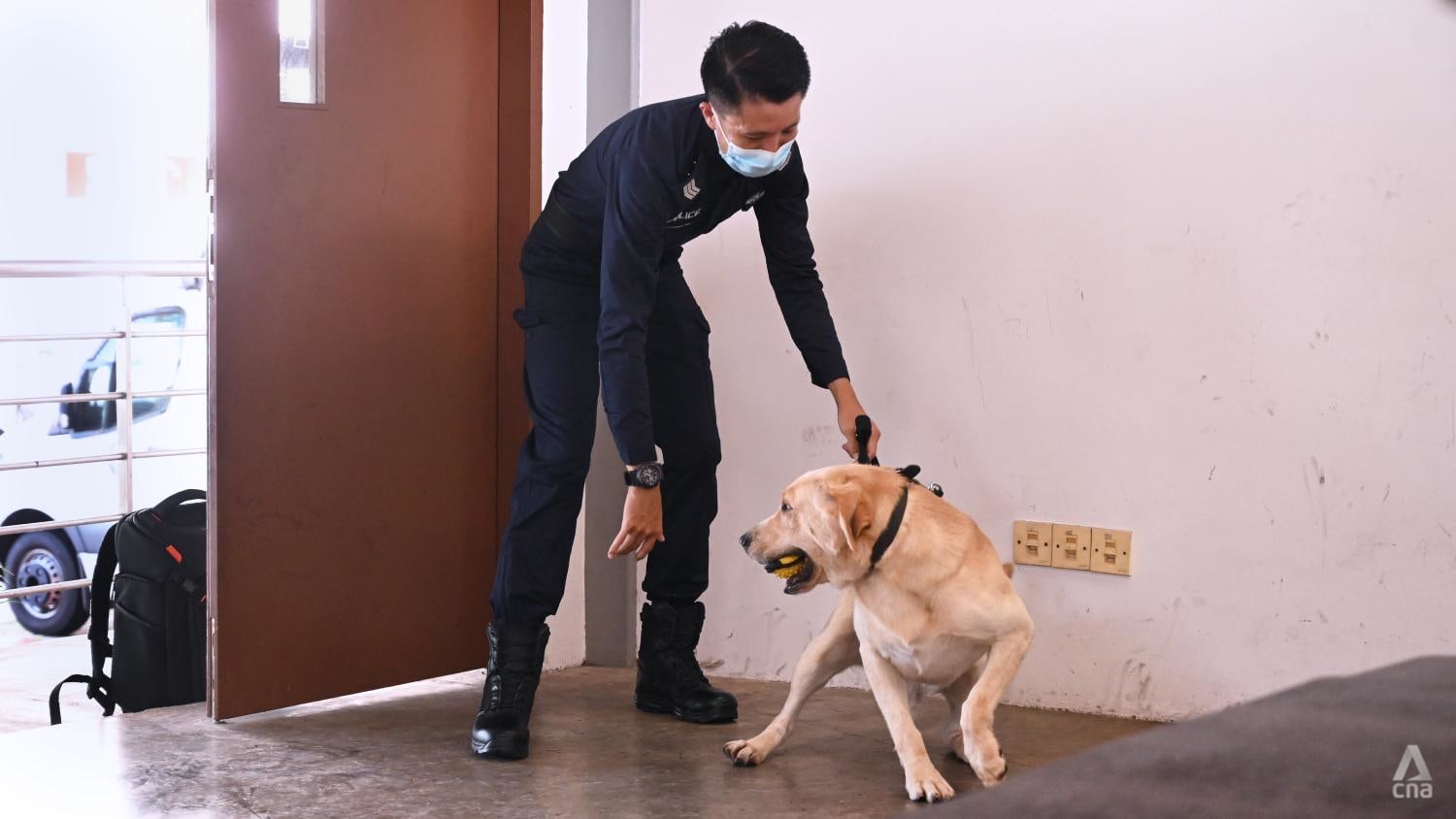 Besides training pups like Inca to sniff out narcotics, the Police K-9 unit – which has about 240 working dogs – also trains them to find explosives, track suspects or missing persons, or help with patrols and security coverage.
The unit has had about 100 successful cases every year over the past three years, the police said.
Dash, a five-year-old black labrador retriever, was the star of one such case.
In October 2020, the police were alerted after a man was found unresponsive in a car along Bukit Timah Road.
Dash detected something below the driver's seat and arm rest area.
This helped uncover 31 bags of a "brownish powdery substance" and a bag of a "crystallised substance", all believed to be controlled drugs, the police said.
At a media visit to the K-9 centre in Choa Chu Kang, Dash makes another appearance – this time, identifying someone carrying drugs from a row of four people.
A large fan blows from behind them, amplifying their scent. This set up is similar to ones used at Woodlands and Tuas Checkpoints.
Soon, she homes in on a suspect, pounces against a metal grille separating them to get a deeper whiff, and then starts gnawing at it.
She has found the person carrying the drugs – drawing praise and pats from her handler, Sergeant Choi Jia Wen.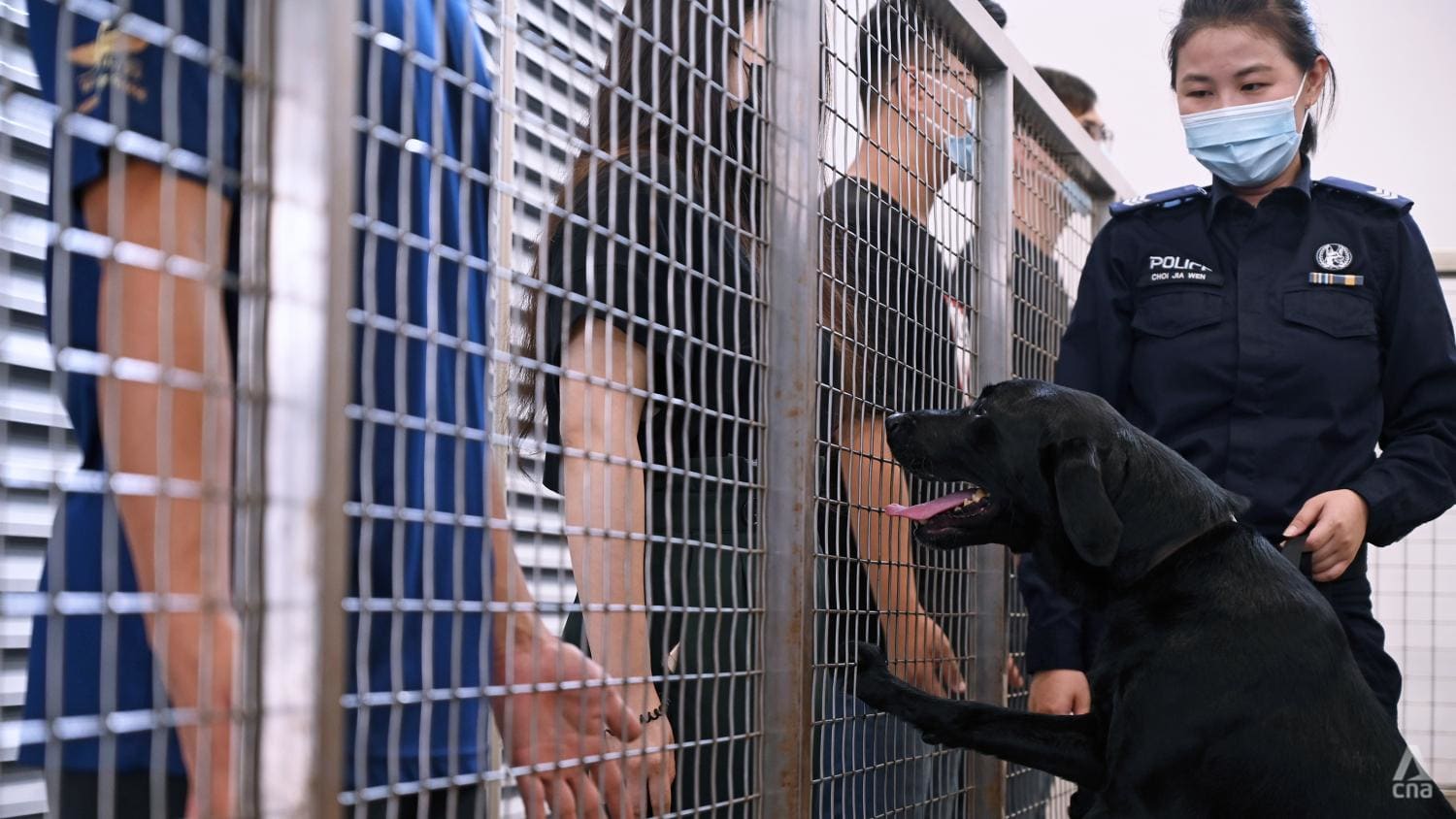 In another training room, Koby, an energetic two-year-old English springer spaniel, is looking for explosives.
Slightly nervous, the dog needs some coaxing from his handler, Station Inspector See Toh Wai Leng.
After zipping between stacks of crates, he stops at a red box on a low shelf. Staring at it dead-on, he taps his front paws repeatedly, as if to signal: "Here!"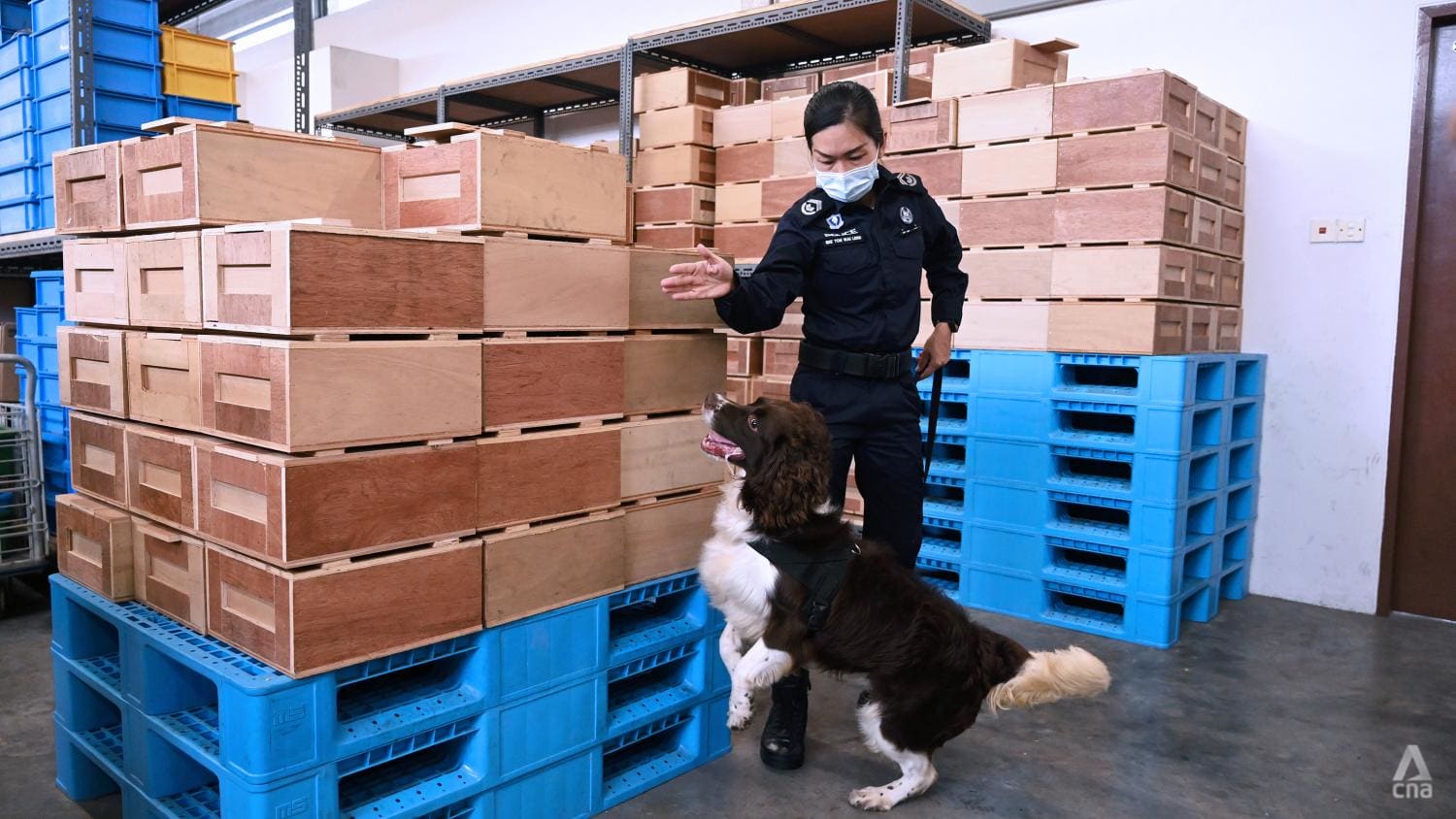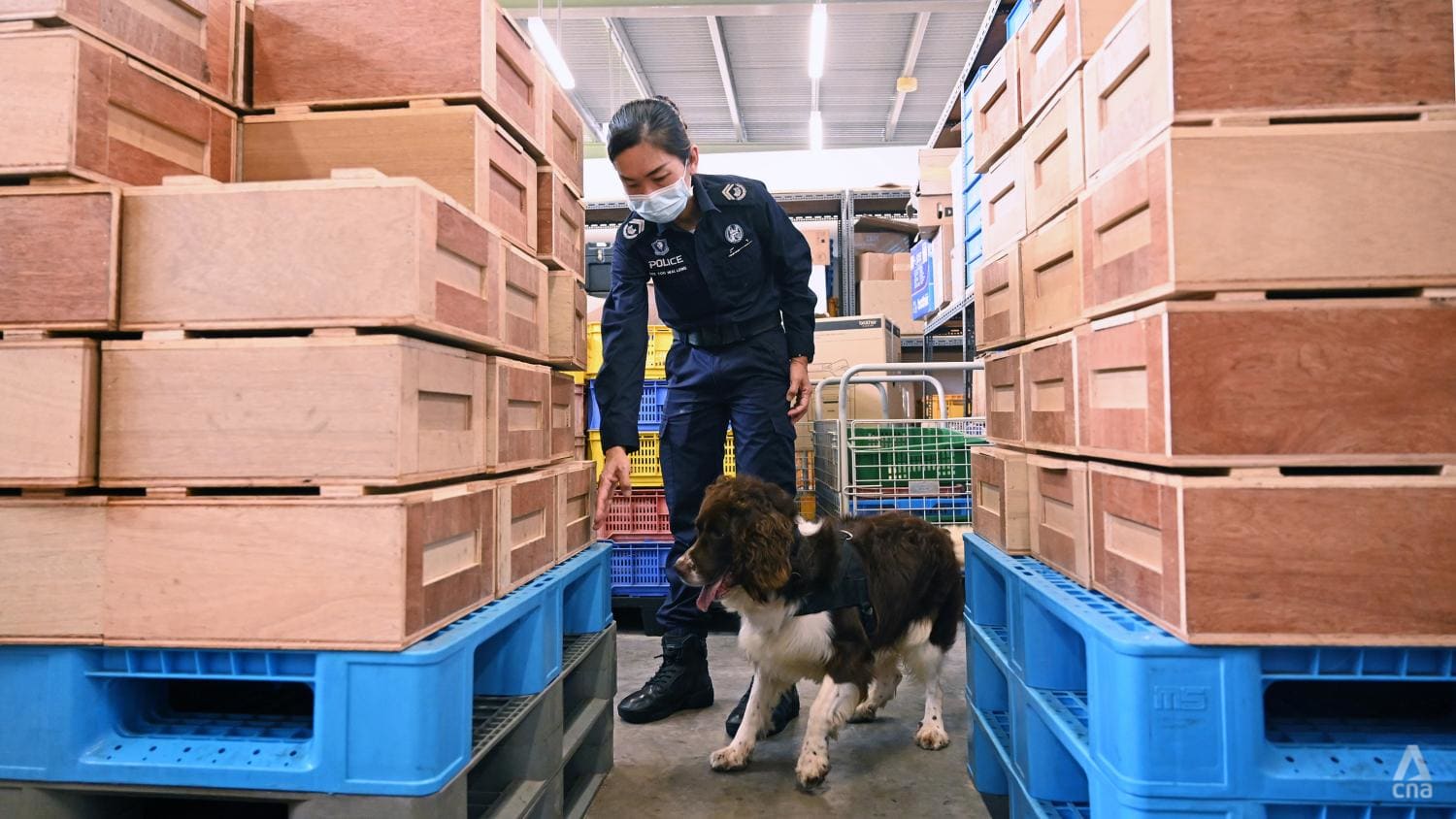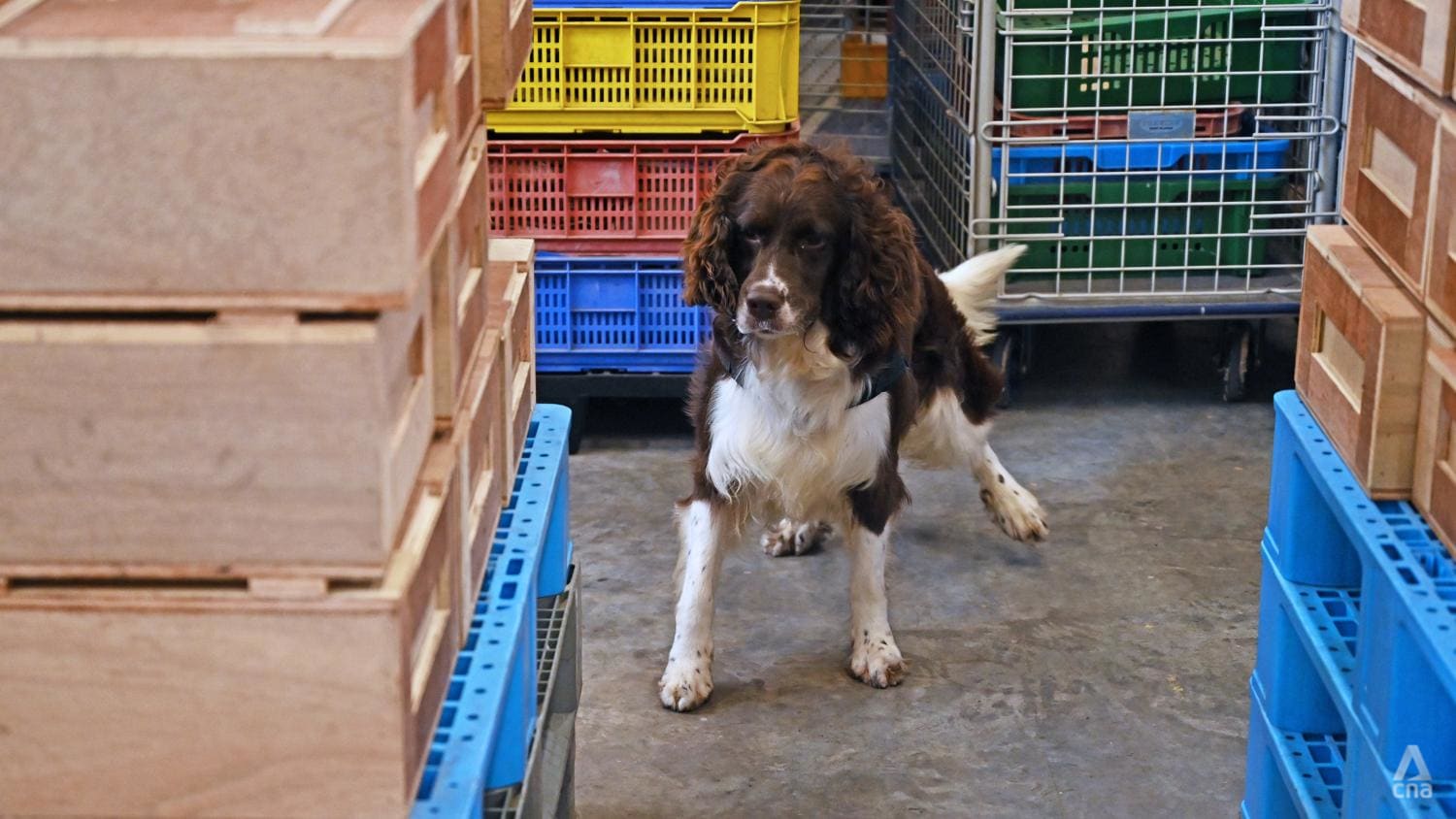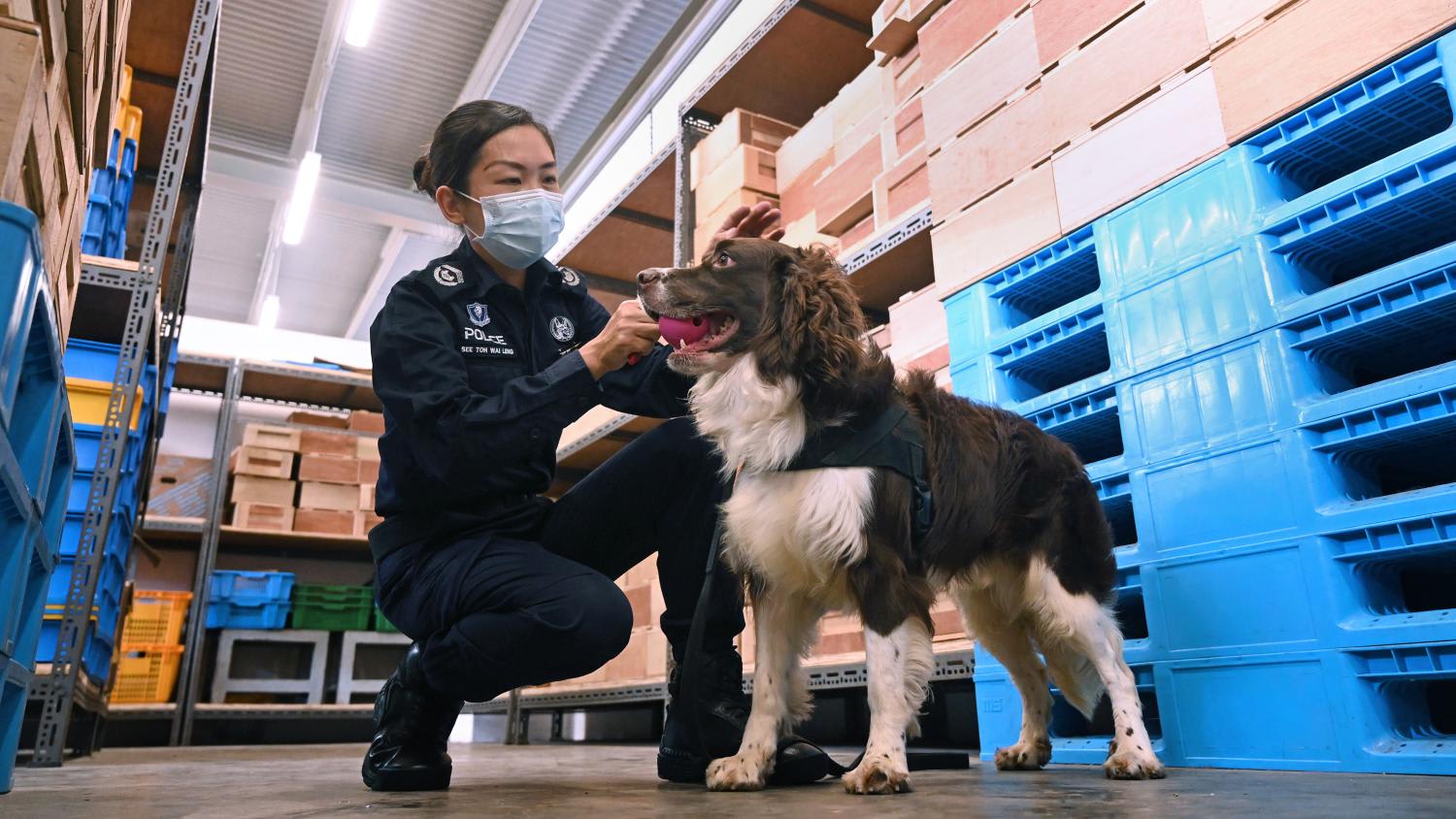 TRAINING PROCESS
To get to this stage, officers must undergo at least 12 weeks of training to become proficient in the basics of handling a working dog. The dogs too undergo 12 weeks of training before they are ready for deployment.
The training process is critical, said Superintendent of Police Tan Khoon Seng, who is the unit's operations officer.
"(It) is incredibly important because it strengthens the bond between the handler and the dog under his or her charge. This, in turn, translates to higher operational effectiveness at the frontline."
Once in deployment, the dogs are trained for about 15 minutes to an hour per day.
Station Inspector See Toh added that she has to make sure her dog can respond to any activations "swiftly and safely". To do this, she must give it enough rest and keep it away from hazards.
She added that handlers bond with their dogs through grooming, walking or exercise, which also helps the dog's physical and mental health.
"The process of training a dog is like raising a child. It takes a lot of patience and dedication.
"But the satisfaction you get from transforming an untrained dog into an operational dog is priceless."