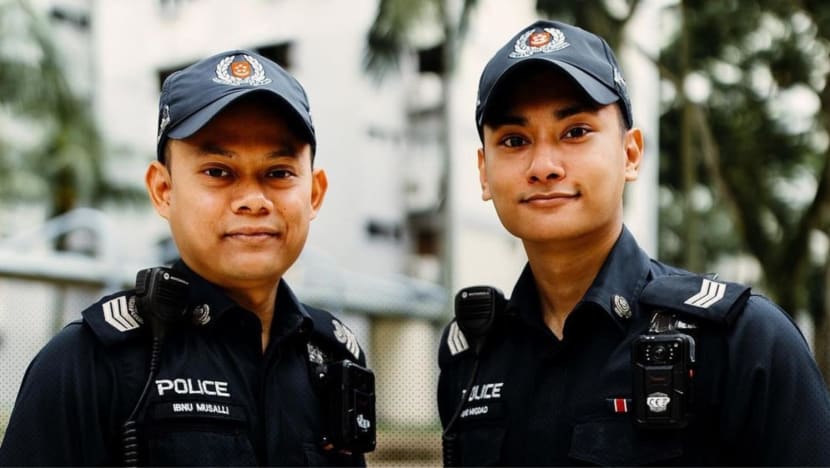 SINGAPORE: A woman who was trapped in her home toilet for four days after the door handle was dislodged was eventually rescued by two police officers. 
The Singapore Police Force (SPF) shared the incident on an Instagram post on Thursday (Dec 29). The incident was recounted by Senior Staff Sergeant (SSS) Ibnu Musalli and Sergeant (SGT) Miqdad Fisall, as part of an SPF editorial series called "My Duty My Calling". 
They received a call for assistance in the evening of Nov 27, stating that a woman was reported missing. 
The caller was a relative, who told the police that the woman had been uncontactable for the past four days. 
"He had even gone to her apartment unit to make checks but had gotten no response from her. Her mobile phone was switched off as well," said SSS Ibnu. 
SSS Ibnu and SGT Miqdad then quickly headed down to make enquiries at the missing woman's apartment building. 
The two officers made some quick checks with her neighbours, who told them that they had not seen the missing woman for three or four days. They also noticed a few delivery parcels that had been left outside her apartment. 
"However, our instincts and experience told us that she might still be in her unit but in a condition where she couldn't respond," said SSS Ibnu. 
As the two officers were speaking to the woman's neighbours, SGT Miqdad said they heard some faint rapping noises coming from the other side of the wall. 
"This further confirmed our suspicions that she might still be inside," he added. 
With the help of the building's security guard, the officers managed to gain access to the woman's unit. As they walked further into the apartment, the faint knocking grew louder and the noise seemed to be coming from the bathroom area. 
"Miss, we are the Police! We're here to help you!" SGT Miqdad cried out. To his relief, the woman responded. 
WOMAN TRAPPED INSIDE TOILET AFTER DOOR HANDLE DISLODGED
SSS Ibnu said the door handle of the bathroom had dislodged, trapping the woman inside. The officers then found a way to force the door open. They also passed her a towel and some clothes. 
The woman later shared with the two officers that she had been trapped inside her bathroom for four days with no means of contact or escape. 
"Desperate for assistance, all she could do was try knocking on the walls and hoped that someone would notice her signals for help," said SSS Ibnu. 
"I could only imagine the sense of relief she felt when her knocks for help were finally heard," said SGT Miqdad. 
The woman had no visible injuries and was attended to by the paramedics. 
Looking back, SSS Ibnu said the incident could have easily taken a turn for the worse. 
"If we didn't follow up on the knocking sounds, who knew what could happen?" 
"I remembered the tears of relief she had when she thanked us for rescuing her. It's an interesting incident for sure. It showed me what it feels like to give hope to people," said SGT Miqdad. 
SSS Ibnu said: "I always find that police officers are in a unique position to make a difference to victims and vulnerable persons.
"There are so many different incidents we attend to. Foot chases can be exciting but sometimes, there are other cases which bring a different kind of meaningfulness."