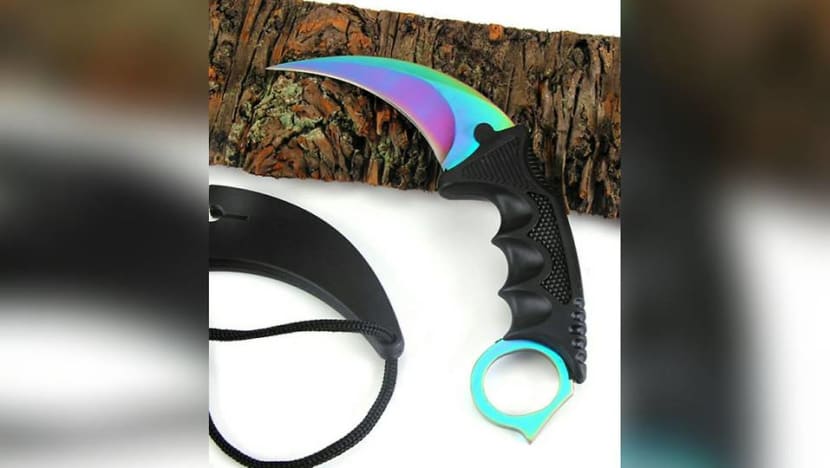 SINGAPORE: Police on Thursday (Sep 21) were seen questioning employees in Hako, a shop that houses lockers which merchants can rent to sell their products.

This came after Ms Farrah Diba, 39, made a police report the day before on the sale of a knife called a karambit - a curved knife with Southeast Asian roots - at the shop in Tampines 1 mall.

Her 12-year-old son had bought the knife at the shop on Sep 7 while in his school uniform, said Ms Farrah, an events company owner. However, it was not until Wednesday that Ms Farrah saw it in a glass cabinet at home, among other toys.

"When I took it out, I was shocked at how sharp it was," said the mother of three, who has another son aged 10 and a daughter aged six.

According to websites that detail the use of the knife, it can be used in self-defence scenarios and features as a weapon in popular video game Counter-Strike. It is also an accessory in cosplay, a hobby in which participants dress up as characters from a film, book or video game, often from the Japanese genres of manga or anime.

Ms Farrah said she cut an eraser, a paper and even thick cardboard cleanly with the knife, which has a blade measuring about 9.5cm. She put up a Facebook post on the experience, which was shared over 2,500 times in less than 24 hours.

"My concern is that it is being sold in a shop frequented by so many children, who think it is a toy shop," she said. She added that the karambit may be more attractive to children than the regular kitchen knife.
When Channel NewsAsia visited the shop on Thursday, three policemen in plainclothes were interviewing an employee, who identified herself as the one who sold the karambit to Ms Farrah's son. The knives were nowhere to be seen.

ITEM SOLD TO "LESS THAN 40" CUSTOMERS

When the police asked the employee how many karambits she had sold, she said she could not remember. When pressed, she said it was fewer than 40.

The police also asked how often the merchant replenished the product, to which the employee said it was "own time, own target". 
The employee later declined to comment.
In a Facebook post in response to Ms Farrah's post, the management of Hako, which also manages Toy Outpost, said "due diligence" was made by the merchant by writing to the Singapore Police Force asking if it is legal to import the karambit.

"We do not prohibit the importation of such knives. However, it is the responsibility of individual who is in possession of this knife to ensure it is for lawful purpose," is what the merchant received as a reply, Hako management said.

After this, the merchant imported the knives to sell them to cosplayers, the management added.

The Facebook post said the short knife is usually used for trekking, hiking and "survival activities".

The management added they initially requested that the merchant put up a note stating items should not be sold to minors aged 14 and below, but decided to make a "conservative move" in asking the merchant to stop selling the knife in Hako stores in Bedok Mall and Tampines 1.

IS IT ILLEGAL TO SELL A KARAMBIT?

Lawyers Channel NewsAsia spoke to said that the seller does not appear to have flouted any law, especially if no license was needed to sell the knives.

Criminal lawyer Adrian Wee said that the law does not impose any duty on shops to screen customers.

Only in an exceptional circumstance - for example, if there is a gang fight outside the shop and it is likely that someone who buys a knife at the time is likely to use it in that fight to hurt someone - could the shop possibly owe a duty of care, he said.

"There are practical difficulties in restricting sales of items which have other legitimate uses. For example, it is not practical to ban the sale of kitchen knives and the karambit may well be a similar example," he said.

However, another lawyer, Amolat Singh noted that kitchen knives are designed for cutting, but that the karambit does not necessarily have to have such sharp blades, especially if it is being used in cosplay.

Both lawyers said that if the buyer is caught with the knife, whether an offence has been committed depends on context - for instance, where the person is headed and what it is being used for.

The police said that while they do not prohibit or regulate the sale of knives, including that of karambits, possession of such knives in a public place without a lawful purpose is an offence.
They added that they are currently conducting an investigation to determine if any person has committed this offence.