SINGAPORE: There is "a sense of optimism" and "resilience" among airport frontline staff amid the reopening of Singapore's borders, noted President Halimah Yacob during a visit to a bustling Changi Airport on Friday (Apr 22).
"You can see that, speaking to them … they feel very proud and a part of this transition now … Morale is very high. They're looking forward to more work actually," she told reporters after a tour of the airport. 
Accompanied by Senior Minister of State for Transport Amy Khor, President Halimah made several stops to speak with frontline staff during the 1.5-hour tour.
These included Singapore Airlines cabin crew, passenger service agents, Singapore Customs officers, trolley officers and even a virtual Changi experience ambassador. 
President Halimah said some of the workers had shared that they felt "sad" looking at an empty airport during the last two years of the pandemic, but she praised their resilience despite the situation. 
"The fact that they are able to weather the storm, that I think is a mark of their resilience," she said. 
"You know, facing the setback and seeing the number of passengers declining, many of them said their hearts really dropped whenever they have to sit there when they're doing their work and there are just not enough passengers coming through.
"They really felt sad about it, but they were optimistic. So when they were asked to reskill themselves, (or be) redeployed to other work within the airport or support work outside the airport, they were very forthcoming, very willing."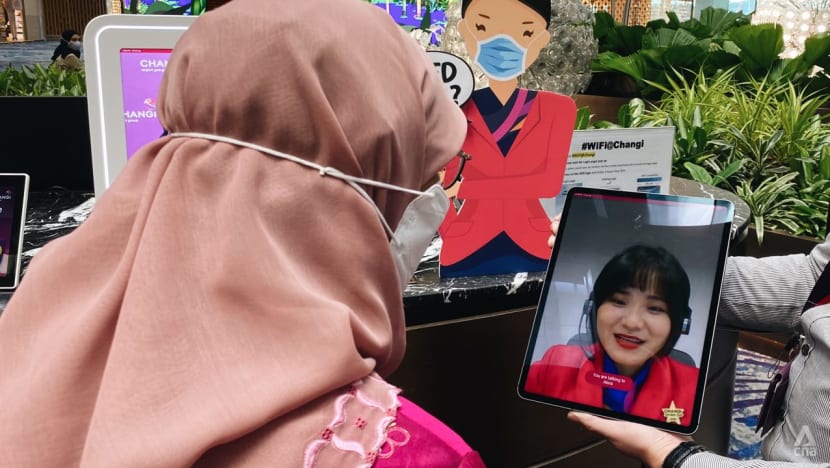 President Halimah added that the staff had been "very responsive" in responding to the various stages of the pandemic. 
Highlighting the virtual Changi experience ambassador that she spoke to, President Halimah noted how "leveraging technology" was good for both the airport and the individual customer. 
"I think that helps a great deal … on two levels. Because then you make sure that you optimise the use of manpower resources by leveraging on technology, virtual technology," she said. 
"And the other one is, of course, when you interact in that manner, you minimise potential for infection." 
At the end of her visit, the president expressed confidence in getting the Changi experience back on track. 
"I am really quite confident that we will be able to continue to restore our Changi experience … the renowned Changi experience, something of great pride to all of us," she said. 
"And I am confident that our Changi Airport will continue to be our pride and joy for many more years to come."