How have BTO flats in prime areas fared since their launch?
The Prime Location Public Housing model will help prevent central areas from becoming exclusive neighbourhoods that only the well-to-do can enjoy in private housing, said National Development Minister Desmond Lee.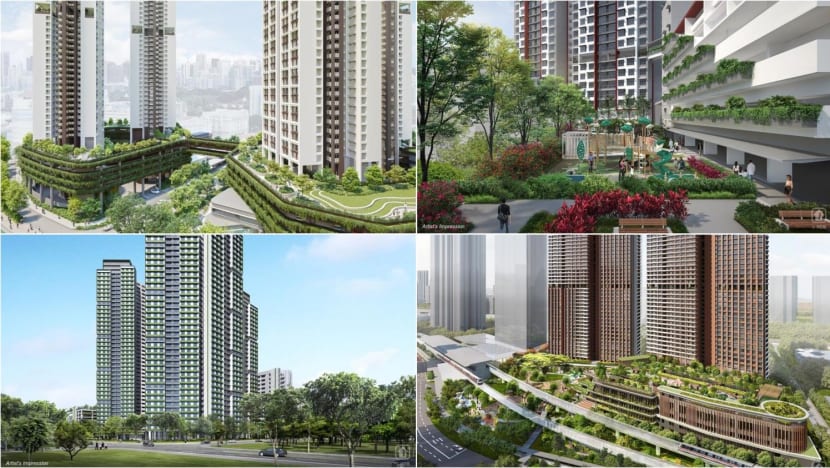 SINGAPORE: Since the first launch in November last year, application rates for Build-to-Order (BTO) flats in prime areas have slowed. 
There have been five developments under the Prime Location Public Housing (PLH) model, which will see Housing and Development Board (HDB) flats built in central regions.
On Sunday (Sep 25), Minister for National Development Desmond Lee said the PLH model was launched to ensure that central areas do not become "exclusive neighbourhoods that only the well-to-do can enjoy in private housing".
Singapore risks gentrification and stratification if it leaves public housing to market forces, he added.
CNA spoke to experts to find out how the PLH flats have fared since they were launched.
How the Prime Location Housing model works
Currently, the BTO projects under the PLH model are located at Bukit Merah, Queenstown, Kallang Whampoa and Rochor. 
The eligibility conditions for buying BTO flats in prime areas from HDB will be the same as prevailing conditions for BTO flats.
Such flats come with a minimum occupation period (MOP) of 10 years – this means the unit cannot be sold on the open market before that. The usual MOP is five years.
Although these units are priced with additional subsidies, given their higher market values, future owners of such flats will have to pay a percentage of the unit's resale price to HDB.
Flat owners can also only sell to resale buyers who meet the prevailing BTO eligibility criteria, such as the income ceiling. After the MOP, they are also not allowed to rent out the whole unit.
DEMAND FOR PLH FLATS
Application rates for PLH flat fell in the last BTO exercise in August. According to data from HDB, there were 967 applicants for 353 three-room units in Bukit Merah that came under the PLH model. That means there were about 2.7 applicants per unit.
For the four-room units, there were 7,916 applicants for 1,298 units, which comes up to an application rate of 6.1. That was far lower than the rates for other units in mature estates in the same BTO exercise. 
With strong demand for larger units, the four-room and five-room/three-generation units in Ang Mo Kio drew application rates of 12.6 and 17.5 respectively.
Four-room units and five-room units in Tampines drew application rates of 22.3 and 26.3 respectively.
The PLH flats opened to high demand in the first BTO exercise that they were available in November 2021.
A four-room unit in Rochor drew an application rate of 10.3. In February, a four-room flat in Kallang Whampoa under the PLH model had an application rate of 17.5.
| | | | |
| --- | --- | --- | --- |
| Estates | Number of flats | Applicants | Application rate |
| Rochor 3-room | 280 | 867 | 3.1 |
| Rochor 4-room | 680 | 6,976 | 10.3 |
| Kallang Whampoa 3-room | 104 | 661 | 6.4 |
| Kallang Whampoa 4-room | 294 | 5,140 | 17.5 |
| Queenstown 3-room | 196 | 293 | 1.5 |
| Queenstown 4-room | 671 | 2,919 | 4.4 |
| Bukit Merah 3-room | 443 | 723 | 1.6 |
| Bukit Merah 4-room | 1,226 | 6,560 | 5.4 |
| Bukit Merah 3-room (August) | 353 | 967 | 2.7 |
| Bukit Merah 4-room (August) | 1,298 | 7,916 | 6.1 |
(Source: HDB)
LOCATION, LOCATION, LOCATION
The slower demand for prime area BTO flats among buyers may be because of the longer wait times, stringent criteria, as well as the distance of the flats from the city centre, said analysts.
Huttons Asia's senior director for research Lee Sze Teck said the buyers were excited over the first two launches of PLH flats, which were in Rochor and Kallang Whampoa. 
"At the start, buyers had the impression that these will be for prime, central locations like the city centre and the Greater Southern Waterfront," said Mr Lee. 
"When PLH flats started to appear in further locations from the city centre like Ghim Moh, the initial euphoria over PLH flats died down.
"Buyers appeared to be treating PLH flats as any other BTO flat in a mature estate."
Of all the locations of the BTO flats under the PLH model, only River Peaks I and II in Rochor, as well as King George's Heights in Kallang Whampoa, can be considered to be in the city centre, he added. 
"The other PLH locations, while good, are just simply in a mature estate," Mr Lee said, adding that newer resale flats without PLH restrictions in the same neighbourhoods are "more appealing" than the PLH flats.
How far the flats are from the city centre has a "negative correlation" with applications.
"The further from the city centre, the lower the applications," said Mr Lee.
Besides location, buyers may also be put off by the longer wait times that come with prime area BTO flats, said Ms Wong Siew Ying, head of research and content at PropNex.
"Combined with the 10-year minimum occupation period and certain resale and leasing restrictions, it is possible that some applicants could have decided not to apply for the PLH projects," she said.
Applicants may think they are "locked in" for a substantial period of time, which may be at least 15 years, given the MOP and construction time, Ms Wong added.
This could potentially impact their future property upgrading plans or accommodate for changes in lifestyle or needs later on in life.
Ms Christine Sun, senior vice president of research and analytics at OrangeTee and Tie said some buyers may be deterred by the more stringent selling criteria for PLH flats, as well as the clawback of the future sales proceeds to recover the subsidies given.
The pool of buyers may have shrunk – eligible and interested buyers may have already made purchases in earlier BTO exercises, she added.
Potential home applicants and younger couples looking for a shorter wait for their flats may have also turned their attention to the other flats that were offered in the August BTO exercise, said Mr Mohan Sandrasegeran, senior analyst at One Global Group. 
"The PLH concept seems to be deterring potential home buyers wanting to reap a quick profit in the short-term and hoping to join the 'millionaire HDB resale club'," Mr Mohan added. 
DEMAND REMAINS DECENT
Despite the lower application rates, analysts expect demand for BTO flats offered under the PLH model to remain decent. 
PropNex's Ms Wong said that as the PLH model is a relatively new policy.
"With the Government's aim of making housing more inclusive and affordable for Singaporean households, we would expect HDB to continue to offer PLH projects," she added.
"We anticipate the demand for PLH projects to remain decent, supported by families who wish to live closer to the city."
Head of research at 99.co Pow Ying Khuan said buyers who prefer living in a particular prime location for the long term will be the target profile for these PLH flats. 
"The regulations and criteria set for PLH flats restrict the buyer pool by nature and by design," he added.
"Hence, the relatively low application rates are not necessarily a bad thing as its implementation is to make owning public flats in prime locations more accessible for genuine owner-occupiers."
Ms Sun said there will always be demand for PLH flats given their locations and "lack of supply of housing" in Singapore.
"The good sales take-up of previous projects indicates that many Singaporeans do not mind the stringent selling criteria and longer MOP of PLH model flats," she added. 
The clawback of subsidies and stringent selling criteria may also help to moderate the flats' future resale prices to some extent, said Ms Sun. This will help to ensure that people who purchase PLH flats in certain mature estates are buying for their own occupation and not for investment purposes.
Buyers can also expect the continuous placement of BTO developments under the PLH model to become the norm moving forward, said Mr Mohan.
The PLH model is an important step towards a more inclusive society, said Mr Pow. It prevents gentrification in prime areas, where it is becoming exclusive to the wealthy, he added.
"We believe that the long-term plan for the PLH model is to introduce more eligible Singaporean households to live in the central locations of Singapore so as to eliminate economic enclaves and level up the playing fields," he said.