Paying progressive salaries: 1,900 Singapore companies accredited for uplifting lower-wage workers
Businesses will need to apply for the Progressive Wage Mark accreditation for government contracts from March 1. 
SINGAPORE: More than 1,900 companies have received the Progressive Wage (PW) Mark, which recognises their efforts to uplift lower-wage workers.
Industry players hope the accreditation scheme, which was launched on Wednesday (Jan 18), will drive consumers to be more deliberate in their purchases and support businesses that carry the symbol.
More than 76,000 firms – about 52 per cent of all companies – across Singapore are eligible for this scheme.
Among the first batch of businesses that received the recognition was clothing retailer Uniqlo.
The company said paying progressive wages has brought many benefits, including helping it attract and retain talent.
"Happy employees equal happy customers," said Ms Juliana Tan, Uniqlo Singapore's human resources director.
"When we have employees who are happy working at Uniqlo, that will translate into how they can provide excellent customer service. So naturally, to a certain extent, that will therefore boost sales within our stores."
Uniqlo said that of its 1,633 employees, about 500 are full-time lower-wage staff who have benefited from progressive wages.
For firms to get accredited, eligible employees must receive progressive wages, and all other local workers must be paid the minimum qualifying salary of S$1,400.
Uniqlo hopes to go a step further by earning the PW Mark Plus accreditation.
To receive that badge, firms need to adopt tripartite standards and make additional efforts to better workers' welfare.
Beyond progressive wages, the PW Mark Plus accreditation will require improved working environments, including training pathways, career prospects, workplace safety, and amenities such as rest areas for employees.
PW MARK NEEDED FOR GOV CONTRACTS
From Mar 1, eligible firms must apply for a PW Mark when they are awarded government contracts.
If the firm or its sub-contractors fail to maintain their mark during the entire contract period, their government contracts could be terminated.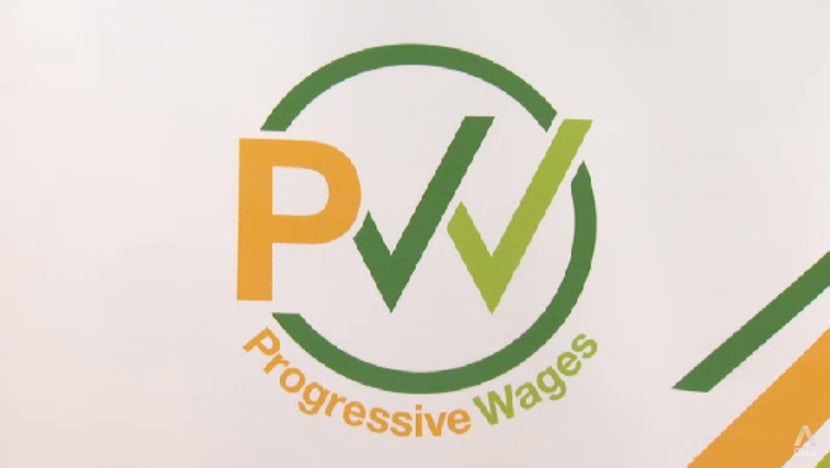 "We hope that this will uplift and also give consumers and buyers confidence in the standards that are being put in place and that our companies are paying progressive wages," said Mr Zaqy Mohamad, Senior Minister of State for Manpower.
"This is part of the social compact that we are hoping to put in place over the years, about us having a role in the development and the welfare of our lower-wage workers among us."
Overall, the progressive wage models are expected to benefit 94 per cent of the lower-wage workforce – about 234,000 workers.
They already span five industries in sectors like cleaning, retail and landscaping, and will be extended to the food services and waste management industries later this year.
CONSUMERS URGED TO LEND SUPPORT
Mr Zaqy said that the support of Singaporeans "has been unwavering", despite the current economic environment with inflation and cost of living concerns.
Seven in 10 Singaporeans are likely to purchase goods and services from a PW Mark accredited company over one that is not, according to a recent Ministry of Manpower (MOM) survey.
"We hope that consumers could be part of this movement too, and not just the ... the government, employers and the unions," Mr Zaqy added.
Businesses and unions are also urging shoppers to do their part to support lower-wage workers, and purchase from companies that bear the symbol.
The green-and-yellow badge shows that these companies have been recognised as being fair and protective of their employees, said Ms Yeo Wan Ling, director of the National Trades Union Congress' (NTUC) small- and medium-sized enterprise arm U SME, as well as its women and family unit.
"With this mark, we encourage consumers to really participate in this entire discourse on how we can make the lives of our lower-wage workers more dignified and better," she added.
Singapore National Employers Federation's (SNEF) Honorary Treasurer Tan Hwee Bin said: "We urge consumers to not just make their buying decisions based on price, they should also consider the difference they can make to the lower-wage workers.
"So the support will not just be from the employers, but also from the consumers as well. This will make Singapore a more progressive society."