SINGAPORE: For the first time, anglers can take a kayak out to make their catch in one of Singapore's reservoirs.
National water agency PUB is allowing kayak fishing tours at Punggol Reservoir, under a six-month trial that will assess factors like viability and safety.
The tours are run by two operators at an idyllic 2km-stretch, beginning at Sengkang Riverside Park and ending at the iconic Jewel Bridge.
TESTING THE WATERS
Punggol Reservoir is home to 18 species of fish, 13 of them non-native, according to the agency, and fishing of any kind has never been allowed there before this.
"We've got lots of snakeheads, peacock bass, and also the marble goby - Singaporeans will call it the soon hock," said Aaron Ang, founder of Kayak Fishing Fever.
The operator made its first expedition in Punggol two weeks ago, on Aug 11.
Because live bait is not allowed to prevent water contamination, the operator has been experimenting with alternatives.
Singapore's national water agency PUB is allowing freshwater kayak fishing at Punggol Reservoir under a six-month trial. It comes as more residents try their hand at fishing during the COVID-19 pandemic. Melissa Goh reports.
"We're testing all sorts of different colours, different sizes, different types of material, to see what works best," Mr Ang said.
So far, his team has found that peacock bass snap at bright, luminous lures. 
They have also had success with buzzbait, which gets its name from the buzzing sound and vibrations it generates in the water.
MORE SUITABLE FOR EXPERIENCED HANDS
But all this involves more technique.
"Freshwater fishing is more suitable for intermediate anglers, because it requires us to do some casting and then casting requires some accuracy and a little bit of experience," Mr Ang said.
Casting is the act of throwing bait or a lure using a flexible fishing rod. Miss, and your lure could get caught in vegetation or even hurt someone.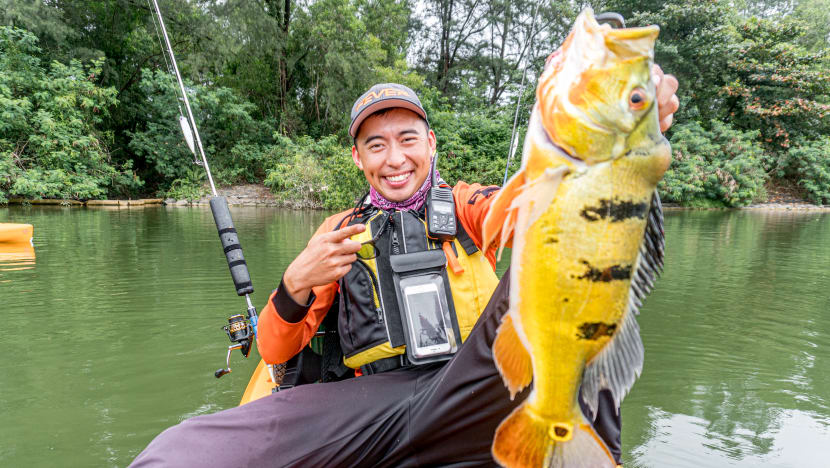 Watson Ng, co-founder of Yak2Go, the second operator involved, said anglers will have to keep a safety distance of about 10m apart.
His firm is expecting to hook more seasoned anglers with its latest venture.
"It's definitely more difficult because in an hour you can cast up to a hundred casts ... So physically it's more demanding, but that is the challenge," Mr Ng said.
He caught just one fish in eight hours during his maiden trip to Punggol Reservoir last Thursday (19 August).
But he says it is not about the catch per se, but rather, the experience in the water.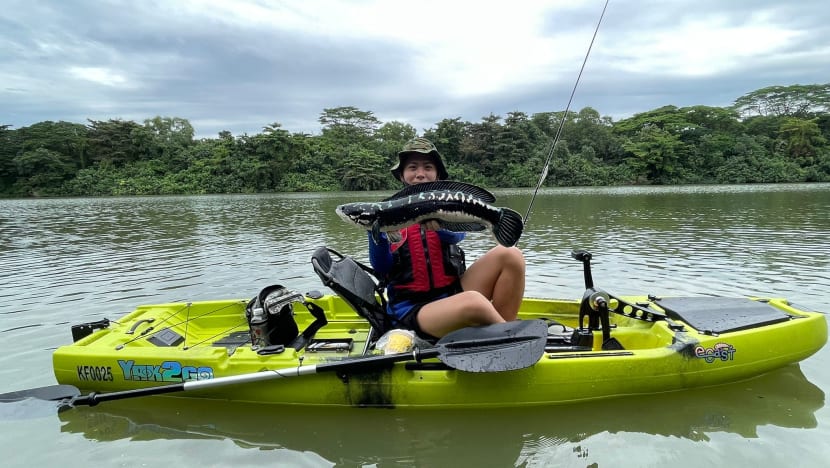 "There's the freedom for you to captain your own boat," Mr Ng said.
Both operators said the activity is still open to anglers of all levels and guides will teach casting onshore.
SURGING DEMAND
More Singaporeans are trying their hand at fishing amid the COVID-19 pandemic.
Kayak Fishing Fever estimates that four in five of those signing up for its open water kayak fishing tours are newbies. Yak2Go has also seen a 75 per cent surge in demand.
But freshwater fishing is currently allowed only at designated spots at 10 reservoirs and five waterways.
PUB told CNA it considers factors like safety of the users, and the potential impact on operations and water quality, when assessing proposals.
"Punggol Reservoir actually has minimal water activities, and there are also no planned developments currently. So we're able to designate a space that's large enough to cater to kayak fishing," said Lee Jing Hui, a senior manager at PUB's catchment and waterways department.
Ms Lee said fishing under the trial is strictly catch-and-release to minimise the effects on biodiversity. The agency will continue to monitor any potential impact.
If all goes well, the sport could become a permanent fixture at the reservoir.
But PUB say it is not looking to expand the trial for now, keeping in mind existing water activities and planned developments like floating solar panel systems at other reservoirs.