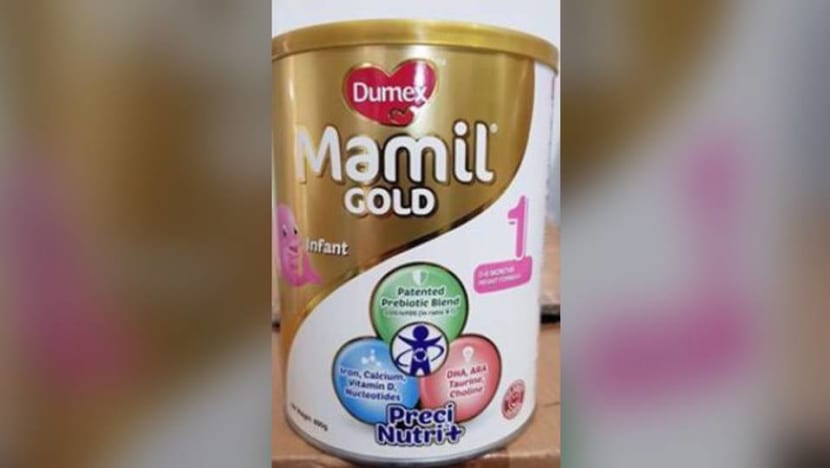 SINGAPORE: Authorities have ordered the recall of Dumex Mamil Gold infant milk formula - Step 1 after detecting the Cronobacter sakazakii bacteria in samples of the milk powder.
Cronobacter infections are generally rare. However, they can be fatal to newborns as they may cause meningitis or sepsis, AVA said in an alert on Monday (Aug 20). 
Symptoms include fever, poor feeding or lethargy, AVA added. 
The affected products have the batch number 09117R1 and the expiry date Sep 11, 2019, AVA said. The products were made in Malaysia. 
AVA had directed importer Danone Dumex to recall the implicated batch and the recall has completed.
Those who have purchased the affected product are advised not to consume them, AVA said, adding that consumers may contact Dumex via their hotline 1800 265 3188 for enquiries on refunds.
"Cronobacter sakazakii is a bacterium found in the environment that can survive dry conditions, such as dry food like infant formula and powdered milk," AVA said.
Parents or caregivers should seek medical assistance if their infants feel unwell, AVA said.
AVA advised the public to practise proper hygiene when preparing infant formula. 
This includes the washing of hands with soap and water before handling items that will be in contact with the infant, proper sanitation of items meant for feeding and ensuring the milk formula is prepared in a clean environment.
Dumex Singapore said that they had been made aware of the possible presence of the bacteria, which was detected in two sampled tins of the batch. 
"As Dumex places high priority on food safety and quality, we have taken immediate precautionary steps to retrieve the specific batch from the shelves and can confirm that it has been completely removed," Dumex Singapore said in a Facebook post on Monday. 

It said that it is working closely with AVA to look into the matter and has received no customer feedback on the issue to date. 
Dumex Singapore also advised customers who purchased the product to contact their hotline for an exchange.