Refreshed road map for wholesale sector to boost tech adoption, global footprint
The wholesale sector accounted for 18 per cent of Singapore's gross domestic product in 2021.
SINGAPORE: Wholesale firms in Singapore will soon get more help in innovating and adopting technology in their work processes while expanding their footprint in overseas markets.
The refreshed Industry Transformation Map (ITM) for the wholesale sector was launched on Thursday (Jan 5), as the sector looks to further solidify Singapore as a trade hub.
The ITM was first rolled out in 2017, and is being refreshed to keep it up to date with the changing global economic landscape.
Companies can expect more government support in a sector critical to Singapore's survival, as other economies brace for a recession.
MORE HELP ON THE WAY
As of 2020, more than 8,000 wholesale trade companies have adopted digital solutions.
Such transformation has helped the wholesale sector, but its overall strategy still needs to evolve to keep up with the times, said Trade and Industry Minister Gan Kim Yong.
"The global economic landscape today is very different from when the ITM was first introduced. Recent global developments around the world have caused global supply chain disruptions and acutely driven up costs," he said.
"The push towards digitalisation has accelerated globally, which means we need to deepen our adoption of digital solutions to stay ahead of our competition."
The refreshed ITM comes as the wholesale sector continues to grow, accounting for 18 per cent of Singapore's gross domestic product in 2021, up from 15 per cent in 2015.
Among the players is seafood trader Fish International Sourcing House, or FISH, which trades daily with about 90 countries and regions like the United States, the Middle East and Africa.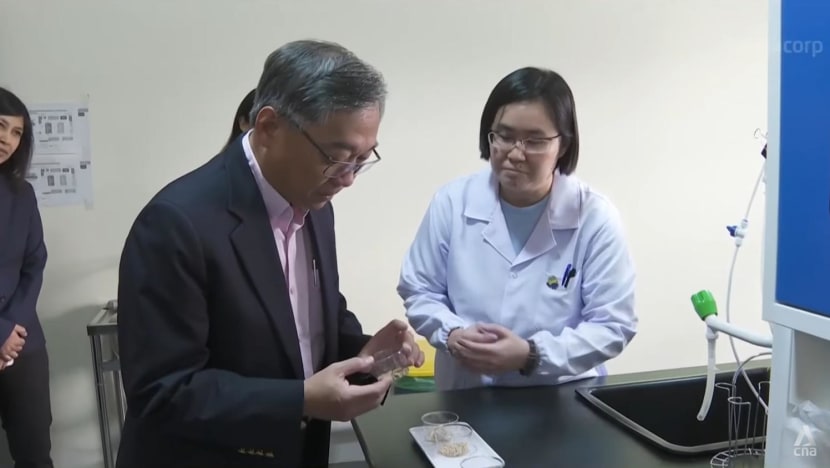 EXPANDING GLOBAL FOOTPRINT
The Government is aiming to grow Singapore's trading network, and is helping firms innovate and expand overseas through business matching and financial assistance schemes.
The updated strategy is something FISH is looking forward to, as it develops a new line of plant-based fish snacks and intensifies its global market research efforts.
Its new processing plant in Boon Lay handles 6.8 million kg of seafood a year, including salmon, crustaceans and molluscs.
The firm is coping with demand through automation, with tech upgrades having helped boost productivity by more than 50 per cent. 
For example, it uses a machine to portion fish, a task which now requires two workers, down from around six people previously.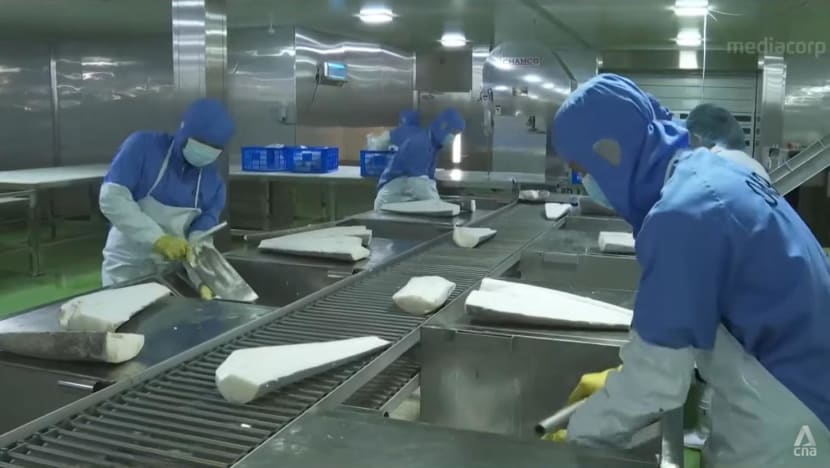 Sensors on the machine scan and detect the different parts of a fish before slicing it up according to the desired weight and size. This reduces not just the amount of time needed but also improves the accuracy of measurements.
Chief executive officer Alvin Loy said the firm continues to actively innovate and pursue research and development efforts.
"One example I can state is our new baby series is getting a lot of traction in China. Basically, we identified a growing market for mothers wanting to provide fish or good protein for their babies and toddlers. So these products are basically 100 per cent natural without any additives or chemicals, packed conveniently in small bite sizes. And so the mothers can pick it up from the fridge, open it up and just cook," he said.
To further support the firm's development, FISH aims to more than double its workforce to 100 people in the coming months.