Shanmugam's speech on Ukraine invasion reflects government's views: Balakrishnan in response to Sylvia Lim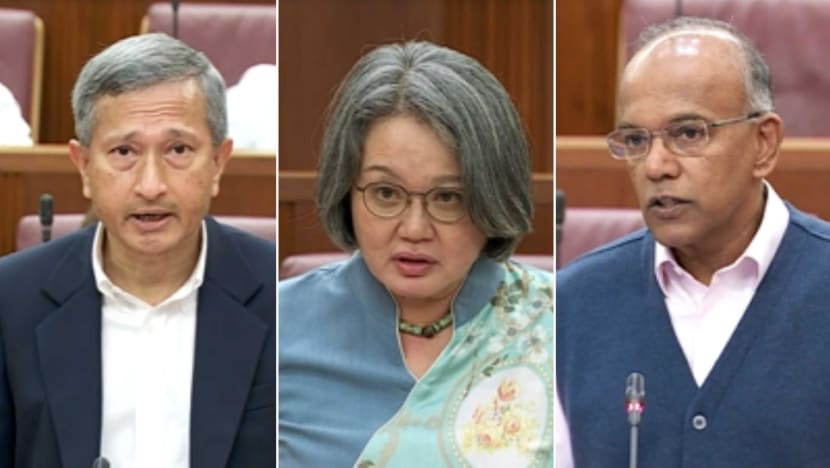 SINGAPORE: A speech about Russia's invasion of Ukraine made by Home Affairs and Law Minister K Shanmugam reflects the views of the Singapore government, Minister for Foreign Affairs Vivian Balakrishnan told parliament on Monday (May 8).
Dr Balakrishnan was responding to questions by MP Sylvia Lim (WP-Aljunied) about a keynote speech that Mr Shanmugam made at a workshop organised by ISEAS-Yusof Ishak Institute in March.
In his speech, Mr Shanmugam had outlined two different views of the invasion: A "western view" that Russian President Vladimir Putin has "imperial ambitions", and an alternative view that Mr Putin had "made overtures for cooperation and peaceful coexistence" with the West.
Tracing historical developments since the end of the Cold War, especially concerning the expansion of the North Atlantic Treaty Organization (NATO), Mr Shanmugam had said: "The West and NATO, in my view, were not uninvolved bystanders who had no role to play in the current situation."
On Monday, Ms Lim asked the Foreign Affairs Minister whether Mr Shanmugam's remarks represented the government's views, and whether there has been any revision to Singapore's position on the invasion.
Dr Balakrishnan said Singapore's position remained unchanged, and he referred to a ministerial statement he delivered in parliament on Feb 28, 2022, four days after the invasion started.
In his statement, Dr Balakrishnan said Singapore "strongly condemned Russia's unprovoked attack on Ukraine", and described it as a "clear and gross violation" of the principles of the United Nations Charter and international law.
In her supplementary questions, Ms Lim asked Dr Balakrishnan whether the Ministry of Foreign Affairs was aware of Mr Shanmugam's speech prior to its delivery.
"Let me state categorically: The statements of the Minister for Law reflect the views of the government of Singapore," replied Dr Balakrishnan. He added that the government "generally" knows about ministers' speaking engagements.
"We don't personally check every single line and sentence in our speeches, and the speeches can evolve, according to the circumstances of the event. Needless to say, under the principle of collective responsibility, that you can take, as long as we are in charge, the statements of each minister reflect the views of the government."
Ms Lim then asked Dr Balakrishnan whether he agreed that in the government's statements on the Ukraine invasion, "there's never been this attempt to say that the US or NATO has been somewhat contributory to the current state of affairs, which was something that the Minister for Law did say".
"I would like him to confirm that up to now the government has not taken this position and this is actually something new in the public domain," she said.
Dr Balakrishnan said there was "nothing new" in Mr Shanmugam's speech and that the government's position "has been and will continue to be clear and consistent".
"Our position remains that it was wrong of Russia. It was a breach of international law and of the principles of the UN Charter for them to launch the invasion of Ukraine," he said.
"Now, having said that, I think we must also be very clear in our minds that there are a diversity of views. And when we are explaining these matters to the general public and to our population, or indeed even in this House, it is not unreasonable to reflect the diversity of views.
"But reflecting the diversity of views does not alter our national position based on a defence of our national interests," he said.
Ms Lim asked specifically whether it was also the government's view that the West and NATO "were not uninvolved bystanders who had no role to play in the current situation".
Dr Balakrishnan reiterated that Singapore had taken a categorical stand on the Ukraine invasion because of its vulnerabilities as a "tiny city-state".
"Our objective in Southeast Asia is not to let a repeat of the European tragedy occur here in this part of the world. And in trying to avoid a parallel of that situation here, I think it is entirely legitimate for us to consider all views - diverse views, opposing views even - on how the situation in Europe came about."
Asking her final supplementary question, Ms Lim questioned whether Dr Balakrishnan would rather not go into historical matters such as the involvement of the West and NATO in the situation in Ukraine.
At that point, Mr Shanmugam said that he had "cleared the speech with the highest levels of Cabinet".
Dr Balakrishnan then said that it was "entirely legitimate" for Mr Shanmugam to have reflected the diversity of views on the issue in a public forum.
"I do not wish to have words put into my mouth or to make public pronouncements beyond what I've already said. To say that beware that small countries do not get caught up in the manoeuvres, the to-ing and fro-ing and the dangerous, sometimes escalatory rhetoric or action that superpowers engage in.
"And I say it my way, but I think and I believe that my statements are entirely consistent with the rest of my Cabinet colleagues. And we stand and we take collective responsibility for them."
INDIVISIBLE SECURITY
Earlier, MP Vikram Nair (PAP-Sembawang) asked Mr Shanmugam to elaborate on the concept of "indivisible security", which Russia has used to justify its invasion of Ukraine.
In his March speech, Mr Shanmugam had said indivisible security means: "A state should not enhance its security at the expense of another's. Because one state's security is inseparably linked to another's."
He had also said that given a contradiction between indivisible security and self-determination, each power would pick the principle best suited for its interests.
On Monday, Mr Shanmugam clarified that indivisible security cannot give grounds for Russia's invasion of Ukraine.
"Indivisible security is not of the same status as self-determination, sovereignty or territorial integrity and the non-recourse to use of force," said Mr Shanmugam.
He added that indivisible security is "best characterised as a concept that is invoked in international relations" and the United States and Russia have both done so in some form.
"In addition, in my speech, I shared diverse views on how the situation in Ukraine unfolded, and the roles of the West, NATO and the Russian Federation," he said.
"The result is that Ukraine is the unfortunate victim, and its people are paying a terrible price."