Commentary: Ukraine should join NATO, but not while the war has yet to be won
No alliance should admit a country already at war against the group's ostensible enemy, especially when the foe has nuclear weapons, says Andreas Kluth for Bloomberg Opinion.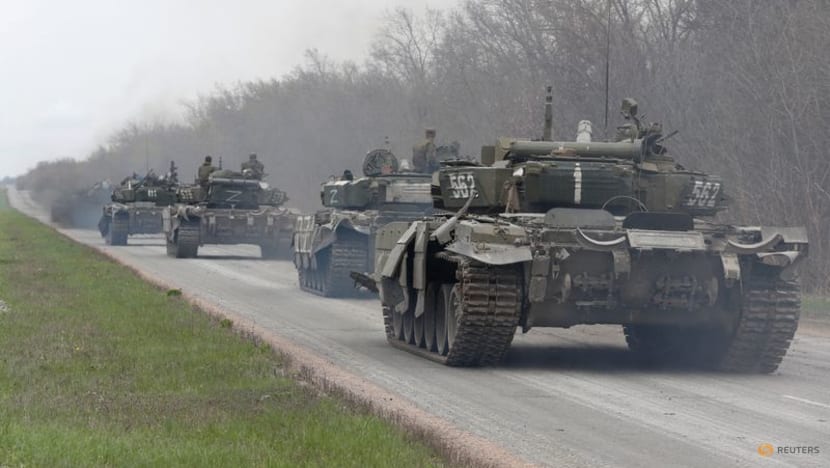 BERLIN: There are excellent reasons to admit Ukraine into NATO. But there are better reasons not to. So when the 31 transatlantic allies meet in July at their summit in Lithuania, they should embrace Ukraine in every way but one. They should not promise to make it a full member with protection under the alliance's Article 5. That's the one that says an attack against one ally is an attack against all.
This assessment is not about whether Ukraine properly belongs to "the West". It most definitely does, and should therefore join the European Union as soon as possible.
Nor is the membership question a choice about whether the Western allies should keep supporting the Ukrainians in their heroic struggle against the Russian invaders. They absolutely must - with weapons, money, intelligence and everything else, short of boots on the ground.
Omitting a formal invitation now to enter the alliance, moreover, need not prevent Ukraine - which in 2019 enshrined the aspiration to join NATO in its constitution - from acceding at some point in the future, after it has successfully defended itself, with Western help, against the genocidal aggression of Russian President Vladimir Putin. In fact, I'm hoping that Ukraine's imminent spring offensive will lead to that eventual victory.
But the security guarantee of membership expressed in Article 5 cannot be given in the present circumstances. No alliance - and NATO is the most successful in all of history - should admit a country while that nation is already at war against the alliance's ostensible enemy, a foe that happens to have nukes.
This stance bows to realism. It's a conclusion that comes from the head - not the heart, which beats for Kyiv.
THE HEART SAYS YES, THE HEAD SAYS NO
Anything short of full accession will of course disappoint Ukrainians. The country's foreign minister, Dmytro Kuleba, has pleaded that it's time for NATO - which promised Ukraine membership in 2008 but didn't add a timetable - "to stop making excuses" and offer a written commitment at the summit in Vilnius.
After all, Kuleba thinks, it seems unfair for NATO to admit Finland, also a direct neighbour of Russia - and probably Sweden soon - but not Ukraine. Ukrainians, after all, are the ones now defending what remains of Europe's peace order at the cost of their own blood. And they're becoming battle-hardened warriors in the process. Surely NATO should be grateful and eager to enlist this fighting force in its own ranks.
I agree. But that's the heart speaking, not the head. If membership went only to countries deserving of it, it would indeed go to Ukraine - and might even be taken away from Hungary or Turkey. NATO accession cannot be solely about what's fair, however.
Kuleba also takes aim at another argument offered in the past against Ukrainian membership. It says that admitting more countries that used to be in the Soviet Union or the Tsarist Empire unnecessarily provokes Moscow.
This "was always wrong," says Kuleba, and is now "laughable". After all, Putin occupied Crimea in 2014, when Ukraine had dropped its ambition to join NATO, and then invaded last year, when membership was no longer being discussed.
Again, I agree. Putin is a bully and an aggressor, and needs no provocation to menace or attack. He only understands deterrence, expressed in the language of power and martial prowess. That, as it happens, is why NATO exists.
A SLIDE INTO WORLD WAR III
The proper argument against admitting Ukraine is different. It's that you can't promise to defend a new member already under attack without simultaneously and directly entering that same war. As long as Putin's troops are shooting at Ukrainians, all the other allies would be obliged to help - that is, to return fire. The escalation scenarios are impossible to predict. But they include a slide into World War III.
In that sense, the mutual-defense clause of Article 5 implies an automaticity not unlike that of the more complex alliance configurations leading up to World War I. Back then, in ways Europe's leaders didn't fully understand, a cascade of treaty obligations turned a dispute between Austria-Hungary and Serbia into a continental, and then almost global, inferno.
There is no plausible way, moreover, to define Ukrainian membership in a way that forestalls such risks. NATO cannot, for example, extend Article 5 just over those territories currently held by the Ukrainians.
First, that exclusion would already amount to exactly the concessions the Ukrainians rightly refuse to make, in effect ceding much of Zaporizhzhia, Kherson, Donetsk, Luhansk and Crimea.
Second, such technicalities wouldn't reflect the actual frontline, which is fluid. Ukrainians and Russians will keep shooting at each other throughout the nation. Except that the Russians would then be gunning at Ukrainian NATO soldiers.
As soon as the alliance becomes a war party in this hypothetical situation, the allies would therefore have a legitimate stake in Kyiv's strategy. Their primary goal would necessarily be to keep the war from spreading to the Baltic, the Arctic, outer space and nuclear silos - from becoming World War III.
In effect, Brussels, Washington, London, Berlin and others would have to dictate to Kyiv where and how to attack the Russians, and where and how not to. This isn't in Ukrainians' interests as long as they're trying to liberate their own, whole country.
WEST SHOULD NOT ENTER THE WAR ON KYIV'S SIDE
This conundrum didn't exist yet in 2004, when three other former Soviet republics - Estonia, Latvia and Lithuania - were among the seven nations that joined NATO that year. Although the Baltics felt threatened by Moscow, they were officially at peace. And since then, the same automaticity inherent in Article 5 has been what deters Putin from attacking them.
Ukraine's problem is also different from Cyprus' situation in 2004, when it joined the EU (but not NATO). That island, too, was and is torn by an open-ended conflict, between the ethnic Turks in the north and the ethnic Greeks in most of the rest.
The EU also has a mutual-defense clause. So in theory it could be drawn into a conflict between the Cypriot Greeks and Turks, including the latter's supporters in mainland Turkey - which, at least on paper, is also eligible to join the EU.
But the European mutual-defense clause is so wishy-washy that it doesn't deliver automaticity. EU membership is instead a promise of joining a commercial and civilisational realm - in effect, a peace and democracy project. That's why Ukrainians can't wait to join.
A geopolitical realist would therefore conclude that "the West" should help Ukraine by fast-tracking its EU membership and by arming it from the arsenals and factories of NATO allies. It should not, however, enter the war on Kyiv's side. And that's what NATO membership would entail.
Western security guarantees after the war are another matter. Indeed, they'll necessarily become one of the main points of peace talks among Kyiv, Moscow and their mediators. Let's hope that Ukraine defeats the Russians as soon as possible, so it can take its seat at that negotiating table proud and strong.