Commentary: South Korea is reconsidering nuclearisation in response to North Korea
Russian President Vladimir Putin has threatened nuclear strikes on Ukraine. It is easy to see North Korea trying the same thing against South Korea in future, says international relations expert Robert Kelly.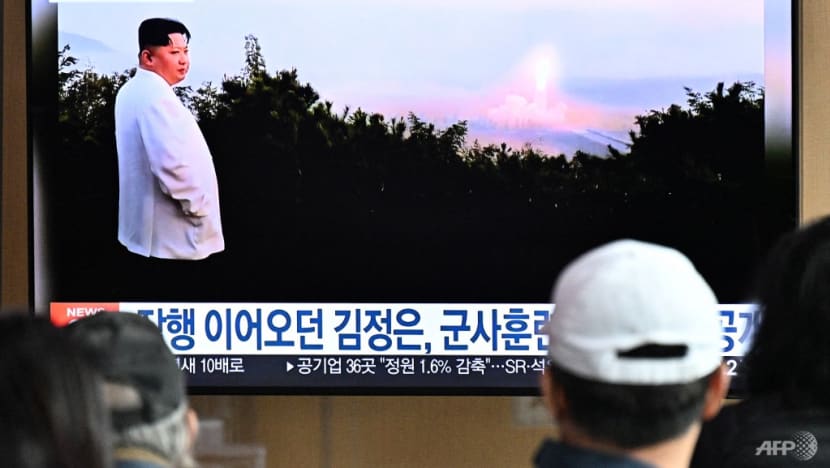 BUSAN: In 2022, the debate over the possible nuclearisation of South Korea has widened considerably. Where this was previously a fringe idea, relegated to an occasional op-ed in conservative newspapers, it is now a topic of national security discussion.
Op-eds on the topic and high-profile debates, at outlets such as the Asian Leadership Conference and Seoul Defense Dialogue this summer, are now common. In the 15 years I have taught international relations in South Korea, there has never been this level of ferment.
PUBLIC OPINION IS SUPPORTIVE
These unofficial discussions, also known as "Track II" diplomacy, in South Korean think-tanks and academia is complemented by shifting public opinion.
A February 2022 poll from the Chicago Council on Global Affairs found that 71 per cent of South Koreans wanted their country to have nuclear weapons. Another in May 2022 from the Asan Institute for Policy Studies found 70 per cent supported indigenous nuclearisation, with 64 per cent in support even if that violated the Nuclear Non-Proliferation Treaty (NPT).
It seems likely that "Track I" actors – South Korean decision-makers and their US alliance counterparts – will eventually be pressed to address this issue.
South Korean public support for indigenous nuclearisation has been steady, and growing, for more than a decade. This has opened policy space for nuclearisation advocates to make the case for nukes at the elite level.
A persistent Track II discourse among nongovernmental national security analysts will, in turn, pressure a formal, Track I response. Already in 2017, the then-leader of the main opposition party publicly suggested South Korea needed nuclear weapons.
CHINESE AND NORTH KOREAN PRESSURE FORCING MORE RADICAL CONSIDERATIONS
Polling regularly returns support for this option for the reasons one would expect – China and North Korea.
China is a large, powerful state on Seoul's doorstep. It has increasingly tried to bully South Korea, regarding, for example, missile defence or Chinese travellers during the pandemic.
And North Korea, obviously, is an ongoing, arguably existential threat. It is an opaque nuclear weapons state that routinely threatens South Korea and rejects even the most basic arms control regarding its warheads and missiles.
It has fired a flurry of seven missile launches in just over two weeks, with one that flew over Japan in blatant disregard for Japanese sovereignty.
On Monday (Oct 10), North Korean state media said that the exercises involved ballistic missiles with mock nuclear warheads, and were meant to deliver a strong message of war deterrence.
"Even though the enemy continues to talk about dialogue and negotiations, we do not have anything to talk about nor do we feel the need to do so," KCNA quoted North Korean President Kim Jong Un as saying.
Traditionally, the US-South Korea alliance has been Seoul's backstop against such threats. And on the conventional challenge from North Korea (or even China), it remains so.
But nuclear weapons are a unique class of weapons. As Russian President Vladimir Putin has demonstrated in Ukraine, they can be used to block assistance by outside partners.
In March, the North Atlantic Treaty Organization (NATO) rejected Ukrainian pleas for a no-fly zone over Ukraine for fear of nuclear escalation with Russia. North Korea will almost certainly try the same bluff in a conventional war with South Korea.
But even short of open conflict, nuclear weapons are a constant temptation, to weak or autocratic leaders especially. They open up possibilities of blackmail and coercion. They tempt leaders to overreach in the belief that nukes can be leveraged to support risky courses of action.
Putin too has illustrated this in Ukraine, where he has obliquely threatened nuclear strikes to prevent Ukraine from winning the war, to deter the West from sending heavy weapons, and to defend Russian territory, including newly annexed territories in Ukraine.
It is easy to see North Korea trying the same thing against South Korea in a few years when its programme is more mature.
OTHER OPTIONS AGAINST NORTH KOREAN NUCLEAR WEAPONS ARE POOR
North Korean nuclear weapons raise concerns about American defence guarantees to both South Korea and Japan. While the debate is more advanced in the former than the latter, it is likely that Japan would consider nuclear weapons if South Korea were subject to aggressive North Korean nuclear coercion.
Former Prime Minister Shinzo Abe floated this idea earlier this year, although Article 9 of Japan's constitution – a renunciation of war – would make this move especially controversial.
Japan's constitutional commitment to peace however does not change the structural pressures it faces, which are identical to South Korea's.
North Korea is not going to stop building nuclear weapons and missiles. It is not going to denuclearise no matter how many times we demand it. Indeed, it is not going to permit anything like inspectors or cameras or oversight of its nuclear industry.
South Korea and Japan's response options are poor. South Korean President Yoon Suk-yeol floated the idea earlier this year of preemptively striking North Korean missile sites in a crisis. That is extremely risky and could ignite the very war it seeks to prevent.
Missile defence would be an excellent option because it is defensive-only. But it does not work very well. In fact, performance anxiety – that missile defence might miss its target – is the reason the US, Japan and South Korea have never tried to shoot down a North Korean missile test, such as last week's.
Negotiation, of course, would be the ideal outcome, but North Korea has made it clear that it will not seriously negotiate denuclearisation, or even controls.
If Japan and South Korean could nuclearly deter North Korea themselves, there would be less anxiety about US commitments. Seoul and Tokyo would not proliferate these weapons, sell them to terrorists, lose them, store them improperly, or use them in a first strike.
Their nuclearisations would be strictly defensive, a choice made long after North Korea ignored the international community and moved first into these weapons.
Robert Kelly (@Robert_E_Kelly) is a professor of international relations in the Department of Political Science at Pusan National University.