Worsening Ukraine crisis leaves its citizens in Singapore facing uncertainty, anxiety, fear for family back home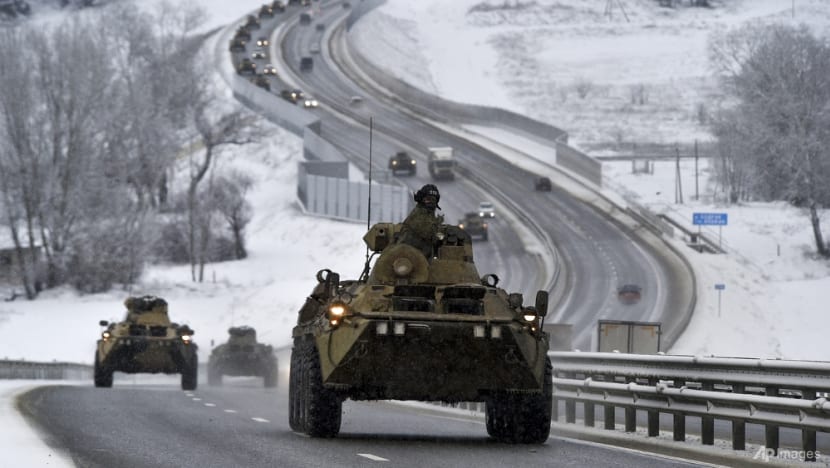 SINGAPORE: A cloud of uncertainty hangs over Mr Liubomyr Mykhalchenko – and not simply because of the worsening crisis in his home country, Ukraine. 
The 31-year-old Ukrainian had been travelling with his parents in Barcelona for a week, but they'd just returned to Ukraine. 
"I will say that was a very scary moment for me, because I'm saying goodbye to my parents. And that might be, like, my biggest mistake … that I'm allowing them to go back home," he told CNA over the phone. 
On Monday (Feb 21), Russian President Vladimir Putin ordered troops into two Moscow-backed rebel regions of Ukraine, after he earlier recognised the independence of two rebel-held areas of the Donetsk and Luhansk regions.
Mr Mykhalchenko, who works as a front-end developer in Singapore, said the uncertainty of waiting around is "a hard thing to do" and "something that drains your power a lot" – a sentiment shared by his friends. 
To feel "more in control", several of them have started visiting shooting ranges to learn how to shoot. 
"I think people want to do something, and when you do something, you feel more in control of your destiny … and like you're more prepared," he said. 
PICKING UP ARMS, DEFENDING HOME COUNTRY
Before this crisis, none of his friends had "a particular interest in the military or guns", but now "it's happening a lot", Mr Mykhalchenko said. 
There have also been "huge spikes" in donations to a variety of organisations to help the military. 
And while he admitted he's not "brave enough" to pick up a weapon, he helps relatives or friends with "financial aspects". 
Similarly, friends of Olha Hovdii, another Ukrainian in Singapore, have also volunteered to be part of Ukraine's armed forces. 
"Some people bought guns for hunting, but actually by Ukrainian law, in case of war, they can use those guns for their own protection. And all the shooting ranges … they're booked because people are trying to learn how to shoot," the 32-year-old said. 
"To be honest, of course we hope that we will never need to use this knowledge. But Russia doesn't give us a choice but to protect ourselves." 
Ms Hovdii, who has been working in Singapore for seven years, is currently unemployed, while her Ukrainian husband works in the IT sector as a business analyst. But she doesn't rule out returning to Ukraine.
"In the worst-case scenario, if Russia invades and bombs our cities, we will need to move our families out from the region … to somewhere in the Western part of Ukraine. It's more or less safer now," she said. 
"And if we move our parents, you know, they're over 60 years old, and to start life from scratch, I think they will not cope (very well), so they will need us anyway. So I think we will move to Ukraine (in that scenario), support our parents there – and possibly, by any means, defend our country and our country's sovereignty." 
In the meantime, Ms Hovdii admitted she's "worrying a lot", and checks the news every morning and before she goes to sleep. 
"Whenever I check the news, I hope for the best, but also prepare for the worst, knowing anything could happen right now. Basically for the past few weeks, I've been very stressed. I can say that I cry almost every day whenever there's some news about escalations," she said. 
Getting lost in the news cycle isn't new to Mr Dmitry Gerasimenko, the 37-year-old chief executive officer of software company Ahrefs. He pointed to what happened in 2014 when Russia invaded and subsequently annexed Crimea from Ukraine. 
"I try to stop myself, to have some limit for how much time I want to spend checking the news. I'm trying to just call my parents every day at home," he said, adding that he does feel a sense of uncertainty. 
The situation is akin to "one country, just because they are big, they have some nukes, they decide that they can tell others what to do", added Mr Gerasimenko.  
"I'm happy that this time, Western countries are kind of united to say that, this is not actually how you can act in the current world. We don't accept that big countries can just tell smaller countries what to do. And of course, in Ukraine, people feel it's very unfair ... why we cannot decide our future, why we should listen to someone else. And this someone else, they don't even have a good reason."
"ANXIETY-INDUCING", BUT NO PANIC 
Such anxiety also plagues Mr Nikita Taratorin, who said his family could become refugees overnight. 
After all, they are currently in Kyiv, the capital of Ukraine, and it was "quite unsettling" for him to read that Russia may be targeting Kyiv, the 21-year-old Yale-NUS student told CNA. 
"Obviously it is anxiety-inducing, and the possibility of me losing the home where I grew up in and my family literally becoming refugees has never felt so real," he said. 
But Mr Taratorin also admitted that he feels "desensitised" to the conflict. 
"Honestly, on a personal level, myself and Ukrainians are very used to the aggression by Russia. Growing up and hearing daily updates from the frontlines, and hearing about deaths of soldiers and civilians, shellings, loss of territory …  really kind of desensitised me to the conflict," he shared. 
"And I think most of Ukrainians would really be able to relate to that." 
Likewise, Mr Mykhalchenko told CNA that the crisis didn't start months ago, but rather, eight years earlier when Russia invaded and subsequently annexed Crimea from Ukraine. 
"It's just that global media attention doesn't cover this topic all the time. But if you've been living in Ukraine, this is nothing particularly new for you. You've been through (situations) like this," he said.  
"If you are in the middle of the city, you wouldn't really notice that something's changed or there's some danger around. People are going to nightclubs, people are going to work, people are going to coffeeshops. There's no panic; people are not running to the bunkers." 
Ms Hovdii's friends and family back home also understand that perpetual panic will not help.
"They stay calm. I think everyone can understand that in this situation, panic will not help. So they're just trying not to speculate about the war and they don't even talk about that," she said. 
"Whenever I start talking to them, we just cover some other topics, you know, about life. And only at the end, I ask, 'Okay, how are you? How's the situation?'" 
ATTITUDES TOWARDS THE CRISIS 
Mr Taratorin, who is studying global affairs at Yale-NUS, said he's observed three general attitudes towards the crisis. 
First, the minority who have decided to fly out of Ukraine. 
"You'll have friends who made a decision to leave the country for a bit of time and wait it out, but it's a very absolute minority. Because most people don't have the privilege of going abroad," he said. 
Second, people who are determined to stay and fight. 
"If Russians invade, I think every apartment window will shoot at them. … And there will be resistance because we're quite freedom-loving, and we already know our history," he added. 
"Many of my friends are joining territorial defence forces that the military has organised. And then, a lot of friends including me, we're volunteering to help the army. … Right now, I'm doing a bit of campaigns to help raise awareness and donating money to volunteer groups to buy heat visors for the army and such." 
And third, the group who "basically ignores the situation" because they've been "so desensitised by Russian aggression". 
"I think on a cognitive level, they cannot process this and they ignore the situation. I think it's a psychological defence mechanism at this point," said Mr Taratorin. 
Some have packed emergency suitcases, including his family, he added. 
But his family is split on their attitudes towards the situation. While Mr Taratorin's father is adamant to stay and fight, his mother and sister "just cannot process" the situation and plan to "pack the car and go West" if things further escalate. 
However, he added that they have no specific plans, because "life has to go on even with this big, horrible neighbour over our heads". 
MORE THAN ABOUT UKRAINE AND RUSSIA 
But ultimately, the issue isn't about just Ukraine and Russia, noted Mr Taratorin. 
"What is challenged here is the international security border. All of our institutions rely on international law … to protect our own national sovereignty and it will all be undermined," he said. 
"This might raise issues in other parts of the world, because bigger countries will start realising it's okay to bully smaller countries with military (force) to achieve their means. The entirety of the world's international system is in jeopardy.
"We have all these institutions in place and all the international laws and norms. But what's the point of having them if nobody follows them, right? What Russia is doing right now is not following this law."
Speaking to CNA over the phone, the Ukrainian ambassador in Singapore, Kateryna Zelenko, added that the Ukrainian community remains "committed to the diplomatic solution". 
"We realise that we need to do anything possible to reach progress and achieve peace. We all realise that we need to remain committed to the diplomatic solution and de-escalation on the basis of international law," she said. 
Ms Zelenko remains optimistic that the possibility of a diplomatic solution is "still there". 
"We really realise that everything which is going in and around Ukraine is not merely about Ukraine. It is important that we secure stability and de-escalation in Ukraine, because actually, it is not only about our country," she added. 
"As soon as (Russia) withdraws their troops and weaponry from our borders and lives up to its commitments to full and comprehensive ceasefire, Europe and the world will feel much safer."