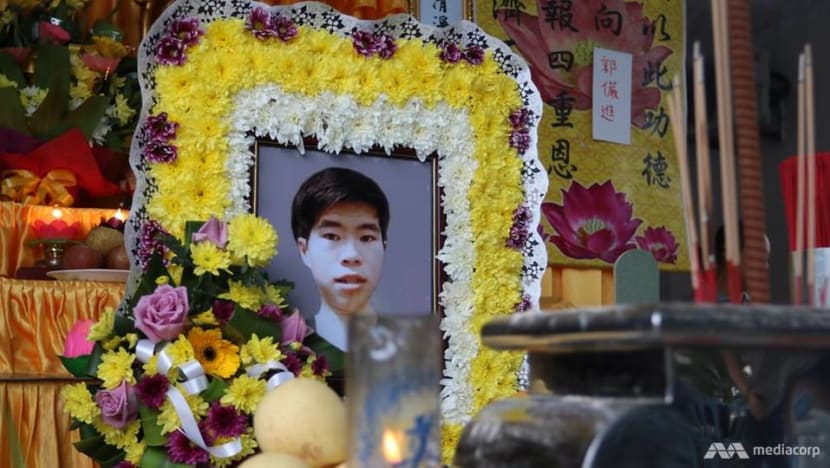 KRUBONG, Melaka: The father of the late Singapore Civil Defence Force (SCDF) full-time national serviceman Kok Yuen Chin said the last contact he had with his son was a discussion about dinner, more than a month before he died on Sunday (May 13).
Mr Kok Meng Hua, 56, was speaking to Channel NewsAsia on Wednesday, at his son's wake in the quiet Melaka suburb of Krubong. Mr Kok works six days a week doing construction in Singapore, with Sunday being his only day off.
"What are you doing today? Are you working?" Mr Kok recalled asking his son after knocking off early that day. As a firefighter at Tuas View Fire Station, Yuen Chin worked one 24-hour shift followed by two days off. That day was his day off, he replied.
"Want to have dinner together?" Mr Kok continued, suggesting their usual hawker centre in Bukit Panjang, where Mr Kok lives.
Yuen Chin hesitated. He had a buffet date with his girlfriend. By then he had moved out of his dad's place to live independently with her in a rented room in Jurong. It was nearer to his Tuas workplace.
Yuen Chin invited his dad along for the buffet, but Mr Kok declined. He'd had a rough day at work, so he wanted a proper meal with rice. Another day then, Mr Kok remembered he said.
Yuen Chin was just a month away from his Operationally Ready Date (ORD) and Mr Kok thought there would be more opportunities to have a dinner with him and discuss the next chapter of his son's life.
But the next chapter never came. And so that was the last time Mr Kok heard from his son.
On Sunday night, Yuen Chin was found unconscious at the bottom of a 12m pump well at his fire station. Eleven metres of the well had been filled with water. Yuen Chin was rushed to a hospital, but was pronounced dead.
When Mr Kok visited the well to pray and leave offerings, he was shocked by its narrow diameter and sheer depth. "How could he have a chance to survive?" Mr Kok said.
Mr Kok's younger sister Helen, 55, said the family wants answers. Did anyone jump in the moment they realised Yuen Chin was not coming up? 
While investigations into how exactly Yuen Chin ended up in the well are still ongoing, SCDF has said that it was part of activities to celebrate his impending ORD. 
For closure, Ms Kok said the family wants to watch CCTV footage of the incident, but she added that it's unclear if they will be able to. "I just want to know how they tried to save my son," Mr Kok said.
INDEPENDENT, HELPFUL BOY
Whenever Yuen Chin returned home to Melaka, which was about twice a month, he never hesitated to help around the house. "After dinner he automatically washes the plates, wipes the table and sweeps the floor," Ms Kok said.
Yuen Chin would take S$600 out of his salary to give to his mother, who lives in Melaka. Then he would take his siblings out to the mall, treating them to movies and ice cream.
The last time he went home was on Malaysia's polling day on May 9. He didn't vote, but wanted to accompany his girlfriend who was going to. Mr Kok didn't go back because he couldn't take time off work. It was then that Yuen Chin told family members he wanted to work as an auxiliary police officer.
Mr Kok had asked Yuen Chin if he wanted to sign on as a firefighter. He entertained the idea, but said he didn't have the necessary academic qualifications. When Mr Kok asked Yuen Chin to approach his superiors for a recommendation, he said he didn't want to trouble them.
This self-reliant attitude is also what made him so endearing, Ms Kok said. "When he had difficulty with his studies, he never told his parents," she added.
"He loved his mother very much," Mr Kok said.
THE OTHER CALL
It was about 9.50pm on Sunday when Mr Kok, in an express bus on his way back to Singapore, was first told of the incident.
Every week on Saturday night after work, Mr Kok goes back to Melaka to see his wife. He rides his motorcycle across the border, parks it at Larkin in Johor and takes a bus home. On Sunday night, he does the same, but in the other direction.
"Can you come to Ng Teng Fong General Hospital now?" he was told. "What happened?" he probed. The other person on the line would only say that his son had fainted in a pool.
His heart raced. Mr Kok knew his son hated the water and couldn't swim. And it would still be hours before he reached Johor, let alone Singapore. Mr Kok called his sister and asked her to go to the hospital. "I asked her to call me when my son regained consciousness," he said.
He only reached Johor at midnight. There was still no call. He rode his motorcycle with one fist clenched around his phone. "If it rang, I would quickly pull over and answer," he said. The call never came. "That was when I knew my son was no more."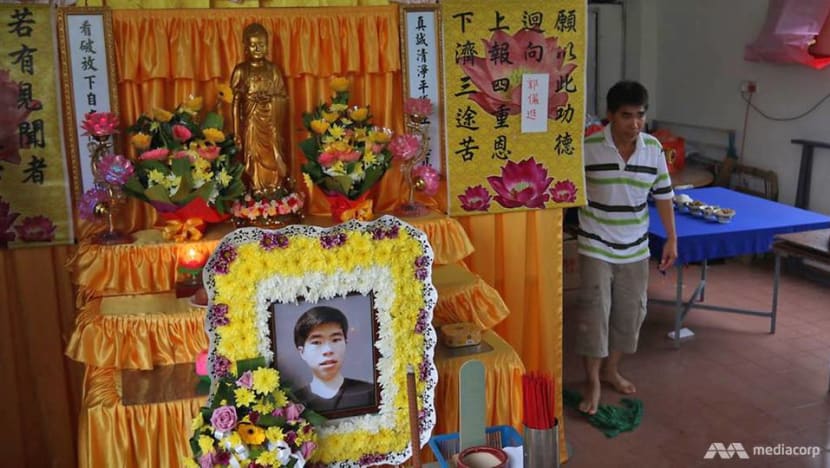 Mr Kok parked his bike at home and took a taxi to the hospital because he didn't know where to park. He called his sister. "How is my son now?" he pressed. Ms Kok wouldn't answer. "Twice I asked and her voice changed," he said. "I only knew it wasn't good."
When the taxi pulled in, Mr Kok said at least three SCDF officers were waiting. They led him into a room, where a doctor told him "we did our best but could not save your son".
Yuen Chin was in a neck brace and had some cuts on his face, Mr Kok said. "Your papa is here now," he could only say.
HIS JOURNEY
Like a lot of kids, Yuen Chin grew up playing football with his neighbours on a field just in front of his house. He would also be glued to his phone playing games, Mr Kok said with a smile.
After finishing the equivalent of his polytechnic diploma in Malaysia, Yuen Chin decided to pursue citizenship so he could work in Singapore. Mr Kok had offered to pay for him to further his studies, but he refused.
When he got enlisted into the SCDF, Mr Kok joked that it would be easier than serving in the army. "Even if it's tough, I'll still do it," Yuen Chin said. "I just want to finish the two years."
Yuen Chin graduated from the Civil Defence Academy as a firefighter and lived with his dad for about a year. During the time they bunked together, they talked about work.
Because the fire station was so remote, Yuen Chin would round up orders from his colleagues and buy back food for them, a job that he said newbies had to do. And because the fire station was so remote, Yuen Chin didn't have that many cases to attend.
"Where did you go today? Wash oil off the roads?" Mr Kok would joke. Yuen Chin would insist that he still fought fires, at factories in places like Yew Tee.
Mr Kok felt good about Yuen Chin eking out a future in Singapore. "I have always thought of Singapore as a safe place," he said. "It's not like overseas, where there might be a lot of trouble."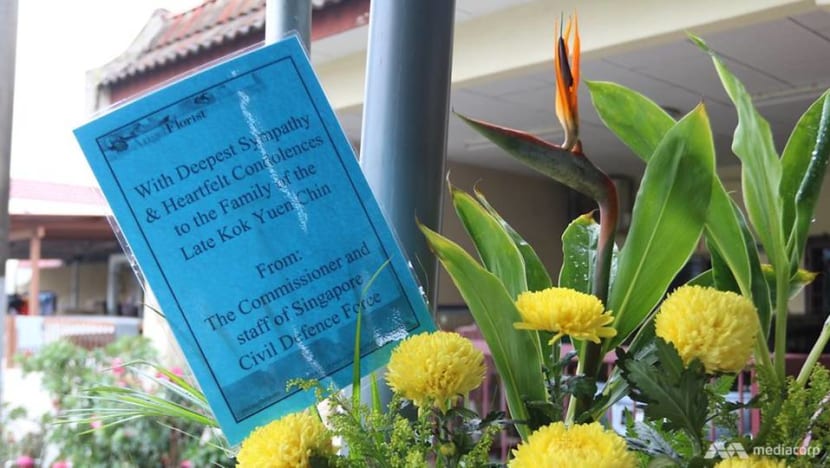 When Yuen Chin moved out to live with his girlfriend, Mr Kok gave him more freedom. "I didn't want to call every day; he was earning an income," he said. "He had already grown up."
He said that Yuen Chin and his girlfriend would often come over for dinner. 
"I was just happy that he had finished his two years," he added. "I also thought of asking about his plans after ORD: Are you finding work? Are you coming back to the kampung for a week?
"I just didn't have the chance to ask."