The heroes who help the heroes: SCDF's Special Response Unit does more than firefighting
The unit has leveraged artificial intelligence and automation technology to enhance its decontamination and casualty conveyance operations to tackle manpower challenges.
SINGAPORE: A fire breaks out at an industrial building, requiring intensive physical firefighting efforts and leaving several people injured.
Cue the Special Response Unit (SRU), a specialised unit within the Singapore Civil Defence Force (SCDF) that has several capabilities on top of supporting large or prolonged fire and rescue operations.
The unit is armed with equipment that can transport multiple casualties at a go and provide on-the-spot heat injury treatment for responders. It can also conduct mass decontamination. The unit is trained in preparation for any incident at major events, like the upcoming F1 Singapore Grand Prix.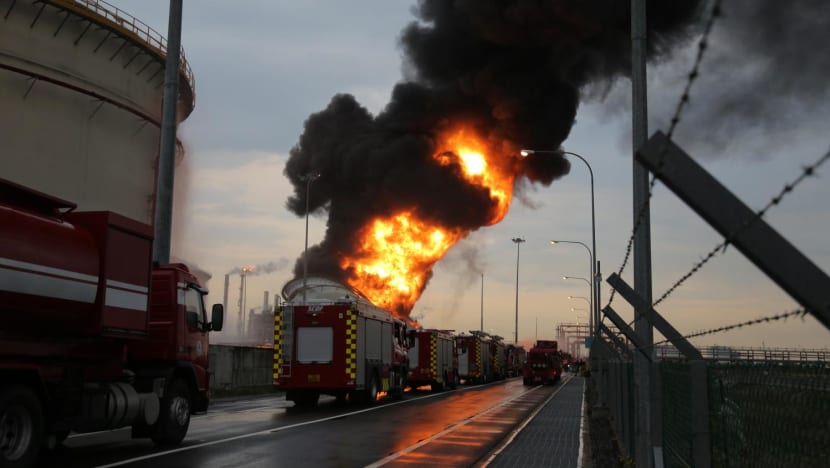 "For such standbys, the SRU primarily focuses on decontamination operations for mass casualties kind of incidents. Not only that, if called upon for any other incidents like firefighting, the SRU would be also augmenting in the overall operations," its commander Tan Teck Ming told CNA.
The SRU has responded to several large-scale incidents, including the Nicoll Highway collapse in 2004, an oil tank fire at Pulau Bukom in 2011, and more recently, a fatal crash between two private buses in April this year.
The crew responded to the accident on Apr 1 and conveyed 14 casualties to the hospital in a vehicle designed by the SCDF. In another incident earlier in the year, the unit was deployed to a large warehouse fire in Tuas for foaming operations – using foam to blanket any surface of flammable liquid present.
The SRU, which will mark its 20th anniversary later this year, has responded to more than 100 fire incidents, 70 rescue incidents, 30 mass casualty conveyance incidents, 15 water rescue incidents and 10 hazardous materials incidents.
With 13 mass decontamination vehicles, five multi-utility vehicles and one responders' performance vehicle among its arsenal, the SRU plays a critical role in supporting frontline operations, SCDF said.
Made up mostly of full-time national servicemen, it was set up in 2002 in the wake of the 9/11 attacks in the United States.
CUSTOMISED VEHICLES
In a bid to tackle manpower challenges due to the declining birth rate in Singapore, the SRU has leveraged artificial intelligence and automation technology to enhance its decontamination and casualty conveyance operations, SCDF said.
Among the SRU's main stars is the mass decontamination vehicle designed by the SCDF and first used in 2016. Although it looks like a typical bus from the outside, it is far from one. The vehicle can transport up to 24 walking casualties at one go and also comes into play during emergencies such as a chemical attack.
It has a decontamination rate of 80 to 120 walking casualties on average per hour.
There are eight shower cubicles within the vehicle which are equipped with clean clothes, towels and slippers.
Another mode in the vehicle allows it to self-decontaminate and sanitise the air for its subsequent usage. The process takes less than an hour to complete.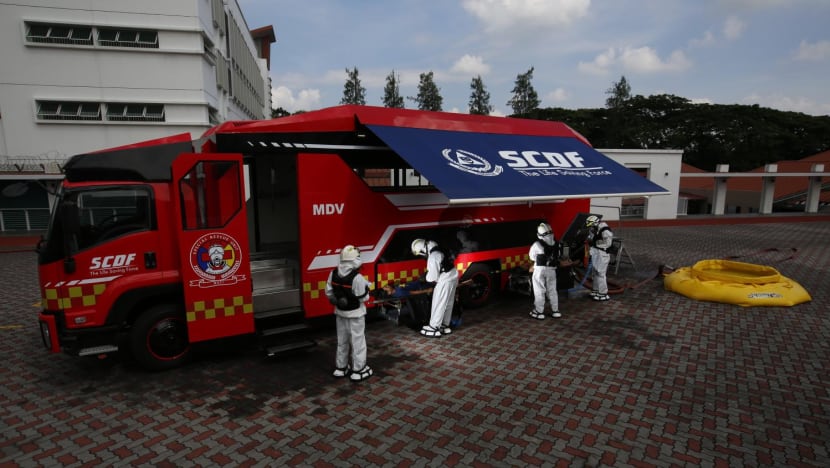 At the unit's disposal is also the responder performance vehicle, which allows personnel involved in prolonged operations to recover better.
Those at highest risk, exhibiting signs and symptoms of heat stroke for instance, will be put into a tub containing water at a temperature of five degrees Celsius.
For less serious cases, there are aluminium seats where officers can dip their arms in cold water to lower their body temperatures.
The vehicle is a result of collaboration among SCDF, medical doctors serving National Service with SCDF, academic researchers from the Department of Physiology at NUS Yong Loo Lin School of Medicine and HOPE Technik, a local engineering company.
MORE HIGH-TECH EQUIPMENT
The SRU will focus on enhancing its operational capabilities by leveraging more advanced technologies, SCDF said.
Proof-of-concept trials have taken place for the use of an autonomous casualty transporter developed by the SCDF and the Home Team Science and Technology Agency, SCDF said.
The transporter, which looks like a self-driving stretcher, will be used to automatically transport casualties from point to point within an incident site. While an officer will still accompany the casualties, it will reduce the manpower needed for such operations.
The SRU is targeting a total of six such transporters, which can also be used to move heavy items.
Studies are underway for the next generation of water supply modules and mass decontamination vehicles with enhanced capabilities for water supply and mass decontamination, SCDF said.