School bus operators welcome accreditation scheme to improve industry standards
However, some said that the criteria required for the accreditation could be difficult to fulfill.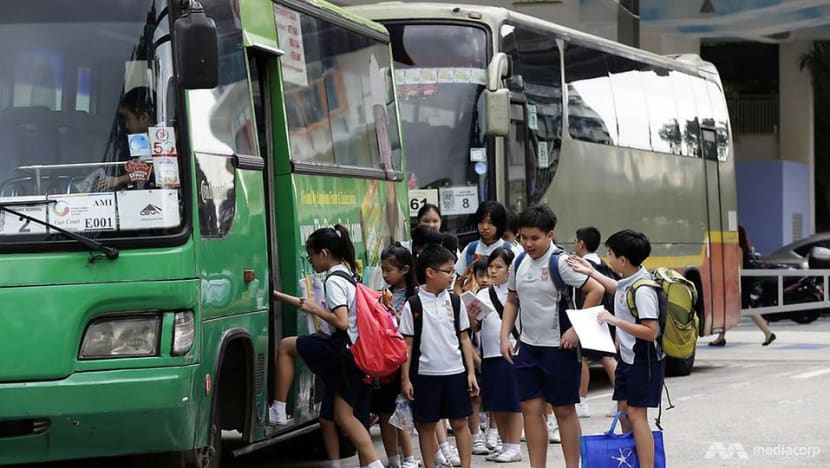 SINGAPORE: An accreditation scheme to improve the service standards in the school bus industry and to protect upfront payments received from parents has been welcomed by some operators.
Those that Channel NewsAsia spoke to said that such a scheme will help an industry that is facing challenges such as a lack of organisation and trouble attracting young employees.

"We need to improve the school bus operation system. Frankly, it's a mess," said operations manager at Sinbus (S) Transport Services Joshua Ng. He added that he hopes the accreditation will provide a structure for the industry and make it "more systematic".

He said that given the standards that operators have to reach to achieve accreditation, companies will be forced to improve.

Under the initiative, which was jointly launched by the Consumers Association of Singapore (CASE) and the Singapore School Transport Association (SSTA), operators will have to send their staff for at least 40 hours of service training, have ethical and transparent pricing tactics and use a standard contract template approved by the two organisations.

The companies also have to purchase a S$300,000 Performance Guarantee Bond that insures consumers' deposits and prepayments against situations such as the operator closing down.

Mr Ng's company, which has been around for more than 10 years, is one of 22 that has already applied for the accreditation.

CASE has been working with industry partners to enhance prepayment protection for consumers in view of the increasing amounts of prepayments reported lost by consumers due to business closures, it said in a joint statement with SSTA on Monday (Sept 25).

Mr Jason Loh, manager at family-run Ren Quan Transport, which is in the process of getting accredited, said that the scheme will go a long way in improving the reputation of the industry. 

"I believe those who are accredited will earn the confidence of parents," said the 31-year-old.

Civil servant Salizawati Abdul Aziz. who has two children who take the school bus, said that such accreditation should ensure quality service and safety for the children.
Ms Salizawati has experienced some frustration with standards in the past. A previous school bus operator had some foreign drivers who it was difficult to communicate with. In addition, some drivers assigned to a route for a day would not know where to drop off the children.
"If the information on whether the operator is accredited is made known to parents before they pay for the services, I think they will be more assured," she said. 
ACCREDITATION NEEDED TO IMPROVE INDUSTRY: OPERATORS
Operators said that as drivers grow older and start to retire, it has been difficult to recruit a new generation of drivers.

"The younger generation is not interested. The job comes with a lot of responsibility, and the hours can be irregular, because of the children's after-school activities," said the owner of family-run Sin Koon Seng Enterprise Vivian Tan.
Mr Ng also said that a salary of about S$1,400 is not attractive enough for young employees. While he thinks they should be paid more, it is difficult, as schools tend to accept the cheapest bid, which means that companies are not able to increase their prices, he said.
He added that school bus rates have remained stagnant for years, typically ranging from S$100 to S$300 for two-way journeys per month based on distance. He hopes that operators will be able to command higher prices by raising standards.
If that happens, drivers' salaries could be increased which would make the job more attractive.
The operators also said that since most primary schools are now single-session schools, they only need to make two trips to ferry the children. This has resulted in decreased demand from schools, said Mr Loh.
He added that school also starts later as a result, coinciding with the time that operators could otherwise transport office or factory workers.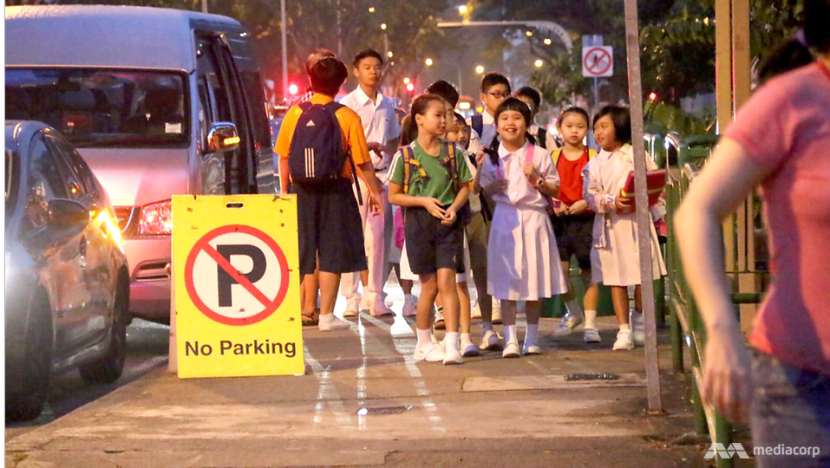 Mr Ng also pointed to another problem - while parents have avenues to approach when school bus companies wind up, operators are left with little redress when parents do not pay up.
CHALLENGES IN ACHIEVING ACCREDITATION

Still, it could be an uphill battle to improve the situation. One major challenge in achieving accreditation is sending drivers for training that adds up to 40 hours, operators said.

Mr Ng said that drivers, who already work irregular hours with no medical leave or annual leave benefits, would not want to sacrifice time on their days off to attend the training.

"They may be working six days a week, and that one day off they get to spend with their families or work overtime to get extra income. This is a big issue in getting the accreditation," he said.

SSTA's executive secretary Jeremy Ng agreed that getting drivers to go training may deter companies from getting on board the scheme.

While he hopes the accreditation will spur the market to improve, he said at the end of the day, the schools will dictate how important it is in operators being awarded a contract.

Some operators said that the S$300,000 tag on the Performance Guarantee Bond could be too steep for smaller companies. 
The operators said they hope the accreditation scheme will help to weed out bad apples in the 1,200-strong industry, which has many one-man operators. 
Mr Lim Biow Chuan, CASE president and advisor to SSTA said, "The CaseTrust mark is given to businesses that have fair and ethical business practices. We strongly encourage more school bus service providers to come on board, as it will help to set them apart as consumer-friendly bus operators."