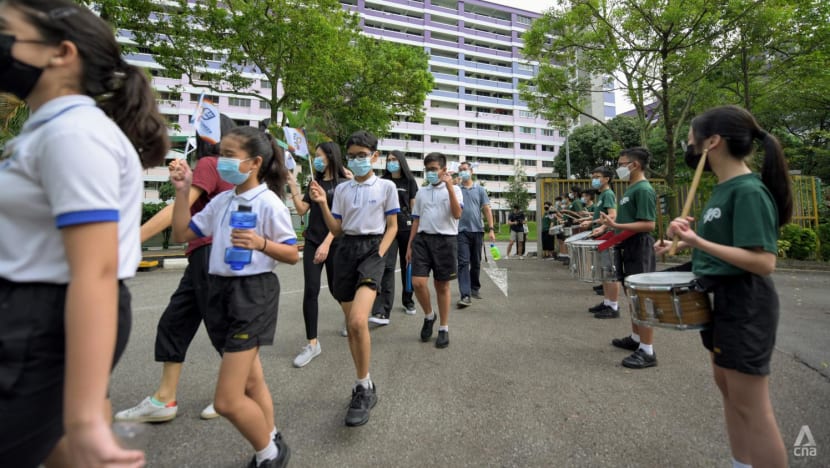 SINGAPORE: With a 3km walk, a new school song, uniform and crest, students and staff from Pioneer Primary School and Juying Primary School marked the start of a new chapter on Thursday morning (Nov 25). 
The two schools will merge from 2022, the first of nine pairs of schools that will do so as announced earlier this year.  
About 10 students from Pioneer Primary took a symbolic 30-minute walk from their current school building to the Juying Primary campus at about 8.30am.
Accompanied by their teachers, the Pioneer Primary students met five Juying Primary students midway. 
Together, they crossed the last stretch to where Juying Primary is located, at 31 Jurong West St 91, welcomed with drums and fanfare. 
This is where the merged school will be located until it moves to the new Tengah district from 2025, becoming the first primary school there. 
While it will be known as Pioneer Primary School, it will retain Juying as its Chinese name.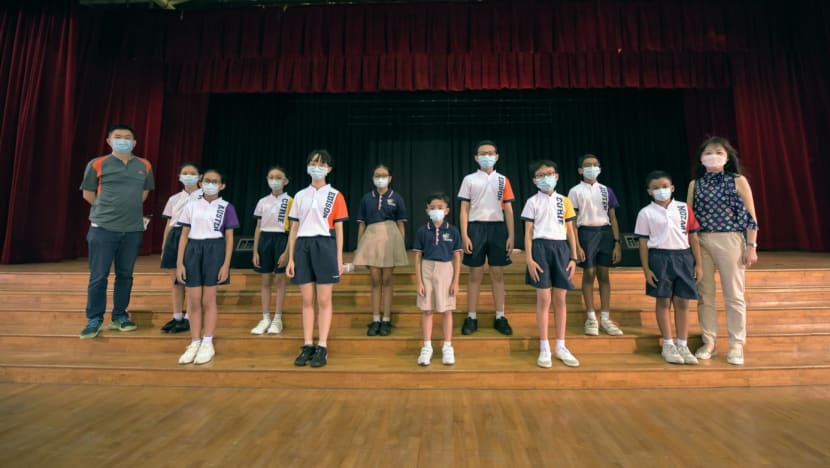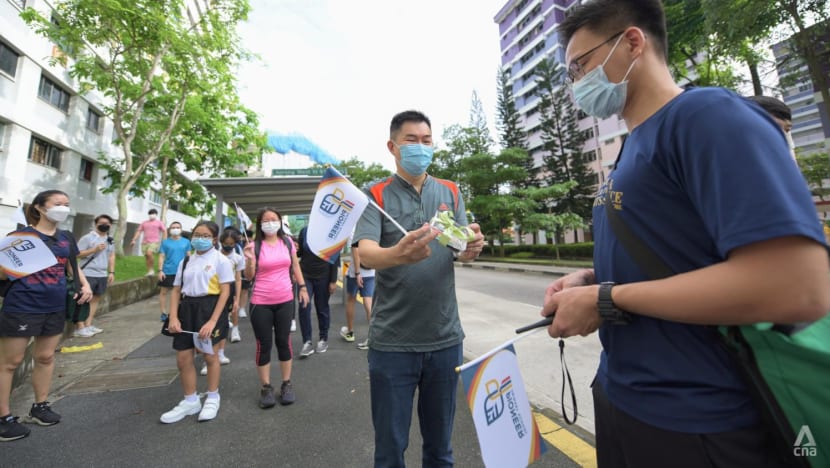 The current Pioneer Primary campus at 23 Jurong West Street 81 will make way for the Jurong Region Line. 
"I feel kind of sad because I've been there four years, seeing that the school has grown from strength to strength and they did very well in many aspects. We will miss it, it's very spacious and airy," said principal Loke Wai Ling, who will lead the new school. 
"And we will miss the food also because Pioneer Primary is next to Gek Poh market," she added with a chuckle. 
"But I think we know why we need to merge, and we know that the JRL (Jurong Region Line) has to cut through it. So, things have to move on." 
FIRST OF 9 SCHOOL MERGERS
The Ministry of Education (MOE) announced in April that four pairs of primary schools and five pairs of secondary schools will be merged between 2022 and 2024. 
Some schools have seen falling enrolment due to declining birth rates and changing demographics in housing estates, although MOE also noted that there is rising demand for school places in newer estates with younger families.
Both Juying Primary and Pioneer Primary are located in mature housing areas, and enrolment in both schools has been "falling consistently" in recent years, MOE said in April. 
The reasons for the merger are "sound", and the Juying Primary team had expected the news, its principal Mrs Sroya Jaswant said, adding that it was "a matter of time".
The enrolment rates at Juying Primary were falling "fast and furious" in recent years, she said. 
"Because you can't possibly run a school with the enrolment dwindling to the point that you are unable to provide them with rich experiences. So actually, my staff and I, we were quite prepared for it," she said. 
"But just that we didn't expect it so soon, like within nine months or a year we'll merge." 
Mrs Jaswant and the Juying Primary teachers welcome the merger because it will benefit students. Juying Primary, for instance, had about 10 co-curricular activities. The new school will have 17.
There will be about 700 students from Pioneer Primary and more than 400 students from Juying Primary, bringing the total number of the students in the new school to about 1,100, said Mdm Loke.  
Both schools did not have a Primary 1 intake this year, and the new school will only accept Primary 1 pupils after it moves to the new Tengah campus. 
More than 80 staff members, a mix from both schools, will continue working at the new Pioneer Primary. Those who will not join the new school are either moving on to other schools or retiring.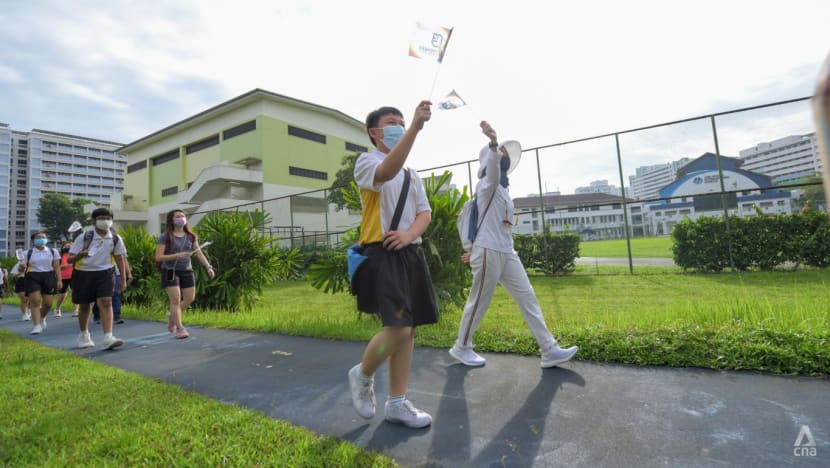 PLANNING FOR THE MERGER
In planning for the merger in the short nine months since it was announced, Mdm Loke recounted the hard work put in by staff and teachers of both schools.  
"We all know that we have to go over to the merged school, and we know that it's important to have this new identity," she said. 
"Because we want to have that sense of belonging, so it's very important that we are able to share with the students and staff, this is the school that you're going to, it's something for you to look forward to. So with that in mind, I think we were all able to pull together."
"What really mattered to me was to ensure that the good work, the good programmes that we built upon would somehow carry on," said Mrs Jaswant. 
"Of course maybe not in total, but at least part of these programmes can be married to some of the good programmes that Pioneer has, and the good work can continue." 
The two schools found common ground in their approach to integrating environmental sustainability in the curriculum and students' learning, and the new school will have an applied learning programme centred around it. 
All students from both schools also contributed a unique doodle, combined to make an art piece that hangs in the foyer at Juying Primary. Taking the form of a boat with its sails covered in doodles, the piece represents sailing towards a glorious future. 
LOOKING FORWARD TO NEW FACILITIES, SAD TO SEE TEACHERS GO
Students CNA spoke to on Thursday said they are looking forward to making new friends and the new CCAs. In particular, the Pioneer Primary students said they are excited about the new facilities in the Juying Primary campus, which is the bigger of the two. 
Primary 5 student Vihaan Reddy Nalla said he was "quite sad" when he first learnt of the merger. 
"I spent five years at the Pioneer building, and then now it's going to be demolished. And then some of my friends also, because of the distance, they have changed schools, so I was quite sad," he added. 
But as part of the student leaders executive committee of his school, he got the chance to meet his counterparts over Zoom a few months ago, to discuss the names of the four houses at the new school.
"They were very friendly, very welcoming, and I was open to making new friends," said Vihaan. 
The students on the committee were excited to meet each other in person, and they were finally able to do so on Monday, while rehearsing for Thursday's ceremony. 
When school reopens, there will also be week-long orientation activities for students to get to know each other.
But before that, students got a physical tour of the campus earlier in November.
With the bigger campus, Vihaan foresees getting lost in his first week there. The new students will get name tags stating their classes, so they can approach teachers for help in navigating the new campus. 
"I like the library because it's very beautiful and I'm excited for the new play areas, and the different eco gardens as well. Their school is way bigger compared to ours," said Primary 5 Pioneer Primary student Ryhanna Suzaini. 
Even though she is excited about the new facilities, Ryhanna is sad to see one of her favourite teachers go. 
"​​I'm kind of upset that they're not coming. I only know one that is not coming to Juying, which really upsets me because she's my favourite teacher," she said, speaking fondly of her social studies teacher. 
It will be an adjustment for most students. Recalling the merger announcement this year, Mrs Jaswant said: "After a few days, as I talked to them, the first thing was, you mean (there are) more people coming into the school? 
"Their first thought was, it's like somebody is coming in to invade." 
She explained to the students that this meant they would have more new friends, which helped them become more accepting of the news. 
"There was a lot of talking to them, telling them how important it is to welcome people and to make them feel at home," she added. 
"Because I told them, whatever it is, the school grounds are not going to change. It's going to be here. So when your new friends come in, we've got to be welcoming. We've got to show them around." 
Like Ryhanna, some students were bothered by the fact that some of their teachers would not be moving to the new school with them, Mrs Jaswant noted. 
"That was quite easy to address because I shared with them the rationale as to why some teachers did not stay. It was because of the distance that they had to travel, and this was a good time to make the change so that they can meet the needs of their families too. 
"And when they saw it from that angle, they realised that there are reasons for these teachers to move on. It's not because they've been asked to move or it's not because they don't care." 
Mrs Jaswant herself will be retiring after 10 years at Juying Primary. She plans to contribute in any way she can on a "part-time basis". 
"My wish for the new school is that I hope that these cohorts of students that come in, they will embrace this sense of inclusivity. They will also enjoy the diversity because more people have come in," she said.
"I want them to be inclusive about the diversity and thereby make good friends, learn from one another and as a new family, forge that family spirit and move forward."