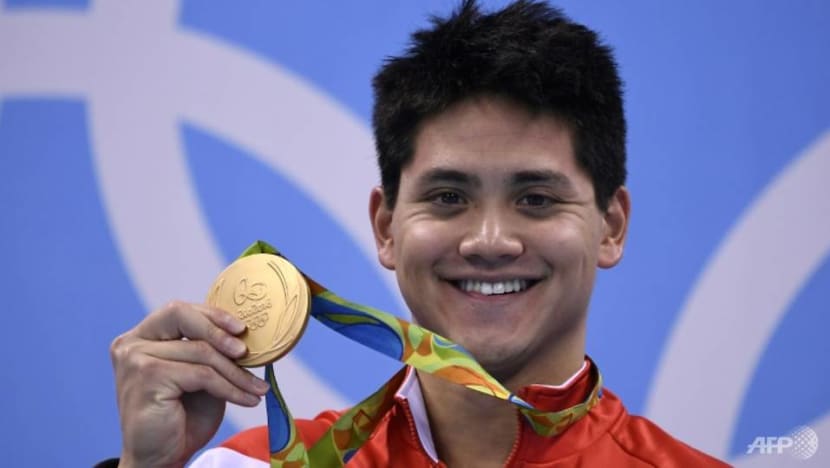 JAKARTA: Singapore's Olympics star Joseph Schooling on Saturday (Aug 18) said he wants to keep swimming for the next six years, but that he does not think he wants to continue after 2024.
In an interview in Indonesia at the sidelines of the 18th Asian Games, the Rio Olympics gold medallist said: "I want to swim until 2024. I don't think I want to swim past 2024 right now. So, I will still be swimming, hopefully another Asian Games in four years. So, that's where I see myself."

Schooling, who skipped the Commonwealth Games earlier this year, will have a heavy schedule at the Asian Games when swimming competitions begin in Jakarta on Sunday. 

He will be competing in the 100m butterfly, 50m butterfly, 50m freestyle, 4x100m freestyle relay and 4x100m individual medley.

The 23-year-old has shed 4kg and is likely to be in better shape to defend his 100m butterfly title than he was when he was beaten by India's Virahawal Khade at the Singapore championships earlier this year.

When asked about his choice to compete in the 50m butterfly event instead of the 200m race, Schooling said the swap helped him "sleep a lot easier".

"Whenever you can swap a 200 for a 50, it's awesome. I sleep a lot easier. I am excited for that. I wanted to do the do the 100 freestyle, but it kind of clashes with 50 butterfly or something like that," he said.

"So I am trying the 50 freestyle. I am working a lot on speed. I don't know. I am very excited to swim three less laps in a single race," he added.

Regarding his goal in Jakarta, Schooling explained that it was about "getting best times".

"You don't really think about medals, you think about racing yourself. I am coming to this meet just trying to race myself and race my own expectations. That's all I can focus on and that's the best thing to do," he said.

The Singaporean shot to fame at the 2014 Asian Games in South Korea, when he won his gold medal in addition to silver in the 50m butterfly and bronze in the 200m butterfly.

He then stunned Michael Phelps in the 100m butterfly at the Rio Olympics in 2016, in the American's final individual race before retiring.
Get the widest coverage of the 18th Asian Games (Aug 18 – Sep 2) from Jakarta and Palembang, Indonesia on Mediacorp. Go to toggle.sg/AsianGames2018 for details.