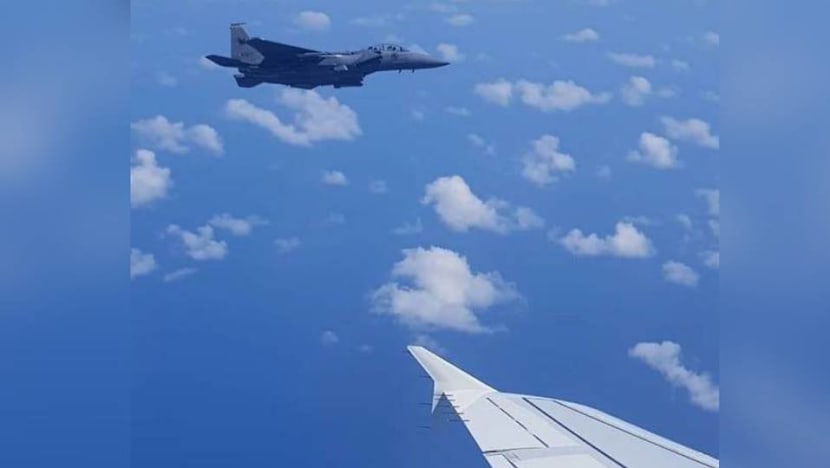 SINGAPORE: A passenger on a Scoot flight who said his luggage had a bomb in it was fined S$4,500 on Tuesday (Oct 2).
Hsu Chun Meng, a 41-year-old Singaporean, pleaded guilty to one charge of using threatening words by stating there was a bomb in his luggage.
The court heard that he was travelling from Singapore to Hat Yai in Thailand with two friends on Apr 5 this year. At about 12.55pm, the three of them boarded the plane for Scoot flight TR634 at Changi Airport Terminal 2.
Hsu had one hand-carry luggage and placed the luggage in the overhead compartment above his seat.
However, the bag was too big and the compartment could not be closed. Scoot stewardess Boo Joe We, 23, who saw what was happening, then told him that the luggage was oversized and had to be checked in.
Hsu continued to try and squeeze the bag into the compartment. When Ms Boo asked him if the luggage contained any items that he needed, such as his passport or wallet, or any prohibited items such as lithium batteries, Hsu replied: "Nothing, only bomb."
He did so because he was "not happy" with Ms Boo's "attitude and the way she spoke to him", Deputy Public Prosecutor Nicholas Khoo said.
Ms Boo stared at Hsu, who then said: "No bomb lah. Joking. How can it be."
She felt alarmed by what he said, but accepted that he was joking and went about the rest of her duties. Even so, she reported this to the cabin crew member in charge, Ms Ginny Chiong Wen Chin, 26.
Ms Chiong told Ms Boo that "an incident such as this cannot be treated as a joke". She wanted to inform the captain immediately, but the plane was about to take off and she could not enter the cockpit.
She told the pilot what happened after the plane had taken off and she was allowed to enter the cockpit.
The pilot put out a Mayday call and headed back to Singapore, where RSAF fighter jets escorted the plane.
The plane landed at about 3.20pm at a remote bay away from the main terminal of Changi Airport. After the police arrived, all 179 passengers on the plane had to disembark for security checks.
Hsu and his friends' luggage bags were located and removed for specific security checks.
As a result, the flight was delayed for four hours and 48 minutes, and the entire cabin crew, along with the pilots, were replaced with a fresh crew.
Vouchers were disbursed to the affected passengers, and Scoot incurred a loss of S$13,757, according to court documents.
Hsu admitted to the charge and was fined S$4,500, just S$500 shy of the maximum S$5,000.