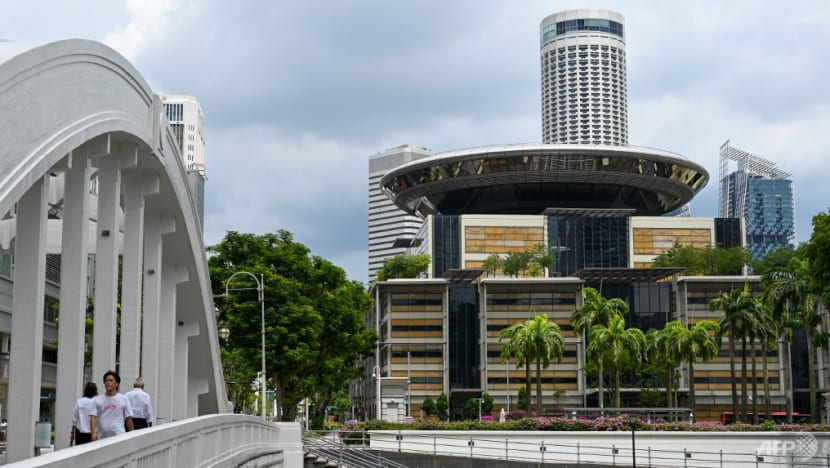 SINGAPORE: The Singapore Democratic Party (SDP) has been denied permission to appeal against a High Court decision in a Protection from Online Falsehoods and Manipulation Act (POFMA) case.
In a decision released on Monday (Jul 25), the Court of Appeal dismissed all of SDP's arguments and ordered the party to pay costs of S$6,000 to the Attorney-General.
The case concerns a POFMA correction direction issued to SDP on Jul 4, 2020, during the campaigning period for the General Election, over a Facebook post titled "10 million population".
The post contained the statement: "Also, the HDB chief executive Cheong Koon Hean said that Singapore's population density would increase from 11,000 people per sq km to 13,700 people per sq km between now and 2030. Given our land area, this means that our population would go up to nearly 10 million by 2030."
This made reference to an Institute of Policy Studies (IPS)-Nathan Lecture delivered in April 2018 by Dr Cheong, who was CEO of the Housing and Development Board from 2010 to 2020.
The correction direction said that Dr Cheong referred not to "population density" but to "living density", which takes into account only the land available for urban areas. This excludes land used for ports, airports and defence, among others.
The directive also said that the Government has not "proposed, planned nor targeted" for Singapore to increase its population to 10 million.
Justice Woo Bih Li previously dismissed the SDP's challenge against the POFMA order after finding that the party "must have known" that the density Dr Cheong referred to could not simply be applied over Singapore's total land area.
On Friday, a two-judge panel comprising Justices Tay Yong Kwang and Steven Chong rejected SDP's argument that "permission to appeal should normally be granted in POFMA cases".
They said that permission to appeal would only be granted if one or more of the well-established grounds of appeal was established: A case of error, a question of general principle being decided for the first time, or a question of importance that would benefit from further argument and decision.
They rejected SDP's contention that the appeal would raise four questions of general principle or importance that the party identified.
The judges said that SDP's first question, about which principles apply to applications for permission to appeal against POFMA decisions, would already be addressed in their judgment.
Two more questions proposed by SDP were "When should a POFMA appeal be heard in open court?" and "What is a statement of opinion for the purposes of the POFMA?"
The judges said that the answers to these questions were determined based on the specific facts of each case, and could not be addressed by a general rule or formulation.
SDP's fourth question was how the court should apply a framework to overturn a POFMA directive in cases where the false statement is a report of a statement made by someone else.
This referred to the five-step framework set out by the Court of Appeal in a landmark POFMA decision involving appeals brought by SDP and The Online Citizen in October last year.
The third and fourth steps of the framework involve determining whether the subject statement of a POFMA directive is a statement of fact, and whether it is false.
SDP argued that when the subject statement is a reported one, the court should consider whether the original statement and the reported statement "reasonably could be taken to mean the same thing".
It argued that "living density" in Dr Cheong's statement and "population density" in the subject statement of the POFMA directive might reasonably be taken to mean the same thing.
But the Court of Appeal said that this consideration was immaterial and that SDP's statement claiming to report what Dr Cheong had said "viewed objectively, was false or misleading".
The court found that no further explanation of the five-step framework was needed, and that the framework could be applied to determine if a reported statement was a false statement of fact.