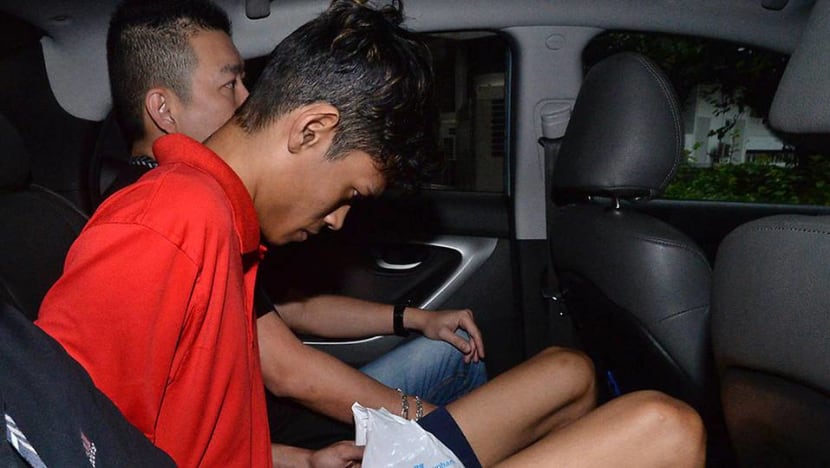 SINGAPORE: A secret society member who was involved in a fight at St James Power Station that killed a man and injured another pleaded guilty to voluntarily causing grievous hurt on Tuesday (Sep 11).
Shawalludin Sa'adon, 28, was part of a group of four men who attacked a 34-year-old man, Mr Satheesh Kumar Managoran, and his friend Naveen Lal Pillar, 29.
Mr Satheesh, who had been stabbed by Shawalludin's co-accused Muhammad Khalid Kamarudin, died from wounds to his head and back.
The incident occurred in the early morning of Mar 12 last year, when Shawalludin was working as a waiter at Postbar, a club in St James Power Station.
Mr Satheesh and Mr Naveen were at a table in Postbar with three others, when Shawalludin noticed that a liquor bottle from the table was placed on the floor.
He told the group that the bottle should not be left on the floor. This sparked an argument between Shawalludin, Mr Satheesh and Mr Naveen.
Shawalludin's supervisors intervened and told him to step out of the bar to prevent further misunderstanding. He did so, but "felt aggrieved by his treatment", the court heard.
ACCUSED CALLS SECRET SOCIETY FRIEND TO RALLY MEMBERS
He contacted a co-accused, Muhammad Hisham Hassan, 28, and told him that he wanted to rally members of their secret society at Postbar to confront Mr Satheesh and Mr Naveen.
Hisham agreed, and he arrived at St James Power Station with the two other co-accused, Khalid and Muhammad Faizal Md Jamal.
After advising Shawalludin, Khalid and Faizal to "wait for the best opportunity" as there were uniformed police officers nearby, Hisham left the group to make some calls.
When Mr Satheesh and his group were outside a private-hire car discussing seating arrangement, Shawalludin approached them and initiated confrontation, Deputy Public Prosecutor Andre Chong said.
Khalid punched Mr Satheesh and stabbed him on his head and back with a foldable knife.
Shawalludin joined in the attack together with Faizal by punching and kicking Mr Satheesh several times all over his body, the prosecutor said.
"The deceased staggered towards the rear of the vehicle before falling onto the road," he said.
Shawalludin, Khalid and Faizal continued to punch and kick him, before turning to attack Mr Naveen.
HE CONTINUED WORKING, FOUND OUT THAT ONE OF THE MEN DIED
After the attacks, the three men walked away from the scene, and Shawalludin continued working after washing the blood off his hands.

While Shawalludin was in Postbar, he found out from his colleagues that Mr Satheesh had died. He messaged Hisham to tell him this, and Hisham told him to "run far far".
After collecting his pay for the day's job, Shawalludin left St James Power Station and later went home, where he was arrested by the police.
An autopsy certified Mr Satheesh's cause of death as stab wounds to the thorax and head. Mr Naveen suffered bodily pain.

Shawalludin on Tuesday pleaded guilty to one charge of voluntarily causing grievous hurt with common intention.
The court heard that he was convicted of theft with common intention in 2006, and was admitted to a drug rehabilitation centre in 2010 for consumption of morphine.
He will be back in court for sentencing next month.
Hisham has been sentenced to 18 months' jail for harbouring Khalid, who was evading arrest, while Khalid faces a murder charge and Faizal faces a charge of voluntarily causing grievous hurt.