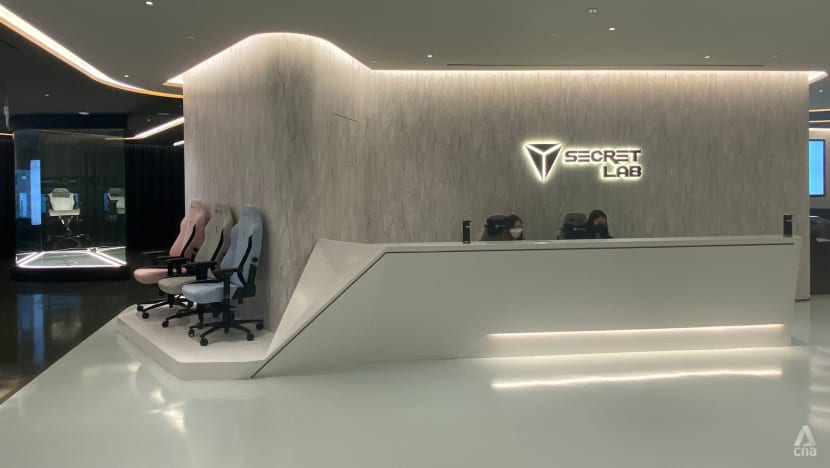 SINGAPORE: Gaming chair manufacturer Secretlab is looking to fill more than 100 jobs in Singapore after seeing "massive growth" over the past few years, said co-founder and chief strategy officer Alaric Choo on Tuesday (Aug 31).
The company is on the lookout for around 80 engineers and designers to more than double the size of its product team. It also hopes to recruit more people for marketing, public relations and global operational roles.
Most of these new roles will be based in Singapore, except for some which may spend "90 per cent of their time" in China where Secretlab has a factory.
"We are hiring across the board for almost every position. I would say that every team right now is extremely stretched," said Mr Choo. "We've seen massive growth in the past few years."
Secretlab was founded in 2014 by Mr Choo and chief executive officer Ian Ang. Since then, it has grown to establish itself as one of the most highly-rated gaming chair makers in the world, selling its famed ergonomic chairs in more than 60 countries. About 10,000 chairs are shipped abroad every week.
Currently, the company has nearly 200 employees.
With plans to hire more, it shifted into a new office in May. Spanning 44,000 sq ft across a single floor in an industrial building along Braddell Road, the new global headquarters of Secretlab is also home to a research and development centre and an e-sports gaming arena.
While gamers have been the company's traditional market since it started, work-from-home arrangements due to the COVID-19 pandemic have given it a boost as non-gamers, like working professionals, snapped up its chairs as well.
That said, the company also faced some challenges, such as the blockage of the Suez Canal by a container ship earlier this year. That incident halted traffic in the vital trade artery for six days and exacerbated ongoing congestion and delays in ports around the world.
"Our operations were panicking when it happened because we have a lot of shipments to Europe and the Suez Canal is the route," Mr Ang told reporters following a tour of the new office. "It's never going to be smooth … we just have to deal with it when it comes."
Pandemic-induced supply chain disruptions also resulted in shortage of production materials.
Overcoming these disruptions has been "extremely costly", Mr Choo said. "For the things that you can pay for, you will do that. But there's a lot of creative thinking that you need to have, like how to get around the hurdle," he added.
For instance, the company decided to have the materials air flown in batches. Production also had to be tweaked to be done in batches too.
"You can't have everything lined up perfectly in these kind of situations because if you wait for everything to be perfectly lined up, your production will just stop," he added.
Both founders were tight-lipped when asked about new products in the works, but Mr Ang stressed that innovation has always been "one of the core themes" of Secretlab. The company expanded beyond chairs and introduced its first gaming table this year, which it described as "part of the whole ergonomic experience".
Trade and Industry Minister Gan Kim Yong, who visited Secretlab's global headquarters on Tuesday afternoon, said innovation is a key strategy for Singapore firms to remain relevant, grow and eventually go global. 
He noted how Mr Ang had shared with him that while innovation is risky, it is "a much safer option" than not innovating and becoming irrelevant.
"There's always a risk that the new product may or may not work. He shared with me that one of his best-selling product was the 2020 model … and because it was so successful, they were very hesitant to develop a new chair," said the minister.
"But they decided that they can't not innovate and therefore developed a new series," he added, noting that such innovation allowed Secretlab to meet evolving customers' demands and stay ahead of the competition.
Mr Gan also said that overseas expansion is another important step for local firms and that they must continue to do so even amid the pandemic.
"There's a window there for us to actually take this opportunity to move our products overseas because other companies and markets are also facing challenges and this presents opportunities for us."
He noted how Secretlab understands the limitations of the Singapore market and has gone global. To overcome the risks of overseas expansion, it partnered strategic partners abroad such as US video game developers Blizzard Entertainment and Riot Games.
"This helps them to leverage on these partners in order to enter new markets and this is also one strategy that I think our companies can (learn from) – look for partners, look for external markets beyond Singapore," the minister told reporters.
The Government will continue to support businesses but it will take on an "enterprise-centric" approach, instead of having a "one-size-fits-all programme".
Mr Gan said: "The key is that we are quite prepared to work with companies individually, to tailor our support schemes to the needs of the company, recognising that each company's needs and requirements are very different."