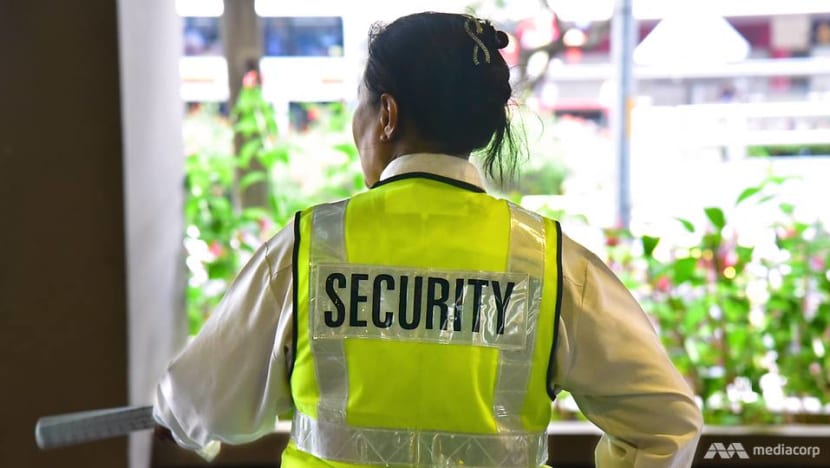 SINGAPORE: Security officers will now get more protection from abuse, after a Bill passed in Parliament on Tuesday (Oct 5) introduced new offences and tougher penalties for those who harass, assault or hurt officers carrying out their duties.
Under the Private Security Industry (Amendment) Bill, such penalties are stiffer than those meted out to individuals who commit the same offence against members of the public.
For instance, offenders who assault or use criminal force against security officers may be jailed up to two years or fined up to S$7,500, or both.
This is a tougher penalty than for similar crimes against members of the public, which could lead to up to three months' jail or a fine of up to S$1,500, or both.
"CLEAR AND PRESENT" NEED FOR CHANGES
Minister of State for Home Affairs Desmond Tan, who introduced the Bill for a second reading, described security officers as "vital partners" of the Home Team in safeguarding Singapore and taking on important roles, such as patrolling at many premises.
Amid the COVID-19 pandemic, security officers have also been assisting with safe management measures, which requires them to interact with members of the public, he said.
"While the large majority of the public are cooperative, there have been cases of persons confronting security officers carrying out their duties, with some going further to verbally or even physically abuse them," said Mr Tan.
He noted that an average of about 150 cases of such abuse have been reported each year from 2018 to 2020.
A separate survey last year by the Union of Security Employees (USE) and the Singapore University of Social Sciences also found that four in 10 security officers had faced some form of abuse while working.
Mr Tan added there were "particularly egregious" cases, such as when a security officer at Roxy Square was verbally abused and punched by a man in 2019.
"Hence, the imperative to enhance the protection for security officers is clear and present," he said.
MPS SAY CHANGES TIMELY
Members of Parliament (MPs) welcomed the Bill as a "timely" move to better protect security officers - but they also raised numerous suggestions to enhance it.
For starters, several MPs suggested the use of body-worn cameras, since harassment and verbal abuse can be difficult to prove.
MP Melvin Yong (PAP- Tanjong Pagar) said such cameras can provide evidence for police reports, while serving as a deterrent against abuse. He also noted they have been used by frontline police officers since 2015.
To balance protection with privacy and rising costs, MP Yip Hon Weng (PAP- Yio Chu Kang) added that such cameras can be worn if the officer works in a location "where he is susceptible to higher risks of abuse, patrolling alone or out of range of nearby CCTVs".
In response, Mr Tan said the use of body-worn cameras should be discussed by service buyers and providers, taking into account factors such as the buyers' needs and costs involved.
But authorities have "strongly encouraged" the use of such technology, and "the industry has responded", Mr Tan said.
Noting an "increasing trend" of security firms choosing to adopt body-worn cameras, he said that between 2019 and 2021, the police approved 43 requests by 15 licensed security agencies to deploy these.
REPORTING INCIDENTS
MPs also raised the importance of having proper protocols and channels for reporting incidents.
"There must never be any impediments for victims to lodge a report or complaint," said MP Wan Rizal (PAP- Jalan Besar), noting that officers should be able to do so without compromising their careers with the security agencies and their clients.
Nominated MP Abdul Samad, who is also NTUC's vice-president, said the USE will be launching an application in the fourth quarter of this year to allow security officers and agencies to report any harassment or work-related grievances to the union.
Other avenues for reporting include a one-stop email helpline launched by the Security Industry Council, while security officers can also approach the USE's mediation centre directly for help, said Mr Tan.
BETTER TRAINING
Several MPs also pushed for more training for these workers, as their roles and working environments become more complex.
MP Sylvia Lim (WP- Aljunied) noted how some security officers may have to work in "higher intensity conditions" such as event security crowd control, or even assist in the search for persons.
"If they do not have adequate training, or their working environment is not conducive, altercations between them and the public are quite likely to take place," she said.
She stressed that beyond having hard skills, such as knowing what the laws are, it is also crucial to have soft skills - including knowing how to handle difficult people.
In response, Mr Tan noted that tripartite partners have introduced courses in customer orientation, collaboration and tackling evolving security threats, among others.
REGULATORY CHANGES
Under the Bill, licensing requirements for security consultants will also be removed to allow the industry to oversee them instead.
For instance, this group will be encouraged to get accredited under the Security Consultants Accreditation Programme (SCAP).
This comes after authorities assessed that the risk of security consultants abusing their position to commit security-related offences is low, said Mr Tan, adding that there have been no such reported cases over the past five years.
MP Mariam Jafaar (PAP-Sembawang) said the shift to industry-led accreditation has its benefits, such as helping to grow the talent pool and making the industry more competitive.
But she noted that without the teeth of licensing, there could be "potential for standards to diverge" across security firms, especially with the industry's "low barriers" to entry.
Security firms may also adopt different standards when faced with tenders going for the lowest bids, she said.
In response, Nominated MP Raj Joshua Thomas said a "very high" bar is set for the accreditation of security consultants, who are admitted either by experience or passing an examination. The latter is set and marked by the Singapore Police Force (SPF).
The first such examination held in July saw a one-third failure rate, said Mr Thomas, who chairs the SCAP and is also the president of the Security Association Singapore.
Mr Tan also provided assurance that the SCAP Board has developed a code of ethics to guide how security consultants interact with their clients, as well as a professional development framework to ensure that those accredited have the required competencies.
"As affirmed by Mr Thomas, there is a high bar for admission to SCAP," said Mr Tan.
"(The Home Affairs Ministry) and (Singapore Police Force) will continue to work closely with the security associations to maintain oversight of standards in the security consultancy industry," he said.