Seniors urged to opt for takeaway instead of dining in at hawker centres amid rise in COVID-19 cases: NEA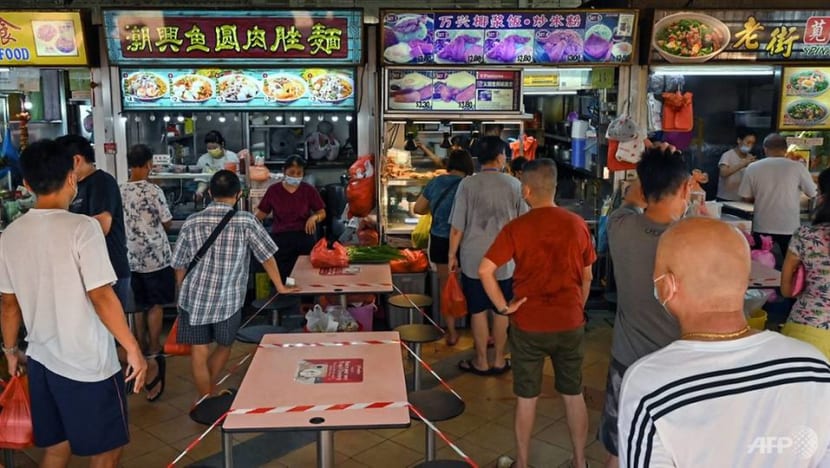 SINGAPORE: Seniors who visit hawker centres are encouraged to order takeaway instead of dining in given the increase in COVID-19 cases, said the National Environment Agency (NEA) on Friday (Oct 1).
"They should in particular avoid dine-in meals or chats over drinks at hawker centres at this time," said NEA, adding that seniors can consider getting their household members to buy food on their behalf where possible.
The advisory comes a day after the Agency of Integrated Care "strongly urged" seniors aged 60 and above, as well as those living with them, to stay at home for the next four weeks to reduce their chances of contracting COVID-19.
Of the 2,474 new local COVID-19 cases reported on Thursday, 535 are people above the age of 60.
In September alone, there were 40 COVID-19 deaths. All but one were above 60 years old.
"The recent rise in COVID-19 cases has seen seniors at higher risk of developing serious health complications if infected," said NEA. 
"The Agency for Integrated Care has advised seniors to minimise mask-off activities and to go out only for essential activities in the coming weeks."
NEA also urged all visitors to markets and hawker centres to strictly comply with safe management measures (SMM). These include putting masks back on once the meal is finished.

"Agencies have received feedback of specific centres where groups tend to linger and lapse into SMM breaches," said NEA.
"NEA has stepped up its enforcement rounds at markets and hawker centres, and has issued more than 300 fines to those who fail to heed advice on SMMs."
While 98 per cent of stallholders and their assistants at markets and hawker centres have been vaccinated, NEA urged everyone to be vigilant.
People who enter markets and hawker centres are reminded to perform SafeEntry check-in and check-out, wear their masks covering the nose and mouth fully, as well as practise good personal hygiene.
NEA added that it is working closely with hawkers' associations and town councils to conduct regular deep cleaning and disinfection of premises.