Singapore has 'a vested interest' in ensuring US-China communication lines are good: Ng Eng Hen
Concerns have arisen about the deactivation of "guardrails" to keep both superpowers from conflict, said Singapore's Defence Minister Ng Eng Hen on the third and final day of the Shangri-La Dialogue.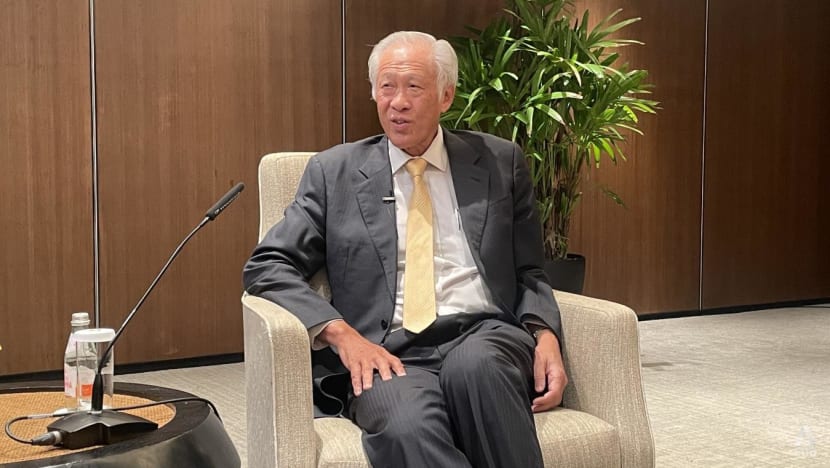 SINGAPORE: Singapore and other Association of Southeast Asian Nations (ASEAN) states are not "disinterested bystanders" in ongoing tensions between the United States and China, said Singapore's Defence Minister Ng Eng Hen on Sunday (Jun 4).
Speaking to reporters on the third and final day of the Shangri-La Dialogue, Dr Ng added that Singapore and ASEAN have "a vested interest" in making sure that communication lines between the two superpowers are good.
The US and China do not want physical conflict but recognise they are a long way from an acceptable state of affairs, he noted.
Reiterating comments he had made to the media on Saturday after a ministerial lunch, Dr Ng said that lines of communication are especially vital between potential adversaries.
"I think it's like Formula 1 drivers on the same circuit, driving blindfolded. You better be careful – and bystanders, too," he cautioned.
Dr Ng described US-China relations as being the "elephant in the room" at this year's Shangri-La Dialogue – Asia's top defence summit which is in its 20th edition this year.
The relationship between the US and China is at its lowest point in years, as they remain deeply divided over issues like Taiwan to espionage and territorial disputes in the South China Sea.
Earlier this week, China declined an invitation to meet the US at the summit due to the Americans' refusal to lift sanctions imposed on Chinese Minister of National Defence Li Shangfu for purchasing Russian weapons.
Both sides did not hold substantial meetings despite repeated demands by the US for military exchanges. General Li and US Secretary of State Lloyd Austin shook hands at an opening dinner on Friday, and sat across from each other at a ministerial roundtable and lunch hosted by Dr Ng on Saturday afternoon.
Mr Austin had rebuked China in a speech at the summit on Saturday morning for refusing to hold military talks.
On Sunday morning, General Li also gave a speech where he took thinly veiled digs at the US, accusing "some countries" of intensifying an arms race and wilfully interfering in the internal affairs of others.
He also warned against establishing "NATO-like" military alliances in the Asia-Pacific, saying they would plunge the region into a "whirlpool" of conflict.
On Sunday, Dr Ng said that Singapore's bilateral meetings were "very warm" but there were concerns about where the US-China relationship was headed, as well as the Ukraine conflict.
"So there is no shortage of insight or will that some problems are just too big – even for many countries to come together, without the US and China coming together," Dr Ng pointed out.
"They're the first and second largest economies. You can't solve any problem without both of them coming into solution-making or finding a path forward."
He noted that Singapore's neighbours – including Malaysia and Indonesia – have found ways to deconflict with Singapore. But all countries, as well as American and Chinese leaders, are concerned about the deactivation of "guardrails" to keep the US and China from conflict, he added.
"And when you talk about the two largest economic and military powers, that's not a good position," Dr Ng said.
GENERAL LI WAS "VERY CLEAR" IN SPEECH
When asked about what he felt about General Li's speech, Dr Ng said many leaders had told him they were impressed and said he was "very clear" in his stance.
"I am glad that he delivered it in a calm manner. Whether you like the content or not depends on the listener, but the clarity was in terms of – if you like – where the red lines were; what effect it will have on countries. Each country will have to decide," he added.
In a plenary speech on Sunday morning, Dr Ng listed examples of how American and Chinese officials had conducted regular exchanges at all levels "as recent as a decade ago". The US' and China's defence ministers last visited each other countries in 2018.
Dr Ng told reporters: "People can forget that they were at that, and I think that's something that you can aspire to.
"I can assure you, if you put soldiers of two militaries together, they will click … it takes time. That's the building of relationships. So we want (the US and China) to have that kind of relationship and we are confident that over time they will establish that."
"We're just observers, but we're not disinterested bystanders as I said. We have a vested interest to make sure that the US-China communication lines are good."
Dr Ng also gave some views on a Chinese warship that had on Saturday manoeuvred "in an unsafe manner" near an American warship transiting through the Taiwan Strait, according to the US military.
Dr Ng said that all countries are "concerned when either big or fast-moving objects move close" to one another.
"And that's why, ASEAN, we've been working very hard to make sure that doesn't happen," he added, making reference to two sets of guidelines for unplanned air and sea encounters between ASEAN countries.
"Incidents have happened ... and (that is) exactly our point. If it happens, who are you going to call? Ghostbusters?" Dr Ng quipped.
In giving his assessment of how this year's Shangri-La Dialogue had turned out, Dr Ng said that some people had told him that if there was no such thing at the moment, "we would have needed one very much".
"So in that sense, it's an affirmation that the Shangri-La Dialogue plays a role and that it fills in the gaps now, obviously," he added.