Commentary: Deciphering China's mixed messages on US engagement after rejecting meeting between defence chiefs in Singapore
Beijing's rejection of a link-up with US defence chief Lloyd Austin at the Shangri-La Dialogue in Singapore doesn't necessarily signal a major shift in China's views on rapprochement with the US, says foreign policy adviser Christian Le Miere.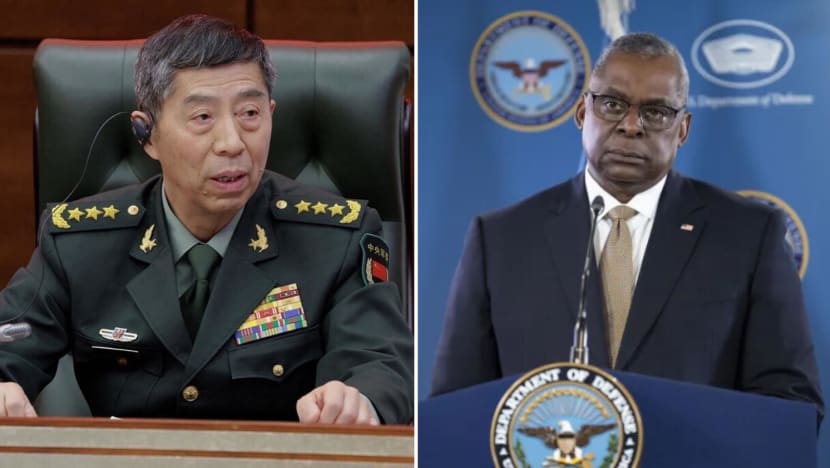 LONDON: Beijing appears to be taking a strategically guarded approach to rebuilding its ties to the US. After Washington requested a meeting between US Defense Secretary Lloyd Austin and Chinese Defence Minister Li Shangfu at the Shangri-La Dialogue in Singapore this weekend, Beijing reportedly responded in "unusually blunt" language. The answer was no.
The decision to refuse a meeting between the two senior-most defence officials seems surprising at first blush. Amid fraught relations more broadly, Beijing had appeared to be keen to communicate through a number of meetings of senior officials in recent weeks, in a tentative sign of renewed engagement.
With a slowing economy as motivation, China appears eager to persuade the United States and its allies to remove tariffs and sanctions, or at least prevent new ones being added.
However, Beijing appears to be simply choosing its preferred process for rapprochement - not rushing into every opportunity for engagement, but rather picking out the issues and policies it wants to see improve and holding back on areas that the US is keen to engage on.
RECENT COMMUNICATION BETWEEN US AND CHINESE OFFICIALS
The rejection of a meeting between Austin and Li continues an estranged defence relationship between the two powers. Despite Austin meeting Li's predecessor, Wei Fenghe, in November (as well as at last year's Shangri-La Dialogue in June 2022), no direct contact has been made between Austin and the new Chinese defence minister since his appointment in March.
This is not the first rejection of defence communication by China in recent months. In fact, after the high-altitude balloon shootdown in February, the US once again requested a call between Austin and Wei, only to be rebuffed.
But there has been communication through different channels recently. On May 8, Chinese Foreign Minister Qin Gang met with US ambassador to China Nicholas Burns, suggesting the "pressing task is to stabilise the China-US relationship".
Burns then met Chinese Minister of Commerce Wang Wentao on May 11, who subsequently went on to meet US Commerce Secretary Gina Raimondo on May 25 for "candid and substantive discussions" on the commercial relationship, according to the US readout.
The Wang-Raimondo meeting was the first Cabinet-level link-up since the balloon incident, but an arguably higher-level meeting was held on May 10 to 11 in Vienna between US National Security Advisor Jake Sullivan and Politburo member Wang Yi, China's senior-most diplomat. This meeting was a small step down from the Beijing trip US secretary of state Antony Blinken had planned in February and cancelled after the balloon incident, but still represented a willingness to engage at a senior level.
BUTTER, NOT GUNS
The series of meetings seemed to indicate a burgeoning rapprochement between the US and China. With both countries harbouring economic concerns, in the US as the inflationary fallout from the Ukraine war translates into higher interest rates and a possible recession, and in China as its post-COVID recovery sputters, greater communication seemed mutually beneficial.
But with China then rejecting an Austin-Li meeting, and not yet agreeing to a call between President Xi and President Biden despite weeks of Washington's requests, a limit to re-engagement appears to have been reached.
In truth, there are specific circumstances preventing an Austin-Li meeting. The US has maintained sanctions against Li since 2018 under the Countering America's Adversaries Through Sanctions Act given Li's role in procuring Russian military equipment. For Beijing, the sanctions on Li are an unacceptable background to any meeting, while Washington has thus far refused to remove them.
But Beijing is likely also advancing areas of interest to itself while holding back on areas more desired by the US. China is thus keen to engage on commercial issues to see if any removal of sanctions may be possible, to build goodwill and improve the strained trading relationship. Similarly it has reached out to US Special Presidential Envoy for Climate John Kerry in recent weeks to arrange a meeting, a relatively low-cost area of cooperation for Beijing.
Yet it has rejected any defence engagement - an area particularly desired by Washington to reduce the risk of escalation or miscalculation. For Beijing, defence is an area that can be instrumentalised for its own benefit in negotiations with the US, because the stakes are so high and the effects of military confidence-building measures are often to reassure Washington of Beijing's intentions.
As such, defence communications are often one of the first policy areas that China cancels during times of tension with the US. In August 2022, in response to the visit of then House Speaker Nancy Pelosi to Taiwan, China cancelled eight communication mechanisms, of which three were military dialogues - the Theater Commanders Talk, the Defense Policy Coordination Talks and the Military Maritime Consultative Agreement meeting - and a further three were on issues of national security. 
STALLED DEFENCE COMMUNICATIONS
Defence communications and confidence-building measures are thus often the first victim of a deterioration in ties.
This is not to say that ties are irreparably harmed or a new era of friction has been entered. But with the sanctions on Li still in place, it means any meaningful military-military improvement may have to wait until tensions ease in other areas.
In the meantime, Beijing will still be happy to see progress in commerce, trade and climate change, and continue to work towards a Biden-Xi call.
Christian Le Miere is a foreign policy adviser and the founder and CEO of Arcipel, a strategic advisory firm based in London.