Singapore Airlines Boeing 737 Max to fly again in 'coming weeks', possible destinations include Malaysia, Indonesia, Brunei
SINGAPORE: Singapore Airlines' (SIA) fleet of Boeing 737 Max aeroplanes will take to the skies again by the end of this year, after being grounded for more than two years. 
SIA announced on Tuesday (Nov 16) that its six aircraft - now rebranded as the 737-8 - would progressively come into service on short to medium haul flights across the national carrier's network "in the coming weeks". 
"This includes services to points in Brunei, Cambodia, Indonesia, Malaysia, Maldives, Nepal and Thailand, subject to regulatory approvals." it said, adding that more details on these flights would be announced at a later date.
The narrowbody aircraft previously flew under the Silkair brand, the SIA Group's now-defunct regional subsidiary. 
In March 2019, the Civil Aviation Authority of Singapore (CAAS) imposed a suspension on the former 737 Max after two separate fatal incidents involving the aircraft occurred within a few months. 
In October 2018, a Lion Air 737 Max 8 jet crashed in Indonesia, killing 189 people, and in March 2019, an Ethiopian Airlines crash involving the same model of aircraft killed 157 people.
In September this year, the CAAS said it had lifted the suspension on the 737 Max flying in and out of Singapore after evaluating design changes to the aircraft as well as its safety record over the past nine months and finding "no notable safety issues".
SIA had progressively flown its six planes back to Singapore from Alice Springs, Australia where they were parked after the model was grounded.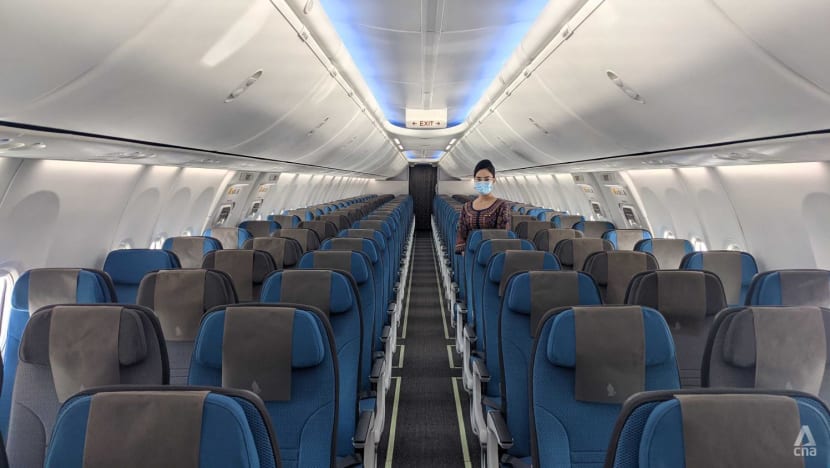 On Tuesday, the airline said it had invested about S$230 million on the development, design and installation of "new industry-leading cabin products" for the 737-8. 
"This is the culmination of three years of innovation and hard work, involving extensive customer research and close partnerships with designers and suppliers," said SIA commercial executive vice-president Mr Lee Lik Hsin, adding the upgrades would provide passengers a "premium travel experience" across its network.
"This significant investment demonstrates Singapore Airlines' commitment to maintaining our leadership position in the airline Industry," he added. 
The enhancements will give passengers on SIA's narrowbody aircraft a similar customer experience to those flying on its widebody aircraft, offering a "consistent and premium travel journey" across its network, the airline said. 
All of SIA's 737-8 aircraft will have 154 seats in two classes, with 10 in Business Class and 144 in Economy Class. 
Business Class passengers will be able to enjoy seats that can recline into full-flat beds, designed by London-based Factorydesign, and manufactured for SIA by Thompson Aero Seating.
Meanwhile the Economy Class cabin will feature "sleek and slim line seats", which have been built by Collins Aerospace.
"The 737-8 cabin has been designed with a special focus on ergonomics, helping to ensure that everything is within easy reach for customers," said SIA.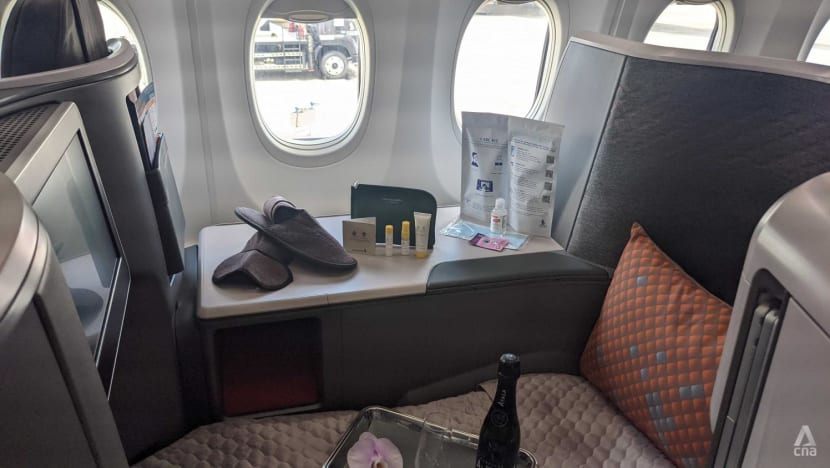 The airline added that the aircraft will also feature Panasonic's X-Series seat-back in-flight entertainment and Wi-Fi service, as well as mobile data connectivity services.
Speaking to reporters during a media preview of the aircraft on Tuesday morning, SIA's Mr Lee said the upgrades would also eventually be rolled out to the 31 Boeing 737-8 planes it had previously ordered. 
When asked about consumer confidence in the aircraft given the previous accidents and its long suspension period, Mr Lee noted carriers in the United States had already been flying the Boeing aircraft for some time. 
"And in fact, looking at the experience over there, I believe consumers are satisfied with all of the various changes that the regulators have put in place and the airlines have conformed to, in terms of meeting those standards and specifications," he said. 
"We certainly ourselves are satisfied with everything that we have done, in accordance with what the regulators have asked for, that it is a safe aircraft.