SIA to offer free unlimited Wi-Fi for economy, premium economy class passengers from July
Economy and premium economy class passengers will have to be members of SIA's rewards programme KrisFlyer to get unlimited Wi-Fi on flights.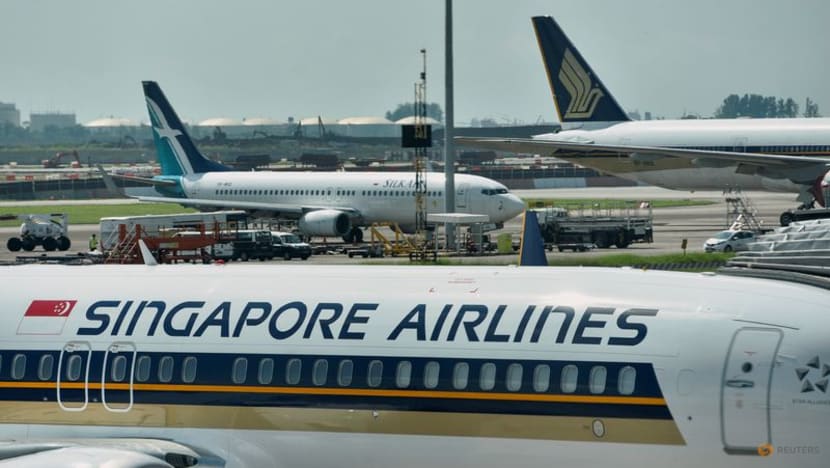 SINGAPORE: Singapore Airlines (SIA) passengers travelling in economy and premium economy class will be able to access free unlimited Wi-Fi from Jul 1, the airline announced on Wednesday (May 31). 
To enjoy the perk, passengers must be a member of SIA's rewards programme KrisFlyer. Registration is free. 
SIA will be "the first airline to offer free unlimited Wi-Fi to customers across all cabin classes and virtually across the entire aircraft fleet", a company spokesperson told CNA.
As of May 1, SIA has 136 passenger aircraft in its fleet. About 95 per cent of SIA's fleet is equipped with inflight connectivity, with the exception of seven Boeing 737-800 planes that are among SIA's oldest aircraft. These seven planes are not Wi-Fi enabled and are slated to be retired in the coming years.
Currently, KrisFlyer members travelling in economy and premium economy class are offered two and three hours of free Wi-Fi respectively. 
Free unlimited Wi-Fi is currently offered to all passengers in Suites, First and Business classes, including non-KrisFlyer members.
It is also offered to SIA's Priority Passenger Service Club members and supplementary cardholders across all cabin classes.
"With our onboard Wi-Fi, our customers are able to stay in touch with their loved ones, post photos on their social media channels or keep updated on the latest news," the SIA spokesperson said. 
"The inflight Wi-Fi speed and experience might differ from the ground network, and is dependent on the number of concurrent users and the type of activity performed on a customer's device." 
BETTER SEATS, REGIONAL CONNECTIVITY 
SIA's chief executive officer Goh Choon Phong on Tuesday also shared the airline's plans to improve its offering for passengers. 
For instance, there will be better seats across all cabins on the new Boeing 777-9 planes that are expected to be introduced in 2025, he said, adding that this will be an "industry-leading" product when it is launched.
SIA also expanded its network during the pandemic, enabling it to now reach about 80 per cent of its pre-COVID capacity. In comparison, airlines in the Asia-Pacific region as a whole have recovered to just over 50 per cent of their pre-COVID capacity, said Mr Goh. 
With SIA subsidiary Scoot's recent acquisition of the Embraer E190-E2 aircraft that has 112 seats, the budget airline will be able to access "smaller points, particularly in the region", therefore connecting Singapore and the hub to new places in Southeast Asia. 
Reflecting on SIA's losses during the pandemic's early days, Mr Goh expressed gratitude for the strong support from shareholders, allowing the company to raise S$15 billion (US$11.1 billion).
He also highlighted SIA's decision to continue operations to serve its customers and the nation, even though many airlines ceased international operations due to a lack of demand. The airline also continues to honour customer refunds despite the direct impact on its cash reserves.
Adding that SIA's employees have "taken quite a bit of sacrifice", not just in terms of a pay cut, he pointed out that travel operations could not have resumed as quickly if not for their readiness. 
"Ironically, during that period, many of the ground (staff) were working sometimes even harder. Because we were doing a transformation to really get the organisation ready for the restart, in terms of reviewing the processes, reviewing workflow to ensure that we are even better than before," he said.  
Earlier this month, SIA announced a record annual profit of S$2.16 billion after three straight years of losses. Eligible employees could receive around eight months' bonus, the airline said.