Police investigating after driver at Sin Ming condo verbally abuses security guard over wheel clamping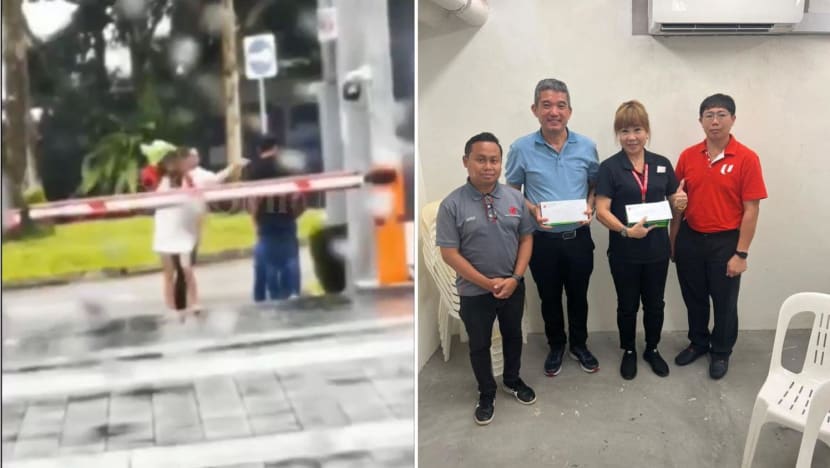 SINGAPORE: The police said on Tuesday (Apr 11) they are investigating an incident at a Sin Ming condominium where a man was seen verbally abusing a security officer.
Angry that his car had been clamped, the man shouted at the officer, demanding that the wheel clamp be removed. 
The Union of Security Employees (USE), which saw bodycam footage of the incident, said it "clearly showed" the man hitting the glass panel of the guardhouse and hurling insults at the officers.
According to the union, the vehicle was illegally parked in an area meant for residents as he did not have a residents' decal.
After placing a written notice on the vehicle and following multiple attempts to contact the driver, a security officer went ahead to clamp the car, said the union in a Facebook post on Tuesday. 
It added that the man said he owns a few units at the condominium and could park there even if he did not have a decal.
The incident happened on Apr 3 at Thomson Grand condominium at Sin Ming Walk. It came to light after a resident shared a video with Chinese-language newspaper Shin Min Daily News, which first reported on the incident.
A man is heard in the video saying: "My son ends school at 1.30pm … because of people like you, I can't fetch my son."
"You are only interested in making things difficult for people," he continued. "You are all so poor, you would rather die."
The police said they received a call for assistance at about 1.10pm on Apr 3. 
"No injuries were reported. Police investigations are ongoing," they added.
UNION CONDEMNS ABUSE
The Union of Security Employees said it "strongly condemns" the act of abuse. 
Union representatives on Tuesday visited the security officer whom the man confronted, named only as Lydia, as well as her operations manager at the condominium.
"Senior Security Supervisor Lydia and operations manager Derrick were merely executing their tasks, which included enforcing the by-laws with respect to illegal parking. What the abuser did was unwarranted, and the personal insults were hurtful and shocking," the union said in a Facebook post. 
It added that it will assist both of them in reporting the matter to the police.