Singapore and Australia exploring 'ambitious' green economy agreement: Vivian Balakrishnan
SINGAPORE: Singapore and Australia are aiming for an "ambitious" and "practical" green economy agreement that will make a difference to both countries, said Minister for Foreign Affairs Vivian Balakrishnan on Wednesday (Jul 6). 
Speaking at a joint press conference with his Australian counterpart Penny Wong, Dr Balakrishnan noted the "longstanding" and "natural" partnership between the two countries. 
The green economy agreement is "crucial" for Singapore, with the "existential threat" of climate change, he said.
"I suggested to Minister Wong that we can make this an ambitious, practical, pathfinding agreement. One which will make a difference to our economies, one which will fulfil the climate ambitions of our people, one that makes sense to the business sector as well," said Dr Balakrishnan. 
"Our officials have met so far a few times, but we have agreed that we will press on the accelerator and get them to really arrive at a highly ambitious, pathfinding agreement which will make a difference to both Australia and Singapore, but also help us in our further negotiations with our other partners." 
The newly elected Australian government has "a much greater level of ambition" on climate change, said Ms Wong. 
"We are serious about it. And importantly … we see this as an economical opportunity for our countries as well," she added. 
Responding to a question about the projected timeline and challenges for the green economy agreement, Dr Balakrishnan said negotiations are still ongoing. 
"I think Penny and I are more interested in ambition than a rushed agreement. I view this agreement as being a part of a template for future agreements," he added.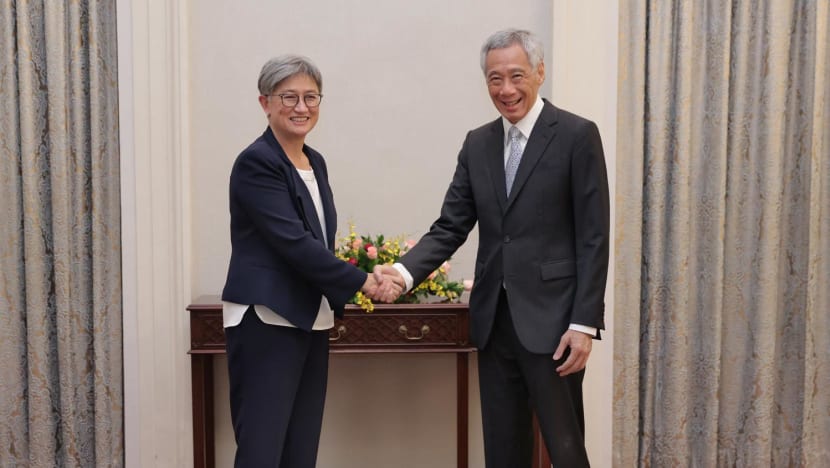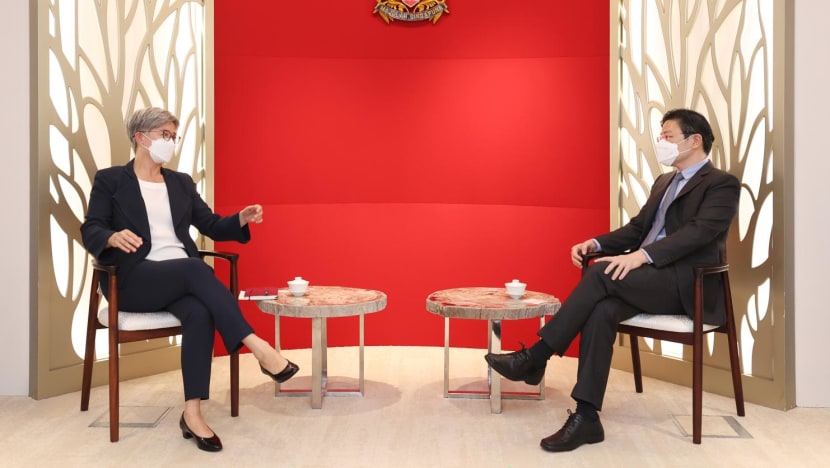 On her visit to Singapore, Ms Wong also met with Prime Minister Lee Hsien Loong and Deputy Prime Minister Lawrence Wong.
Singapore and Australia will also explore how to make supply chains "even more resilient for the future", said Dr Balakrishnan. 
"(We will) ask officials to explore how we can construct supply chains which will withstand the tests of future crises, and which will draw on these wells of trust," he added. 
Ms Wong said she was "grateful" for the acknowledgement of the reliability and trust between Singapore and Australia and the supply chains between the two countries. 
"One of the insights many nations have had as a consequence of the pandemic or the global economy is the importance of resilience in our supply chains," she added. 
Noting that supply chains now need to take a "just in case" approach rather than a "just in time" approach, Ms Wong said she was "very pleased" that Dr Balakrishnan has suggested more work to make the supply chains between the two countries more resilient. 
"This is the foundation on which we think we should now be preparing for the next crisis because there will be more, whether it is energy or food," Dr Balakrishnan said, responding to another question about how the supply chains will be improved. 
"And we think we can make these arrangements in advance, and that's why our officials will get together and make these contingency plans because we know that we have a reliable pathway."