Singapore 'cannot afford to outbid the big boys' to attract investments, says DPM Wong
Singapore is already feeling the impact of the tough competition for investments, says Deputy Prime Minister Lawrence Wong at the annual May Day Rally.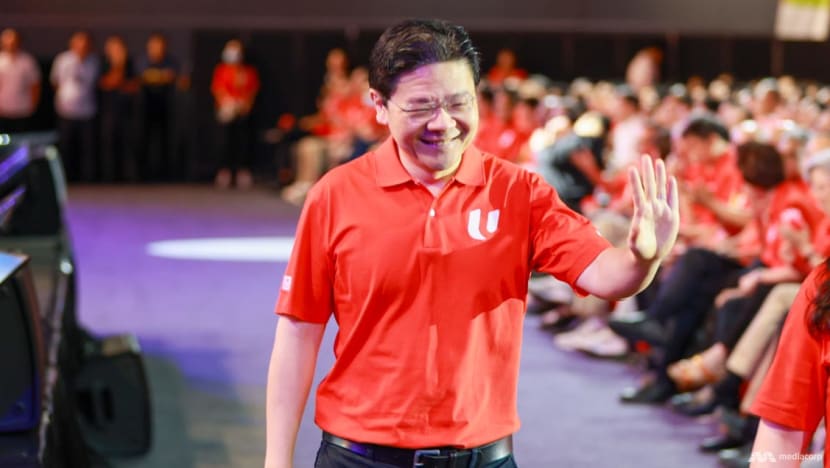 SINGAPORE: As major economies mobilise large sums of money to build up their own strategic industries, Singapore "cannot afford to outbid the big boys" to attract investments from multinational corporations, said Deputy Prime Minister Lawrence Wong on Monday (May 1).
Singapore is already feeling the impact as competition for investments becomes tougher, said Mr Wong, as he laid out several challenges that Singapore faces in a world that is "in dire straits".
"We won't have enough money to match the competition but what we must have enough of are ingenuity and innovation, guts and gumption," he said, addressing 1,400 labour movement leaders, workers and tripartite partners at the NTUC May Day Rally.
"That's the only way we can and will prevail, even when the odds are stacked against us."
This is the first time Mr Wong, who is expected to be Singapore's next Prime Minister, is delivering the keynote speech at the annual May Day Rally in place of Prime Minister Lee Hsien Loong. He had spoken alongside Mr Lee in last year's rally.
Mr Lee delivered his May Day message on Sunday, where he described how the external environment remains volatile and fraught with geopolitical tensions. But he said Singapore can be "cautiously optimistic" about its immediate economic prospects.
STIFFER COMPETITION FOR INVESTMENTS
In a wide-ranging speech lasting for about 40 minutes, Mr Wong noted that advanced economies are rolling out massive subsidies to build up their own domestic production capacities, especially in strategic industries like semiconductors and clean energy.
He cited Germany as an example, which is negotiating with Intel to establish a large semiconductor plant in Eastern Germany. The deal involves S$10 billion (US$7.5 billion) in financing support.
"Ten billion dollars for just one project. That's almost double what MTI (Ministry of Trade and Industry) will spend this year to grow our entire economy," he said.
"Can we afford to outbid the big boys – not only the Germans, but also other Europeans, the Americans, the Chinese, the Japanese? Outbid all of them for the investments we want?"
Singapore is already feeling the impact, said Mr Wong, citing conversations with MNCs about raising Singapore's effective corporate tax rates to 15 per cent in line with an overhaul of global tax rules.
"They tell us: Yes we understand this is happening worldwide. Singapore's incentives used to be 'best in class'. But if your tax rates go up, then Singapore will become less competitive compared to other places.
"Besides, my home jurisdiction is offering such large subsidies for my next investment. So please tell me what Singapore can offer to persuade my HQ to locate the next investment project here," said Mr Wong.
"Some politicians go around telling Singaporeans: 'Don't worry, raise corporate tax to 15 per cent. You will have lots of revenue and anyway, we also have lots of reserves so we can merrily spend more'. Unfortunately, they don't understand the magnitude of the challenges we face," he added.
"So let me tell you plainly: We cannot afford to outbid the big boys just to get the MNCs to invest here."
Singapore also faces changing rules of trade where countries no longer talk about win-win cooperation, Mr Wong said.
With Singapore's trade being more than three times of its gross domestic product, the country "will be hurt if more countries become protectionist and flout trade rules".
In addition, investment flows are shifting, with geopolitics re-channelling global foreign direct investment flows (FDI).
"Countries talk about 'near-shoring' or 'friend-shoring' – basically it means countries are putting their factories and critical supplies closer to them, or in friendly countries they trust. 
"So global FDI flows will slow down and will become more concentrated amongst countries that are geopolitically aligned," he said.
REMAINING COMPETITIVE
This is not the first time Singapore has had to respond to grave challenges, Mr Wong said, citing the British announcing their withdrawal from military bases here after Singapore's independence and other economic shocks since.
 
More recently, the COVID-19 pandemic has further enhanced the country's international reputation as a reliable hub for business.
"We must now seize this window of opportunity to make ourselves more competitive and relevant to the world," he said.
One strategy for Singapore, said Mr Wong, is to continue investing in its connectivity infrastructure which is why the country is pressing ahead with the construction of Changi Airport Terminal 5 and Tuas Port.
These will significantly enhance the country's capacity and competitive status as a business and logistics hub, he added, noting how more MNCs such as global logistics firm UPS are choosing to anchor their regional and even their global supply chain operations here.
Another strategy is to deepen Singapore's capabilities for innovation, especially in areas of strength. This is why the government is continuing to invest heavily in research and development and innovation, and doing so with leading global companies.
"The challenges we have before us are grave and yes, we have tremendous assets. But we must continue to work harder and smarter than others," he said.
"We must always have that something special that convinces the world we are a better bet than most, and that Singapore can always be relied upon to deliver."
SHIFTING SKILLSFUTURE TO "HIGHER GEAR"
Mr Wong also spoke about how the Forward Singapore review is looking at how to invest more in every worker, including shifting the SkillsFuture initiative to a "higher gear".
"We will pay special attention to those in vocational and technical roles, and especially our ITE and polytechnic graduates. We will help them deepen their skills through different pathways, so they can secure better salaries and career paths in the professions they have trained in and have the aptitude for," he said.
Professionals, managers and executives will also have to re-skill and up-skill themselves, especially amid rapid technological advancements such as improvements in artificial intelligence.
"We must expect more human tasks to be taken over by machines. Some existing skills will no longer be so useful, but new skills will be needed, and that's why we must continually re-skill and up-skill," he said.
The Forward Singapore review will also look at other issues, such as doing more to uplift lower-wage workers, professionalise skilled trades, providing more support for those who lose their jobs and enabling all workers to meet their retirement needs. 
"We're looking into all of these issues and working closely with NTUC on possible solutions, so that we can provide good jobs and opportunities, and better assurance to all workers."
Besides jobs, Mr Wong also touched on lingering concerns about cost of living.
He reiterated that the government has implemented support measures, such as CDC vouchers as well as utility and cash rebates, to help cover the inflation-induced increase in spending for lower-and middle-income households.
"We have done everything we can to lessen the stresses and strains that people feel on the ground, and we will continue to do so."
TRIPARTISM A COMPETITIVE ADVANTAGE
The Deputy Prime Minister described tripartism as Singapore's "secret sauce" and one of its biggest competitive advantages. 
While Singapore cannot afford large subsidies to attract investments, it has a tripartite structure that is "worth much more".
Citing the breakdown of industrial relations in other developed first-world nations, he noted how businesses and governments are pushing back against labour action and in turn further fuelling deep divisions in society.
"It becomes a vicious cycle, because once trust is lost, it's very hard to recover," he said. "We must never allow this to happen here.
"Fortunately, Singapore is on the right track. We have a lot going for us. Our tripartite approach ensures that Team Singapore has the best chance of overcoming challenges and seizing new opportunities."