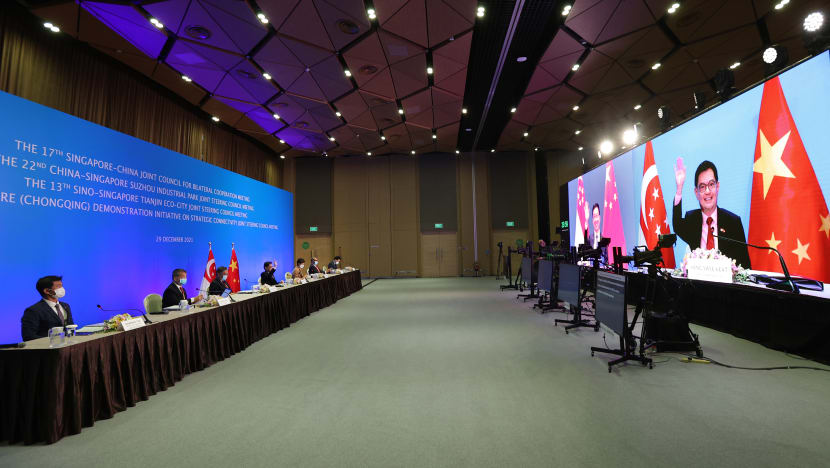 SINGAPORE: Singapore and China signed 14 agreements at an annual top-level bilateral meeting on Wednesday (Dec 29).
The 17th Joint Council for Bilateral Cooperation (JCBC) meeting – the highest-level annual forum between China and Singapore – was co-chaired by Singapore Deputy Prime Minister Heng Swee Keat and Chinese Vice Premier Han Zheng. It was held virtually for the second year amid the COVID-19 pandemic.
The raft of memoranda of understanding (MOUs) and agreements signed ranged from strengthening cooperation in finance, exchange of trade and customs information, competition law, urban governance and planning, nature conservation to maritime safety.
The substantial number of deals – up from 10 signed last year – is the "highest number" achieved at the annual apex bilateral forum in recent years, said Mr Heng at a virtual press conference with local media.
This reflected a "strong foundation of (Singapore and China's) collaboration" over the years, as well as the pursuit of a "forward-looking agenda" in a post-pandemic world, he added.
"Post-COVID-19, we will need to have an economy that is more resilient. We will need to have an economy that is much more digitalised, much more reliant on technology and innovation.
"So you'll find that the MOUs that have been signed have this very forward-looking elements. It builds on what we have been doing in our own industry transformation efforts and what China is doing with its new 14th five-year plan," said Mr Heng.
SUSTAINABILITY AMONG EMERGING AREAS OF COOPERATION
Both countries have continued to evolve the bilateral cooperation agenda to "keep up with the times", such as by including public health as a new pillar of partnership at last year's JCBC meeting.
This year, the attention fell on three emerging areas of cooperation with the aim "to come out stronger from the challenges" facing both countries, Mr Heng said.
One of which is sustainability, given how addressing the threat of climate change is a "global priority". 
Discussions on green development also reflect an "emphasis on high-quality development", he added, citing the example of the Sino-Singapore Tianjin Eco-City project.
"We have been building a city that is resource efficient (and) sustainable. We are now piloting new solutions in Tianjin Eco-City that can be useful to other cities in China and around the world."
Mr Heng also noted that Singapore and China should jointly harness opportunities in new growth sectors, such as carbon trading and green finance.
Another emerging area for partnership between both countries is in the digital economy.
The use of digital technology can pave the way for economic recovery, while promoting long-term growth by strengthening the flows of goods, data and finance, said Mr Heng.
For example, one of the MOUs signed at this year's meeting will see to the establishment of a "single window" interconnection consortium using the decentralised blockchain model.
This pact, inked by custom authorities from both sides, will improve the efficiency of exchanging customs and trade-related information, ultimately reducing costs for traders, he added.
RESUMPTION OF AIR CONNECTIVITY
People-to-people connectivity was also discussed at the JCBC meeting, given how many Singaporeans are hoping to see a restoration of air travel with China, Mr Heng said.
"I conveyed to Vice Premier Han the hope of many Singaporeans to see a restoration of air connectivity with China. I hope that when China is ready to resume cross-border travel, Singapore will be among the first countries with which China restores greater connectivity," he said.
"I am glad to hear that Vice Premier Han had expressed support for the safe assumption of cross-border travel between Singapore and China, in accordance with both countries' respective health protocols, and for our officials on both sides to intensify discussions on this front."
Speaking at the same virtual press conference, Transport Minister S Iswaran said despite the pandemic, Singapore and China have worked closely to maintain essential connectivity.
For one, both countries rolled out a "fast lane" arrangement last year to facilitate essential travel for business and official purposes between Singapore and six Chinese provinces or municipalities. 
Singapore has also unilaterally lifted border restrictions for travellers from China since November last year.
Moving forward, Mr Iswaran said Singapore authorities and Singapore Airlines will be supporting the upcoming Beijing Winter Olympics by operating charter flights through Changi Airport, thereby serving as a connecting hub for the region.
A restoration of air connectivity between both countries is "particularly important", given how air travel services are now "at about less than 3 per cent of pre-COVID levels", he said.
Currently, there are about 10 weekly services from Singapore to eight Chinese cities, down sharply from the 400 weekly air services linking Singapore to about 36 cities in China before the pandemic.
"And you reconcile that with, for example, the scale of our economic relations, the business ties and the people ties. Clearly there is scope to do more but it has to be informed by the public health risk assessment," the minister said.
"So at the JCBC meeting, I have emphasised our keenness to restore air connectivity as quickly as possible and also to work towards mutual recognition of digital health certificates," Mr Iswaran added, noting that the Chinese government has "responded positively" and expressed its commitment to advance discussions on both fronts.
"GOOD PROGRESS" ON BILATERAL PROJECTS
Both countries also reviewed the "good progress" made on the "traditional areas of cooperation", such as the three bilateral projects between Singapore and China. 
They are the China-Singapore Suzhou Industrial Park, Sino-Singapore Tianjin Eco-City and the China-Singapore (Chongqing) Demonstration Initiative on Strategic Connectivity (CCI).
These "continue to demonstrate relevance, including amid the pandemic", said Mr Heng.
Among the agreements signed this year include the endorsement of a new cooperation plan for the CCI  – New International Land-Sea Trade Corridor (CCI-ILSTC).
The CCI-ILSTC is a trade corridor that will link western China with Southeast Asia by connecting Chongqing to Qinzhou in Guangxi by rail, and to Singapore and beyond by sea. The new cooperation plan will provide a developmental framework for the CCI-ILSTC from 2021 to 2025, with a further outlook to 2035.
The new plan will "further deepen" Singapore and China's economic and trade connectivity, said Mr Heng.
The establishment of an exchange-traded funds (ETF) product link between the Singapore Exchange and the Shenzhen Stock Exchange will also help to strengthen financial linkages between both countries, added the Deputy Prime Minister.
Meanwhile, there are also plans to deepen cooperation to make the Sino-Singapore Tianjin Eco-City greener and more sustainable.
Mr Heng and Vice Premier Han also had a bilateral meeting before the JCBC and related council meetings on Wednesday.
"They reaffirmed the excellent ties between Singapore and China, and welcomed the good progress made in bilateral cooperation despite the COVID-19 pandemic, including in traditional areas of cooperation ranging from trade and investment to financial cooperation," said a statement from the Prime Minister's Office.