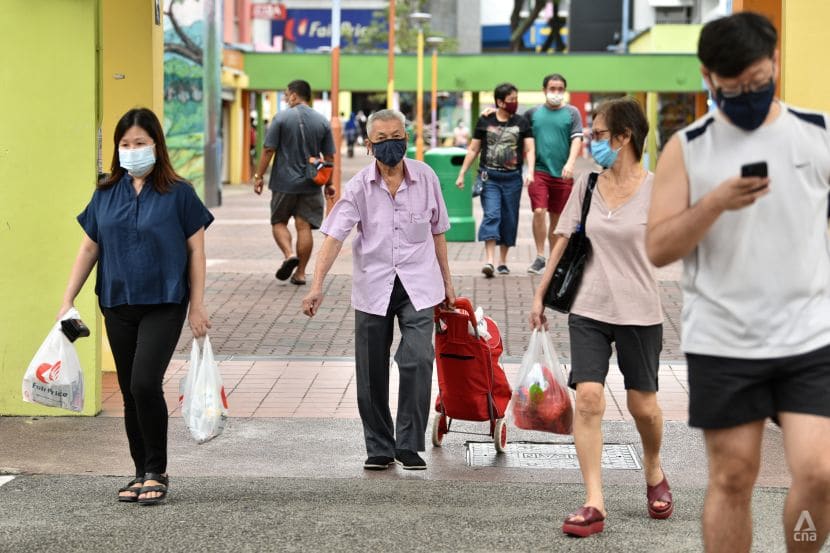 SINGAPORE: Singapore reported 2,553 new COVID-19 cases as of noon on Monday (Oct 18) with six more people dying from complications due to the virus.
The fatalities are four men and two women, aged between 78 and 93. Four were unvaccinated against COVID-19, one was partially vaccinated and one was fully vaccinated.
All of them had various underlying medical conditions. The Ministry of Health (MOH) did not specify what these conditions were. 
This brings Singapore's death toll from the coronavirus to 239.
The 2,553 new cases reported on Monday are a decrease from the 3,058 reported on Sunday, and marks the third consecutive day of decline. 
Monday's caseload is also the lowest since Oct 11, when there were 2,263 cases.
Among the new cases, 2,552 are locally transmitted, comprising 2,008 infections in the community and 544 in migrant worker dormitories.
There is one imported case, MOH said in its daily update released to media at about 11pm.
As of Monday, Singapore has reported a total of 150,731 COVID-19 cases since the start of the pandemic.
HOSPITALISATIONS AND HOME RECOVERY
Among all COVID-19 community cases that have been onboarded or admitted, 15,132 patients, or 72.4 per cent, are undergoing home recovery.
Another 3,209 are in community care facilities and 858 in COVID-19 treatment facilities.
The remaining 1,714 patients are currently warded in hospital, mostly for observation, said MOH. Of these, 337 patients need oxygen supplementation and 67 are in intensive care.
Over the last 28 days, out of 71,834 infected individuals, 1.1 per cent needed oxygen supplementation and 0.1 per cent were in intensive care. On Sunday, there were 66 in intensive care.
Among those who needed oxygen supplementation or intensive care, 48.8 per cent were fully vaccinated and 51.2 per cent were unvaccinated or partially vaccinated.
CLUSTERS AT NURSING HOMES
MOH said it is "closely monitoring" six active clusters at four nursing homes, a welfare home and a pre-school.
Bukit Batok Home for the Aged has been newly added to the list of clusters on Monday. It has a total of 52 infections, with eight new cases reported on Monday.
All but one of the cases in the cluster are residents of the home. The remaining case is a staff member.
United Medicare Centre in Toa Payoh added two new cases, for a total of 128. Of these cases, 109 are residents of the centre.
The remaining two nursing homes are St Andrew's Nursing Home in Taman Jurong and Apex Harmony Lodge. Each cluster added one new case to reach 16 and 13 infections respectively.