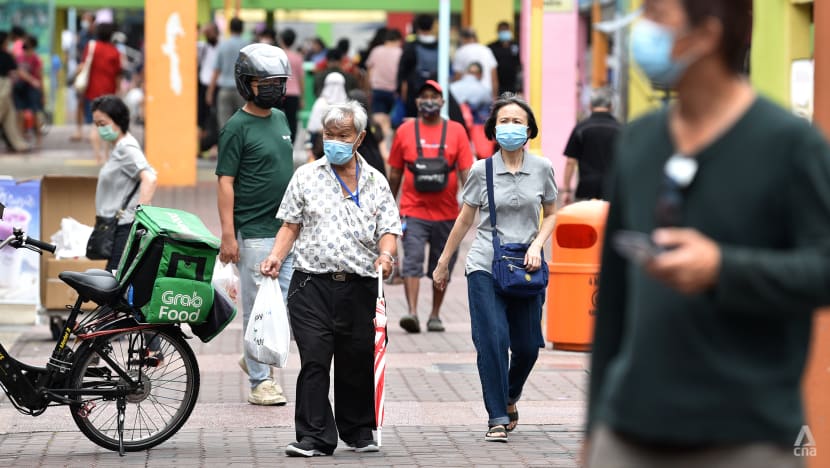 SINGAPORE: Singapore reported a record 2,268 new COVID-19 cases as of noon on Wednesday (Sep 29) and eight more fatalities from complications due to the disease. 
The five men and three women, all Singaporean, were aged between 72 and 90. 
Six of them were unvaccinated. One was partially vaccinated and one was fully vaccinated. All of them had various underlying medical conditions, said the Ministry of Health (MOH). 
The Health Ministry did not provide information on what their underlying medical conditions were. 
There have been 38 deaths in September alone, a new monthly record. Singapore's death toll now stands at 93. 
Of the new cases reported on Wednesday, 2,258 are locally transmitted infections comprising 1,810 cases in the community and 448 in migrant worker dormitories. 
There were also 10 imported cases, said MOH in a daily update released to the media at about 10.55pm. Seven were detected upon arrival while three developed the illness during stay-home notice or isolation. 
This is the second day in a row Singapore has reported a record number of new infections, after 2,236 cases were announced on Tuesday. 
As of Wednesday, Singapore has reported a total of 94,043 COVID-19 cases since the start of the pandemic.
34 IN CRITICAL CONDITION
There were 1,335 patients warded in hospital, most of them are well and under observation, said MOH.
Of these, 197 cases of serious illness required oxygen supplementation, and 34 were in critical condition in the intensive care unit (ICU). 
Among those who fell very ill were 192 seniors above the age of 60.
Over the last 28 days, 98.1 per cent of local cases were asymptomatic or had mild symptoms.
In that period, 419 cases required oxygen supplementation and 52 had been in the ICU.
Of these, 50.3 per cent were fully vaccinated and 49.7 per cent were unvaccinated or partially vaccinated, said MOH.
LARGE CLUSTERS AT 3 MORE DORMITORIES
MOH said it was currently "closely monitoring" 12 active large clusters, including three dormitory clusters that were added to the list on Wednesday. 
A total of 22 cases were reported at Tuas South Dormitory. 
There were 60 cases at Kian Teck Dormitory, while Kian Teck Hostel reported a total of 49 cases. 
MOH said all three clusters were caused by intra-dormitory transmission among residents, with no evidence of spread beyond the dormitory.
Existing clusters at other dormitories also grew. 
Fifty new infections were linked to the Woodlands Dormitory cluster, taking the total number of cases to 314. 
Another 37 new cases at North Coast Lodge took its total to 350. 
VACCINATIONS
As of Tuesday, 82 per cent of Singapore's population has completed their full vaccination regimen or received two doses of COVID-19 vaccines, while 85 per cent has received at least one dose. 
More than 9.1 million doses have been administered under the national vaccination programme and more than 4.4 million people have completed the full vaccination regimen.
Another 195,791 doses of other vaccines recognised in the World Health Organization's emergency use listing have been administered, covering 98,772 people.
SINGAPORE SENDS 100,000 DOSES OF VACCINE TO BRUNEI
Singapore sent 100,000 doses of Moderna's COVID-19 vaccine to Brunei Darussalam to help it tackle the pandemic, said the Ministry of Foreign Affairs (MFA) on Wednesday. 
Brunei will provide the same quantity of vaccines back to Singapore at a later date. 
"This mutually beneficial arrangement enables both countries to optimise our respective schedules for vaccinating our populations against COVID-19, and is part of our broader commitment to work together with our neighbours in confronting the pandemic," said MFA in a press statement.
Indonesia, Thailand and Malaysia are among other countries to which Singapore has contributed COVID-19 vaccines.