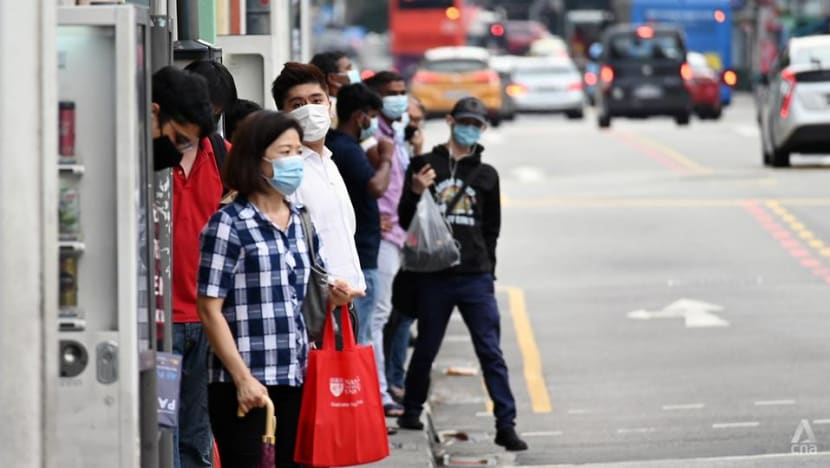 SINGAPORE: Singapore reported 3,862 new COVID-19 cases as of noon on Wednesday (Oct 20) and 18 more deaths from complications due to the virus.
This is a decrease from Tuesday's high of 3,994 new cases, which the Ministry of Health (MOH) said was the "usual post-weekend surge".
Among the new cases, 3,851 are locally transmitted, comprising 3,221 infections in the community and 630 in migrant workers' dormitories.
Eleven are imported cases, MOH said in its daily update released to media at about 11pm.
The fatalities are 16 men and two women aged 55 to 96 years. Eight of them were unvaccinated against COVID-19, one was partially vaccinated and nine were fully vaccinated.
Seventeen of the fatalities had various underlying medical conditions. MOH did not specify what these conditions were. One unvaccinated case had no known medical conditions.
This brings Singapore's death toll from the coronavirus to 264.
As of Wednesday, Singapore has reported a total of 158,587 COVID-19 cases since the start of the pandemic.
HOSPITALISATIONS AND HOME RECOVERY
Among all COVID-19 community cases that have been onboarded or admitted, 17,084 patients, or 72.3 per cent, are undergoing home recovery.
Another 3,941 are in community care facilities and 887 in COVID-19 treatment facilities.
The remaining 1,718 patients are warded in hospital, mostly for observation, said MOH. Of these, 337 patients need oxygen supplementation and 67 are in intensive care, fewer than the 71 in intensive care on Tuesday.
Over the last 28 days, out of 77,040 infected people, 1 per cent needed oxygen supplementation and 0.1 per cent were in intensive care.
Among those who needed oxygen supplementation or intensive care, 47.6 per cent were fully vaccinated and 52.4 per cent were unvaccinated or partially vaccinated.
ACTIVE CLUSTERS
MOH said it is "closely monitoring" four active clusters including Bukit Batok Home for the Aged, which added 39 new infections on Wednesday. The cluster has a total of 92 cases, a majority of them residents.
AWWA Community Home for Senior Citizens is a new addition to the list of clusters. This cluster has a total of 21 cases, all of them residents. Two are new infections added on Wednesday.
Other clusters at MWS Christalite Methodist Home and Acacia Home each added one new case, for a total of 115 and 16 respectively.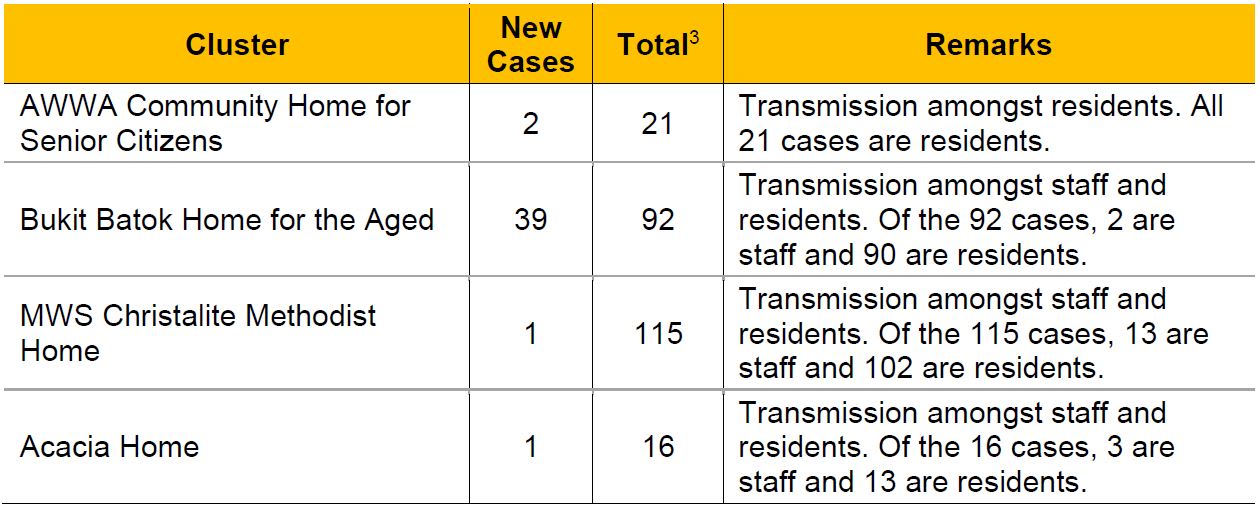 EXTENSION OF RESTRICTIONS
Singapore will extend current restrictions under the "stabilisation phase" for another month to Nov 21, with a review at the two-week mark.
"Unfortunately, given the continuing pressures on our healthcare system, more time is needed for the situation to stabilise," MOH said in a separate press release on Wednesday.
The stabilisation phase, which started on Sep 27, was originally scheduled to last until Oct 24.
During this phase, social gatherings and dining-in have been capped at two people, while work-from-home has been the default arrangement, among other measures.
While it is still "too risky" to allow five people from the same household to dine-in together - a suggestion made by the Restaurant Association of Singapore - this is a move authorities will look into, said co-chair of the COVID-19 task force Lawrence Wong. 
He acknowledged this has been "probably the most difficult phase" in Singapore's journey through the pandemic so far. But it will not last "indefinitely", as the wave of infections will peak at some point, Mr Wong added.