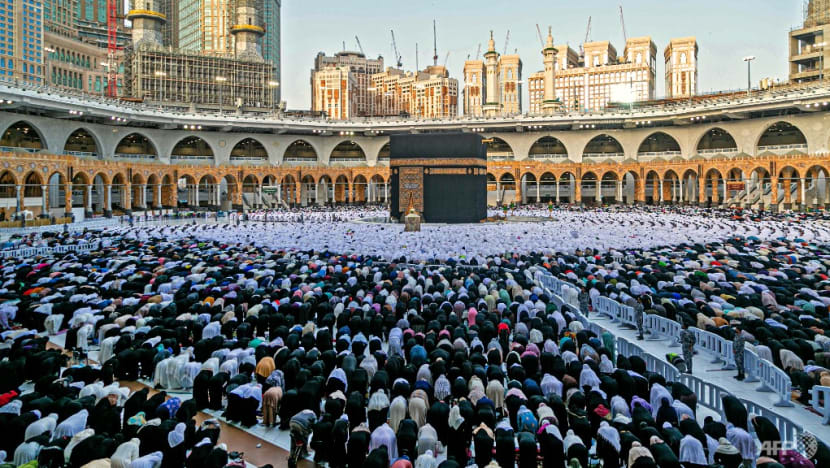 SINGAPORE: Singapore has been allocated more places for this year's Haj pilgrimage, after a quota of 407 was given earlier in April. 
The Islamic Religious Council of Singapore (MUIS) said on Monday (Jun 20) that it will be allocating the places to potential pilgrims who have already registered for Haj in the MUIS Advance Haj Registration System. 
All places will need to be confirmed over the next few days, said MUIS, adding that it will also be contacting the potential pilgrims who qualify, to offer a place and proceed with the required action. 
MUIS is also working with the appointed travel agents and the Saudi authorities on all the arrangements to accommodate this increased Haj delegation. 
"(MUIS) appeals for everybody's continued prayers for the safety and success of this year's Haj."
In response to CNA queries, MUIS added that it is currently working with the Saudi authorities on the additional spaces for the Haj, and will share the final number allocated "in due time". 
VACCINATED PILGRIMS
Muslims in Singapore can perform the Haj this year, with the country previously allocated a quota of 407 out of the 850,000 places for international pilgrims. 
The pilgrimage will be limited to vaccinated Muslims aged below 65, as previously announced by Saudi Arabia. 
They are also required to submit a negative polymerase chain reaction (PCR) test within 72 hours of their departure to the kingdom. 
Given the deferment of Haj for Singaporean pilgrims in the past two years, MUIS said in April that it would re-allocate the limited quota to those who were supposed to perform the pilgrimage in 2020 and who now meet the conditions and requirements for Haj 2022.
"All other pilgrims who are in the Advance Haj Registration System will be automatically moved in the queue to perform Haj in subsequent years," added MUIS.
"All pilgrims' eligibility to perform every year is subject to conditions and requirements mandated by the relevant Saudi authorities."