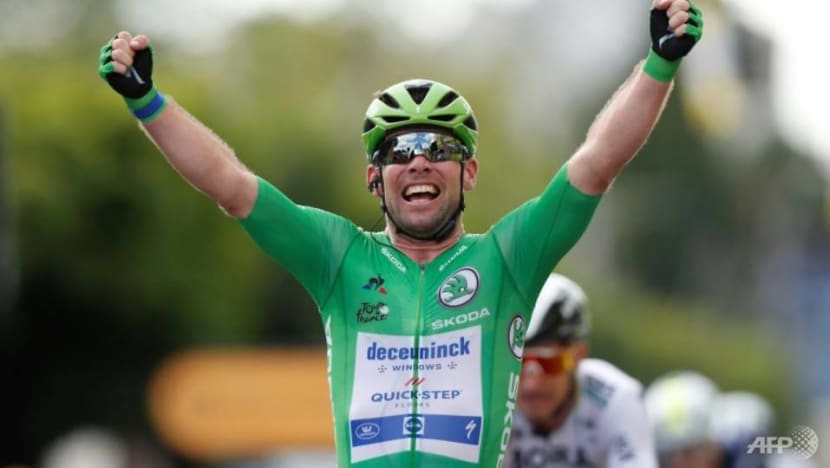 SINGAPORE: Singapore will become the first Southeast Asian country to host a Tour de France criterium event this October. 
The Tour de France Prudential Singapore Criterium will take place on a specially designed street circuit in the heart of the city on Oct 29 and Oct 30, said the organisers in a news release on Tuesday (Jun 28).
It will feature 32 riders from eight of the world's best professional cycling teams, including decorated British cyclist Mark Cavendish, who holds the joint record for the most Tour de France stage wins (34).
In the Tour de France, elite cyclists compete in a gruelling test as they cover an average of 3,500 kilometres over three weeks in their quest for glory.
"In contrast, the Criterium is a shorter race on a closed circuit, which makes the format more suited to Singapore streets," the release stated. 
"The Tour de France Prudential Singapore Criterium race weekend will comprise races for both professionals and amateurs and is expected to reach millions of viewers through a variety of international broadcasters."
Supported by life insurer Prudential Singapore as the event's title sponsor, the event is being promoted by TEG Sport in conjunction with Evoke EXP.
Said Cavendish, who secured four Tour de France stage wins last year: "A first Tour de France road race in Southeast Asia and a first race for me in this part of the world.
"Cycling has given me so much and is a great part of my life. It's a privilege for me to do what I love and I'm looking forward to getting out there and to share the adrenaline, excitement and fun that comes with criterium racing."
On being part of the inaugural Singapore Criterium, Prudential Singapore's CEO Dennis Tan said: "We decided to promote cycling because it is an accessible and sustainable sport.
"This sponsorship is a great opportunity to encourage people and families from all walks of life to bond while staying healthy and active."
Singapore Tourism Board, which supports the event, said that the race reinforces Singapore's position as a leading destination for sports in the region.
Said chief executive Keith Tan: "As we welcome more visitors to Singapore, it is also a timely addition to our exciting calendar of events."