Parliament passes law to prevent abuse of SkillsFuture funding
Publishing false or misleading advertisements about SkillsFuture-funded courses will now be an offence.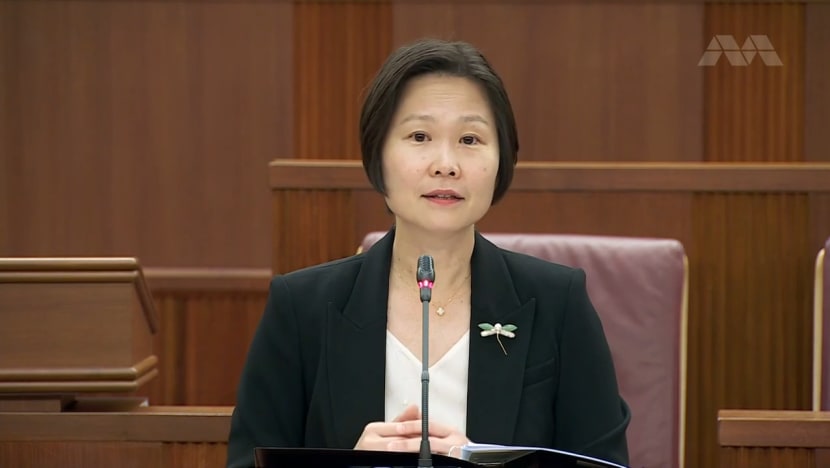 SINGAPORE: Parliament on Tuesday (Jan 10) passed a law to deal with the abuse of SkillsFuture funding, including false or misleading advertisements about Government-funded courses.
Under the amended SkillsFuture Singapore Agency and Skills Development Levy Bills, entering into or facilitating an abusive funding arrangement is now an offence, said Minister of State for Education Gan Siow Huang in her opening speech in Parliament. 
An abusive funding arrangement is now defined as when a person receives funding they would not have obtained, or more than they would have obtained from the agency. 
The person must also have known or had reason to believe that it is fraudulent and intentionally induces SkillsFuture Singapore (SSG) into providing funds to them, she said. 
They must also have entered the arrangement with the intention to dishonestly induce SSG to provide funding to them, or someone else. 
People convicted of this offence can be held responsible for the amount they wrongly obtained or would have received. 
They can also be fined up to S$10,000 or imprisoned for up to three years, said the Ministry of Education (MOE) and SSG in a joint press release on Tuesday. 
They could also be asked to return the funds to SSG.
In one previous case, training providers colluded with a few companies to apply for grants. People were employed and asked to attend a course and draw training grants from SSG, she noted. 
"The individuals' employment was terminated after the course," she said.
The amendments to the Bills will cover and hopefully deter such abuse, she added.
As spending in the continuing education and training sector increased, the risk of abuse has also risen, Ms Gan added. 
The Government's continued investment in SkillsFuture is critical in preparing the workforce for the future economy, she added. 
"To do so, we need to strengthen the quality of the training and adult education ecosystem, including stepping up our legislative levers."
FALSE ADVERTISING AND PROVIDING REFUNDS
Under the amended Bills, publicising or distributing a false or misleading advertisement about courses will also be an offence. 
This covers advertisements that falsely represent that SSG provided funding, approval or endorsement for a course or its provider when this is not the case, said Ms Gan in Parliament. 
An advertisement that includes fake information about the contents of the SSG-funded course or the skills acquired through the course would also be considered false or misleading. 
This is based on actual cases of misrepresentations encountered by the agency, said Ms Gan. 
"For example, courses were advertised to be funded by SSG, accredited under the Singapore Workforce Skills Qualifications credentials, or would lead to a government-issued diploma, when they are not," she added. 
"This misleads individuals into signing up for unsuitable courses. If left unaddressed, such misrepresentations could undermine public confidence in the SkillsFuture movement." 
Previously, when SSG detected such cases, it relied on contractual levers to terminate the providers' status as an approved trainer, preventing them from offering SSG-subsidised courses in the future, said the Minister of State. 
However, SSG did not have legislative levers to direct errant entities to, for example, instruct providers to take down or correct these advertisements. 
Errant providers found guilty of this offence will be liable for a fine of up to S$5,000 and/or a maximum of six months in prison, said MOE and SSG in the press release. 
With the amended Bills in effect, SSG can also direct the provider to remove the false and misleading advertisement and publish a corrective advertisement approved by the agency, she noted. 
SSG can now also direct training providers and other recipients of SSG funding to refund the money paid by trainees, as well as the funding provided, if the course did not start as scheduled or ceases to be provided before it is completed, said Ms Gan. 
Failure to comply with these directions is also an offence, and those found guilty will be liable for a fine of up to S$10,000 and/or up to 12 months in prison. 
An additional fine of S$1,000 per day may be imposed if the offence continues after the errant provider is convicted.  
Providing false or misleading information to obtain SSG funding is currently an offence, and those convicted are liable for a fine and/or imprisonment, said the Minister of State. 
"However, SSG currently has to rely on contractual levers and civil proceedings to recover the funds that have been wrongly obtained as a result of such false or misleading information," she added. 
With the new laws, the Court can order those convicted of this offence to repay the wrongly obtained funds to SSG. 
"At this juncture, I would like to make it clear that our intention is not to penalise administrative lapses or genuine mistakes of the training providers that could occur from time to time," she added. 
"However, if the facts of a case constitute an offence, SSG will have to refer the case to AGC (Attorney-General's Chambers) to determine the appropriate course of action. 
"By safeguarding those that are genuine in the pursuit of training, we hope to create a vibrant CET (continuing education and training) ecosystem of quality training providers and programmes, and where companies and individuals participate in, and will benefit from, skills upgrading." 
ENHANCING ENFORCEMENT POWERS, STREAMLINING OPERATIONS
To investigate these new offences, the Bills enhance SSG's enforcement powers, said Ms Gan. 
Previously, SSG's enforcement powers were "for limited purposes", mainly to verify information submitted to the agency in applying for funding, and to ensure that the funding was properly used. 
"Persons authorised by SSG may enter premises, take photos and videos, access documents, and ask for returns within a specified period. However, these powers are limited and are not sufficient for the investigation of offences," she added. 
Under the new amendments, SSG can now appoint inspectors to verify identities of people believed to have committed offences, require attendance, conduct interviews, as well as search for and seize documents or equipment for investigation, said Ms Gan. She added that these powers are similar to the ones that the agency already has under the Private Education Act. 
To streamline operations, the new amendments also consolidate the offences and enforcement powers related to the funding provided by SSG. 
It will also make it easier for employers to compute levy liabilities and make monthly contributions to both the Central Provision Fund and Skills Development Levy, said Ms Gan. 
"The new offences and related provisions in the Bills seek to enable SSG to better deter and take appropriate action against abuse of funding given by SSG, and misrepresentation of SSG's schemes," she said. 
"This will allow individuals and employers to have greater confidence to participate in training. We will also better protect genuine learners from being misled into taking courses that are of little or no value. 
"This will also benefit the majority of training providers who are bona fide in their commitment to workforce training and skills development." 
CONCERNS ABOUT IMPLEMENTATION AND IMPACT
Members of Parliament (MP) who spoke during the debate supported the amendments, but raised concerns about implementation and the impact of the new laws on training providers. 
 
MP Jamus Lim (WP-Sengkang) said it is "pragmatic" to allow SSG to claw back funds that were wrongly obtained, but that it could also "give rise to potentially perverse incentives toward zealous or overzealous overregulation and possible abuse by state authorities". 
 
Assistant secretary-general of NTUC Patrick Tay said there is a need for "robust safeguards in place to prevent abuses of power", and called for better communication between SSG and companies offering training. 
 
"We do not want to dampen the important role which private training providers play in the training, transformation and lifelong learning ecosystem," said Mr Tay (PAP-Pioneer).
Nominated MP Mark Chay, who is the director of three institutions that provide SSG-funded courses, noted that the definition of advertisements seemed "relatively narrow". 
Some institutions engage marketing agents to recruit students to their programmes, he said. 
"There is little education institutions can do, should such marketing agents go off script and use unethical means to close a sale," he added, noting that not all prospective students would be familiar with the regulations that allow them to qualify for funding support. 
"It is incredibly upsetting to see marketing agents going to the heartlands and using potentially inaccurate or misleading information to recruit students." 
He also called for training providers to not be allowed to recruit commission-based agents for any SSG-funded courses. 
Mr Sharael Taha (PAP-Pasir Ris-Punggol) raised concerns about the expected increase in operating costs and the decreasing rate of participation in SSG courses as age increases. 
"Are there plans to encourage more of our mature workers to participate in upskilling and retraining?" he asked. 
"Possibly, one opportunity is to encourage our mature workers to transit to a second career to be trainers and impart their experience to the rest of the workforce." 
Responding to the concerns of MPs in her closing speech, Ms Gan noted that about 660,000 individuals and 24,000 businesses have benefited from SSG-supported programmes. 
There are now close to 1,000 training providers providing about 25,000 courses supported by the agency, she added. 
SSG uses "a range of tools" to identify false and misleading advertisements, said Ms Gan, and encouraged students to contact the agency directly if they have doubts about the claims made by the training providers. 
She also clarified that the new legislation covers advertising materials that are distributed at roadshows. 
In cases where false and misleading advertisements are published and distributed, the errant party will be given opportunities to take corrective action, said the Minister of State. 
Responding to Mr Tay's question about whether legal action will be taken as a last resort, Ms Gan said SSG understands that administrative errors and missed deadlines occur from time to time. 
"These are not regarded as offences but areas of improvement to be worked on." 
Of the 93 training providers that SSG took action against in 2021, majority of the cases were related to breaches of SSG's funding terms and conditions, such as failing to submit the required annual returns to SSG, she added. 
"Since these were mostly administrative lapses, most of the 93 training providers were suspended from SSG funding for six months without further repercussions." 
Responding to Mr Lim's question, Ms Gan clarified that the recovered funds would not be channelled towards SSG's operating costs. 
"They will be paid back to the funds they were drawn from so that they can be used for their intended purpose, which is to support upskilling efforts."
To communicate the changes to training providers, SSG will set up dedicated sessions with training providers to explain the amendments, said Ms Gan. 
"But the onus rests on the training providers to ensure that they, their partners and their staff adhere to the law."