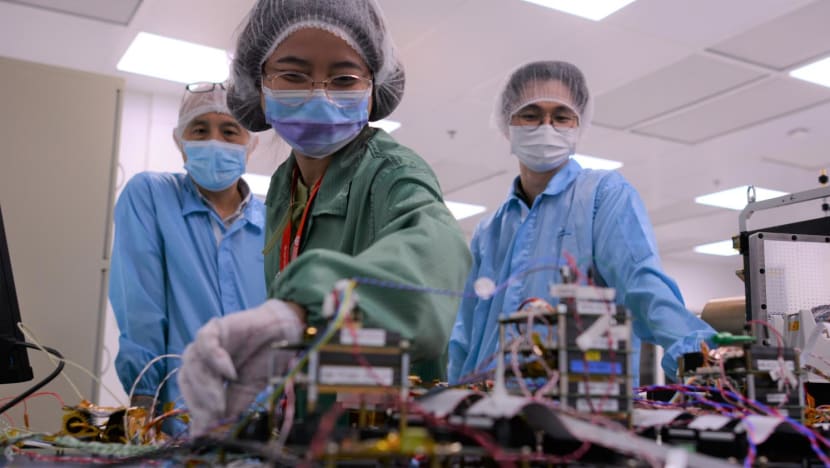 SINGAPORE: Singapore is set to explore new frontiers in space by launching a microsatellite the size of a mini fridge.
Led by the Nanyang Technological University's (NTU) Satellite Research Centre, the "pioneering project" will see a 100kg remote sensing microsatellite launched into space.
The project is a research collaboration agreement between NTU, Aliena, LightHaus Photonics, ST Engineering and the National University of Singapore's Temasek Laboratories, the organisations said in a joint news release on Wednesday (Feb 9).  
It will also be supported by Singapore's national space office, the Office for Space Technology and Industry. ST Engineering Satellite Systems will advise on the systems development and manufacturing of the microsatellite.
"FUEL-EFFICIENT ENGINE" 
The new microsatellite will fly at a Very Low Earth Orbit (VLEO), about 250km above Earth, said the joint news release.
As this is at least half of the Low Earth Orbit altitudes (500km to 800km) commonly used by conventional satellites, it brings the promise of "differentiated capabilities", such as instruments being able to perform better as they are closer to Earth.
However, the challenges of flying at VLEO include satellites "de-orbiting and re-entering" Earth's atmosphere in the span of a few days if the satellites are not equipped with a suitable propulsion system.
To overcome this issue, a "unique, fuel-efficient engine" has been designed by an NTU spin-off company, Aliena, to "ionise and accelerate inert propellant", said the news release.
This will generate "thrust at low power", maintaining the satellite's orbit.  
The microsatellite will also house Singapore's first locally-designed space camera by tech firm LightHaus Photonics. 
This camera can take high-resolution images of objects as small as 0.5 metres from space, making it 20 times more powerful than the camera in X-SAT – Singapore's first locally built satellite that was launched in 2011. 
"It is useful for industrial applications, such as supply chain monitoring, agriculture and mining, and real estate analytics," said the news release.
The satellite will also collect "valuable data to enable the development of the next generation of commercial VLEO satellites with multiple applications". 
These can range from communications and imaging to climate and weather monitoring, which will help to position Singapore as a VLEO solutions hub, added the news release.
REDUCED DRAG
In addition, NTU will develop a "predictive aerodynamic model" to optimise the satellite design for reduced drag.
Researchers will evaluate different materials that can protect against atomic oxygen corrosion, and measure the plasma concentration, velocity and temperature in the ionosphere to enhance the understanding of spacecraft charging. 
"Spacecraft charging is a phenomenon where a negative charge starts to build on a satellite's surface due to hot electrons found in space, which can cause damage to electronic systems onboard the satellites," explained the organisations.
The new microsatellite is also designed to be sustainable. At the end of its operational life, its engine can be turned off and the satellite will "de-orbit" and descend to Earth within a few days.
It will eventually burn up in the atmosphere during re-entry, leaving no debris in space. 
This "passive clean-up" will help to minimise the risk of collisions in future for other VLEO spacecraft, as compared to operating at Low Earth Orbits where it is "increasingly getting overcrowded", added the news release.
Professor Lam Khin Yong, senior vice president of research at NTU, said the new microsatellite will be another milestone for Singapore and the university.
"Satellite technologies are always multidisciplinary and complex, requiring the best minds in various fields, from power systems engineering to aerodynamics and software design, to work together as a team to develop new solutions that do not exist today," he said.
Dr David Tan, executive director of the Office for Space Technology and Industry, said: "The establishment of a new consortium to develop solutions that will enable satellites to operate at very low earth orbit is testament to the diverse capabilities of Singapore's industry and academia in developing disruptive technologies for space."