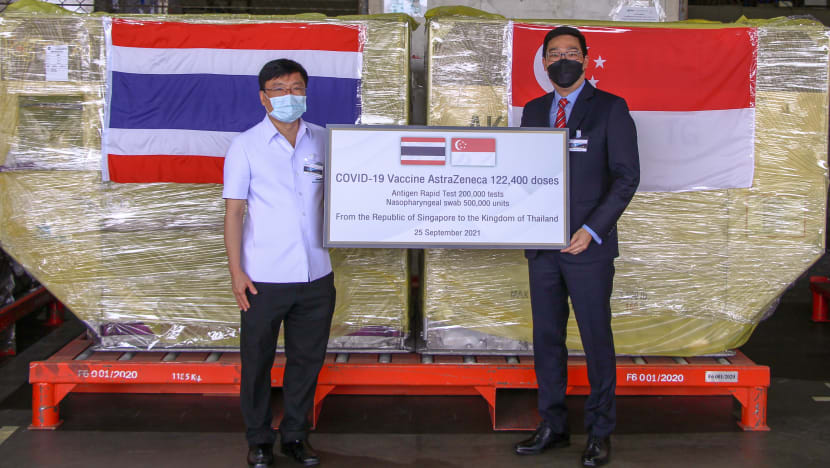 SINGAPORE: Singapore has sent 122,400 doses of the AstraZeneca COVID-19 vaccine to Thailand to help its fight against COVID-19, said Singapore's Ministry of Foreign Affairs (MFA) on Monday (Sep 27). 
The contribution to Thailand includes 200,000 diagnostic tests and 500,000 nasopharyngeal swabs, said the ministry in a statement.
"Singapore and Thailand are close friends with longstanding and strong bilateral ties," said MFA. 
"Our contribution reinforces both countries' mutual commitment to weather this pandemic together."
Singapore's Ambassador in Bangkok Kevin Cheok handed over the supplies to Thailand's Deputy Prime Minister and Minister of Public Health Anutin Charnvirakul on Monday.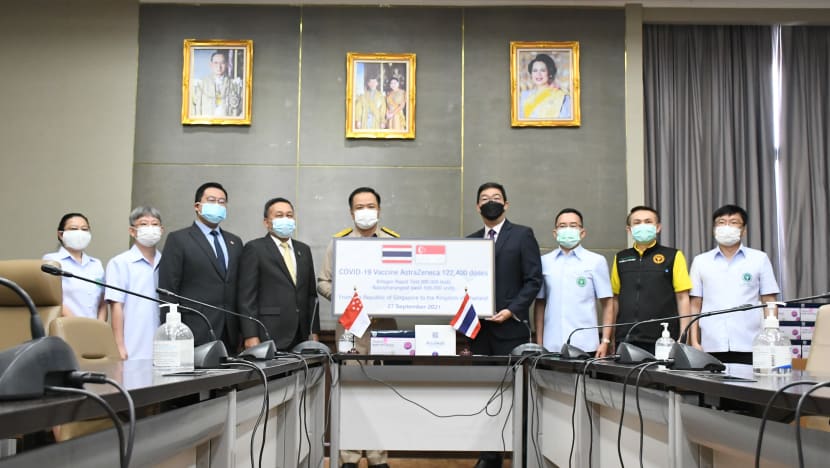 Last month, Thailand said it was seeking to borrow 150,000 doses of the AstraZeneca vaccine from Bhutan amid a supply shortage in the country. 
On Monday, Thailand reported 10,288 new COVID-19 infections and 101 more deaths. 
Thai authorities on Monday also announced that it was preparing to downscale its COVID-19 quarantine requirements for fully vaccinated international tourists and reopen the country in four phases, starting from October.
Other countries have received contributions from Singapore over the last few months.
On Sunday, MFA said Singapore has contributed an "assistance package" to Nepal to help combat the COVID-19 pandemic. 
The package consists of medical supplies, including diagnostic tests, masks, polyethylene aprons, thermometers, and a polymerase chain reaction machine.
Malaysia and Brunei are also among other countries to which Singapore has contributed COVID-19 vaccines. 
Singapore last month announced that it will send 500,000 doses of the Pfizer-BioNTech COVID-19 vaccine to Australia as part of a "dose sharing" agreement, with the same amount to be returned in December.