Singapore's Olympic champion Joseph Schooling comes home
Hundreds of fans showed up at Changi Airport to receive the winner of the country's first Olympic gold medal.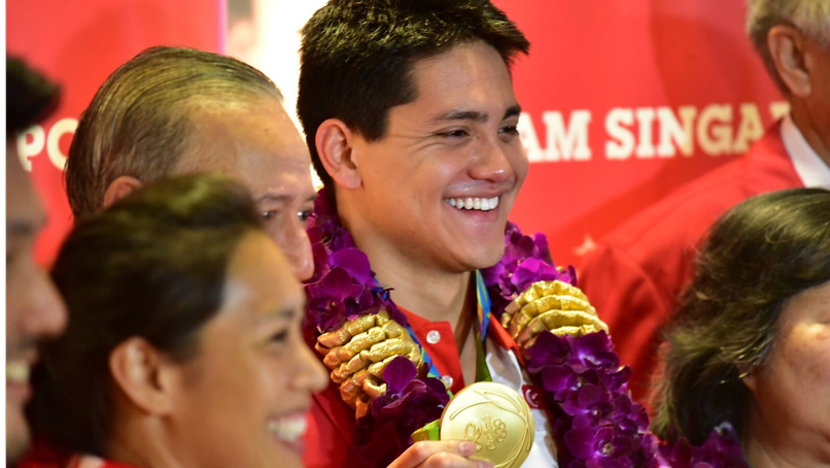 SINGAPORE: The Republic's first and only Olympic champion Joseph Schooling came home to a hero's welcome in Singapore early Monday (Aug 15) at Changi Airport.
Even before the Rio 2016 gold medallist walked through the arrival doors, hundreds of fans waiting began screaming and chanting Schooling's name once he was spotted collecting his baggage.
Tweets about #Schooling OR #JosephSchooling OR #JoSchooling from:channelnewsasia
The 21-year-old swimmer sent shockwaves around the world when he won the 100m butterfly in stunning style last Saturday, leaving event mainstays Michael Phelps, Chad le Clos and Laszlo Cseh in the dust of his new Olympic record of 50.39s.
Earlier, on board his Singapore Airlines flight from Rio de Janeiro in Brazil, Schooling said to Channel NewsAsia he anticipated a "crazy" reception in Singapore but was "more excited" than anything.
He had also told Singapore Prime Minister Lee Hsien Loong he would attend Parliament on Monday afternoon together with parents Colin and May Schooling, to meet with ministers as well as witness a motion that will be moved to congratulate and recognise his historic feat.
Schooling is also expected to participate in school visits and an open-top bus victory parade, although Schooling has said he will spend just four days in Singapore before returning to his daily grind of studying and training at the University of Texas in the US.