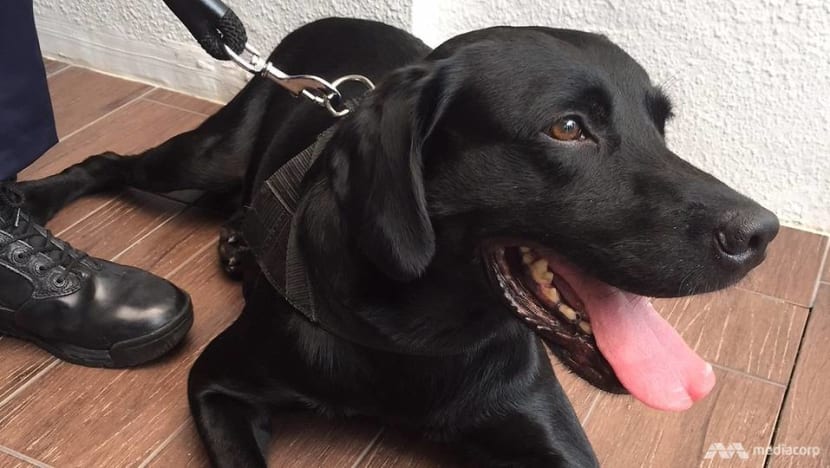 SINGAPORE: Starting Wednesday (Aug 15), members of the public who live in public housing will be allowed to adopt retired sniffer dogs under a one-year pilot expansion of Project ADORE.
Project ADORE was launched in 2012 to assess how well mixed-breed dogs would be accepted in Housing and Development Board (HDB) estates, with proper safeguards in place.
The scheme was expanded on a pilot basis in June last year to allow dog handlers from the Singapore Police Force and Singapore Civil Defence Force K-9 units and the SAF Military Working Dog Unit (MWDU) living in HDB flats to adopt the dogs.

Fourteen sniffer dogs have been rehomed under this scheme, which will be made permanent from Aug 15, said the Home Affairs, Defence and National Development ministries in a press release on Monday.
In order to widen the pool of potential adopters, the scheme will be expanded to members of the public staying in HDB flats on a one-year trial basis.

Similar to the scheme for K-9 and MWDU officers, potential adopters will be screened. Steps will be taken to encourage community acceptance of the dogs, such as setting up mediation channels to handle disputes. The dogs will also be microchipped to prevent abandonment. 

All adopters will be required to comply with the ownership conditions and the Code of Responsible Behaviour as set out by the Ministry of National Development.

"Observations have shown that residents have been receptive to the presence of larger dog breeds in their neighbourhoods as long as the owners behaved responsibly and if there were proper channels in place for dispute mediation," the press release said, adding that Project ADORE has been well-received so far.

In a Facebook post on Monday, Ministry of Home Affairs and Ministry of National Development Senior Parliamentary Secretary Sun Xueling said that the results of the scheme will be reviewed and assessed next year.

"Our sniffer dogs have served Singapore well, contributing to our safety and security. They deserve to be loved and cared for when they have retired. Let's continue caring for these dogs as they retire from their duties," she added.