Undergraduate partially succeeds in getting father to pay maintenance for him amid parents' divorce
The 22-year-old son tried to ask his father for almost S$180,000 in a lump sum payment for his education fees and living expenses until he graduated.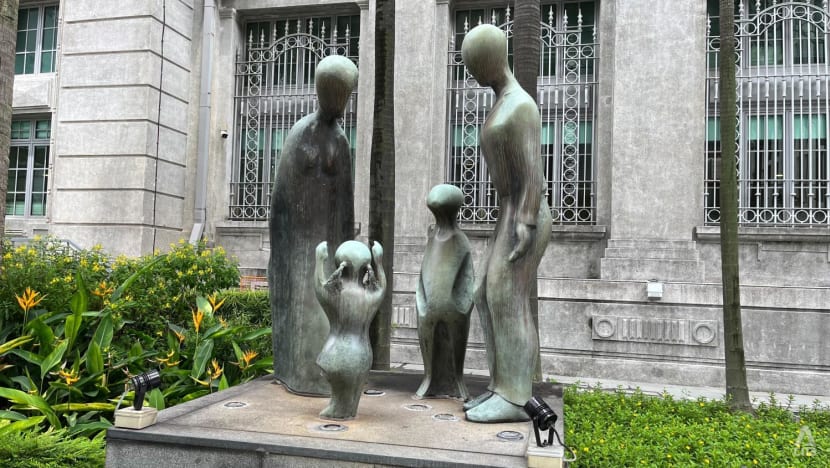 SINGAPORE: A young man who was no longer entitled to maintenance from his father in the midst of his parents' divorce because he had turned 21 turned to the court hoping that his father would be ordered to pay for his education, living and travelling expenses.
The now-22-year-old succeeded partially, with a family court ordering that the father bear the son's university fees including related expenses like hostel fees and study materials.
According to a judgment released on Wednesday (Apr 26), the man is also to pay his son maintenance of S$600 per month until the latter attains his university degree. He will also have to pay backdated maintenance of S$1,800 in a lump sum.
THE CASE
The father used to work in education and had a stable job as a teacher, placing the family in a "relatively comfortable financial situation at the time". 
He was working at a school in Singapore earning a net salary of S$7,088 per month at the time of the trial in 2022 and was the sole breadwinner of the family.
He has S$52,570 in available funds, and spends about S$5,800 a month, but owes S$73,500 to his brother.
The mother, a housewife of 20 years, commenced divorce proceedings in 2019. The father was ordered to pay her S$1,000 per month from March 2020 for her and her son, who was 19 at the time.
However, when the son turned 21, the maintenance order no longer applied to him, so he filed an application seeking maintenance for himself under Section 69(2) of the Women's Charter.
At the time, the son had completed National Service and had enrolled into an engineering course at a local university, where it was compulsory for all students to stay at the hostel for their first two terms.
Apart from his studies, the son had an active student life, with co-curricular activities such as touch rugby and gymnastics or cheer training. The son claimed that it was not possible for him to work part-time due to his studies and student activities.
THE SON'S CLAIMS
The son made several claims for payment by his father. These include: A lump sum of S$91,757 as maintenance for his education fees, S$87,840 in a lump sum for his living expenses for four years until his graduation, a one-time travelling expense of S$3,000, and S$1,532.95 for expenses incurred prior to his university enrolment.
The son also initially made other claims such as for his father to pay for his insurance policy, amounting to S$350 a month, until the son entered the workforce. However, he withdrew it during the family court proceedings.
The son claimed that his father was neglectful and hardly spent any quality time with the family when the son was growing up.
He claimed that his father's schedule was always packed with tuition and lectures, travelling overseas for several years to secure a job.
However, the judge did not agree with this characterisation, pointing to evidence the father gave to show how he had constantly checked on the family and children and provided for the family.
The father said the claims were excessive and asked for the application to be dismissed. If not, he asked to pay S$515 a month in maintenance for his son, and to pay the education fees through his Central Provident Fund.
THE DUTY OF PARENTS TO MAINTAIN THEIR CHILDREN
District Judge Sarah Chua said the duty of parents to maintain their children is set out in Section 68 of the Women's Charter, by providing them with accommodation, clothing, food and education as may be reasonable with regard to their means.
When it comes to ordering maintenance, the court has to consider certain circumstances, including the financial needs of the child, the earning capacity of the parent or child, and the standard of living enjoyed before a parent stopped providing reasonable maintenance for the child.
According to the Women's Charter, a court shall not make an order for maintenance for a child who is 21, unless such maintenance is deemed necessary because the child is studying or undergoing training for a profession.
However, it had been established in another High Court case that this does not mean a parent has a specific obligation to pay for the tertiary education of the child. Maintenance also does not mean maintaining fully, or giving an unreasonable amount.
Judge Chua reduced several of the claims sought by the son. For example, the son asked for S$200 a month for clothing, bags and shoes, claiming that he needed office attire for his school presentations and items for his co-curricular activities, saying he would outgrow his shirts once in a while.
Judge Chua found this figure extravagant for a 22-year-old student in tertiary education and said the explanations were "unconvincing attempts to inflate the figure sought". Instead, she found S$75 a month to be appropriate for clothing, bags and shoes.
The judge also did not allow the son's claim for S$200 a month for dinner, entertainment and gifts for dining out and social activities, nor his claim for S$100 a month for gym fees.
Judge Chua said she would have ordered costs against the son, who inflated his claim against his father and sought orders that were largely unfounded in principle and unsupported by the facts.
However, because the father suggested that parties bear their own costs to avoid aggravating matters further within the family, she ordered that both sides bear their own costs.
Editor's note: The headline of this article has been amended for accuracy.